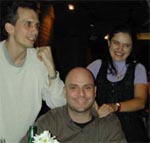 SANTIAGO, CHILE
Cleora Daily and Celia Allen-Graham were the first staff to touch down on the Santiago, Chile land on March 27 and we're greeted by a merry band of MSIA Chileans. When Doug and Angel arrived, Leonor, Olivia and Veronica Zarate were there to see us into cars and drive us over the hills to our cozy hotel in Providencia a suburb of downtown Santiago. Doug and I continued on the path that Celia and Cleora had blazed with services and fellowshipping. Jesus Becerra joined us and co-facilitated with Angel the "Exploring Spirit in your Every Day Life" evening with 52 participants of which 15 or more were newcomers to MSIA. We left Jesus to facilitate the MSS YR 2 in Santiago and on Saturday morning Doug, Cleora, Celia and I headed for Rio de Janiero, Brazil.
In the meantime Timothea Stewart and Jean-Marie Hamel had landed in Buenos Aires and in the true style of "when in Rome do as the Romans do", they adapted quickly to doing services by day and Tango by night. Of course, they were under strict order by their fellow travel staffers to master the rigors of Tango so they could assist us to catch up when we arrived in Buenos Aires. Elsa Valenzuela was magnificent in orchestrating all the events in Buenos Aires and Claudia Segura navigated the staff through all the ins and outs of the daily service schedule–but more on that later, as now we must catch up to the staff in Rio.
RIO DE JANIERO, BRAZIL
Vincent Dupont with his lovely wife, Marilyn, landed ahead of Doug, Cleora, Celia and Angel onto the tropical shores of Rio. They were met by the ebullient Lana Barreira Lemos de Aranjo and all three prepared the way for us by having an impressive 5 hour negotiation time with the customs people there regarding getting our audio/video equipment out of customs. Alas as taken as customs was with Vincent, they could not be persuaded to let go of our cases, so when we four arrived and walked through customs we saw our lovely cases lined up-all alone. We sent them Light. Surely they would join us soon. We joined Vincent and Marilyn who regaled us with their exciting customs adventure.
However, we didn't have long to dally. That afternoon there were services, initiations and ordinations to do so off we went. By 10pm that evening we were ready to have some food and prepare for the Traveler to join us the following day. Yes, a little placing in the Light and a note to the Travelers and "Voila" the audio/video equipment was magically released from customs in time for us to set up for the first seminar – we also thank Ana Lucia Pacheco and Lana for helping the magic to come forward.
And join us he did. John Morton, Laura, Claire, Zane and the exotic Paulina arrived in Rio on April 2 followed later that night by Brenda Fishbaugh (who is learning services) and embraced the city as their own. In two days John had a radio interview, did 2 seminars and took his family to see Pan de Sucre (Sugar Loaf) and other famous sites in Rio, blessings all along the way. Lana was ever present, overseeing the logistics of seminars, services, transportation, customs and as a loving chauffeur for the Mortons, endearing herself to Zane and us all. She was most ably supported by Carol and Zecca, Guillherme, Sergio and Fantini to name just a few of the wonderful MSIAers who were like our right hand helpers.
We bid adieu/adios and obrigato to the balmy breezes, fantastic mountains and ocean of Rio as we flew to Campinas, a new city on the MSIA map. Campinas is south of Rio and slightly more elevated. Right away we noticed the climate was cooler and less humid. Suely, the MSIA Rep in Campinas, had made sure the whole entourage was welcomed and chauffeured as they arrived. Now this was no easy trick as we arrived at different times and different days. Indeed, Mr. President, Paul Kaye and senior Becerra arrived on April 3 (Mr. Kaye flying in from Kyoto having finished his beyond words "Zen of the Traveler" trip the day before) meeting the senoras Cleora and Celia who left Rio ahead of the rest of us for the new land of Campinas.
They were accompanied by Kathy Winston and Wendy Demarco who are learning services and knew there would be many Aura Balance #1s and Polarities to be found in an opening city. Of course, the rest of us descended at different times on April 4 into Campinas, and yes, we were all taken to our hotel. We promptly found an amazingly good Japanese restaurant for our evening's repast and enjoyed the company of Suely, her children, Jonathan and Fantini (yes, the same Fantini who had been leant to us in Rio), our little guardian angel, Ana Lucia Pacheco, Carol and Ilena and Lana – the three of whom had driven up our audio/video from Rio. John Morton did an open seminar and took Q & A on April 5 for over 175 people. How great to see so many new people have the opportunity to see and hear the Traveler. Suely was the MC for the evening and it was very sweet to hear her introduce Fantini and Jonathan as they stepped on stage to sing and play guitar fabulously for the whole group. Ah, it was a long day but not over yet as Jonathan and Fantini took some of us hardy, game for late-night eating staffers to Pizza. After many no onion/garlic/pork take backs, we finally got some delicious pizzas and we're sure we contributed to the restaurants knowing some new variations in their pizza selections.
BUENOS AIRES, ARGENTINA
Now it was onto Buenos Aires. But first we had a 2 hour ride to Sao Paolo to take our international flight from Brazil to Argentina. We crossed over the Tropic of Capricorn with our escorts – Jonathan and Fantini – and at the Sao Paolo airport found out that we would have a bit of a delay before our flight would take off. Of course, we were not yet done with our equipment and customs karma. Brazil just didn't quite want us or rather our equipment to leave so the valiant Ana Lucia stayed behind while we finally took off and eventually personally escorted the equipment on a flight to Buenos Aires that arrived several hours after we did. As we arrived in Buenos Aires our gracious and commanding hostess, Elsa Valenzuela, took John and all of us under her wing with the dynamic assistance of Ana Maria Gonzalez (yes, she was in Buenos Aires!) and shepherded us to our hotels. Timothea and Jean-Marie were most happy to have us join them. Though Jean-Marie was hot to get us all to the Tango that evening we negotiated to just a wonderful evening's repast sharing back and forth of the adventures that each of us had had over the last few days. But no lolly-gagging for long as the next day saw us bustling with services to do, workshop to set up for and a press meeting for John and Jesus followed by the Blessings workshop attended by over 100. To see some of these new people just want to come touch the Traveler and express their love brought home to us once again the profoundness of how the Traveler is working with us all and how willing the Traveler is to reach to wherever we are.
Then we surged into the weekend and the Walking in Light workshop, baby blessings and a Q&A for Discourse subscribers. So rich it was to go through the gifts of the Walking in Light workshop. We marveled at how the Buenos Aires team under Elsa's supervision, and the team captaining of Juan and Omar had prepared the logistics, including doing the overhead projections via computer. 89 participants were in the workshop, many on their first few discourses. Buenos Aires is such a grand city to visit, and we enjoyed some wonderful meals, especially at the parrillas. Yours truly tasted the cappuccinos which are complete with whip cream and cocoa — ai yai yai — well again when in Buenos Aires do what the Buenos Aireans do! We bade goodbye on Monday, April 11 filled with the South American spirit, enthusiasm and loving, and grateful for how much our Chilean, Brazilian and Argentinian brothers and sisters are connected with us in their loving and devotion to the Traveler. Adios! Vaya con Dios wherever you go!