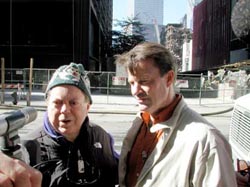 John Morton and John-Roger were in New York City recently and sent this message to us:
We are here in New York City with several staff. Yesterday we visited the Doctorate of Spiritual Science class and Tuesday at 6:30PM are co-presenting back-to-back workshops on the "Spiritual Warrior" and "How to Find the Blessings When the Going Gets Tough" sponsored by the Seminar Center of New York at the Empire Hotel.
On the flight in from LAX we approached NYC on a route that took us parallel to the Hudson River until out the left side windows we could see Manhattan. Soon we were flying directly over the World Trade Center site with the flight attendant coming on the PA system to welcome us to the "greatest city in the world." It was one more opportunity to experience and reinforce the column of Light that was anchored into this place both long before and after September 11. I recall on a flight many years ago I was sitting next to John-Roger when he pointed out, through our window view on to Manhattan and greater New York, that the effects of placing the Light were visible as a kind of radiant haze over the City. It was a verification that simple and repeated acts of praying, wherever we are located, as an invocation of Light can anchor as a lasting column connecting through to the center of the earth and above the surface. These columns of Light cause positive and powerfully lasting effects of upliftment and blessings.
We encourage you to envision white, crystalline Light columns where the towers have stood and even seeing the rubble as gems of radiant Light, perhaps a bit in the rough, but in the process of being refined to a most beautiful setting–a place where the world will come to connect to the solemn peace and glory that stands in our oneness with God. And, wherever your are and wherever you go, you can place columns of Light, blessing whatever is there and whoever comes present.
Today we were escorted by Jim & Christine Lynch and Marc Alhonte to the area near the WTC site. And it is quite a different site for those of us who can well recall what was once there. We walked much of the perimeter that has been cordoned off so that the recovery and restoration work can be done, stopping twice to place the Light and record moments of peace. There was a local gentleman who was upset with our cameras and his presumption that we were just there as tourists. He reminded us that 5,000 people died there. We let him know that we were there for a different purpose. We were there to bless the Souls of those departed and the Souls of all those who remain and who will come to this place. In this blessing we can consider what took place and the meaning of what will be here in memorial, renewal, and as new life. We envision a place thriving as a focal point to bring people from around the world in the blessing of our uniting together in peace, good will, and harmony. Join us in placing this invocation with our trust fully in God's will being done.
In Love and Light,
John and J-R
Watch A Moment of Peace from New York with John-Roger and John Morton. Produced on the road in New York by Jsu Garcia. Music by Eric Lumiere and Jeffrey Morgan. Dedicated to the memory of Ziv Shavit. Watch online here