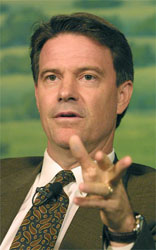 John Morton concluded his talk at the Conference 2002 Institute for Individual & World Peace Donors Thank You Seminar with the following prayer.
Lord God, we come before you again, bringing to you, as we always do, our own troubles and disturbances. We ask that you receive us as you always do, with your loving that is complete and all-encompassing.
We ask that you bring in the spirit of peace that transcends all the disturbances and all the againstness in this world. We call upon your emissaries of peace, particularly those who come from the Spirit and touch into this world as angelic beings, as those who support us inside, who guide our consciousness toward greater good.
In the name of Jesus the Christ, who we can know in our heart as the spirit of the Lord and the presence of peace that is toward all, we ask that whatever can be done to help us let go of and forgive any againstness or causes of violence we may harbor, be done.
We are partaking and proclaiming, as Light bearers, as peacemakers, that you have gathered us here again in the Holy sacred place that is this world, where we find ourself. We ask that you place this gift of upliftment, of peace everlasting, into the world, that it cover everything that is taking place right now so all are visited by the spirit of peace.
We know there are those who have closed themselves to the love, to the divine purpose that is in their heart and in their Soul. We ask that whatever has closed them from the knowing of the divine be lifted, through your grace and mercy, so they are restored in their true nature. We ask you to intercede wherever men and women and children are gathered, so that what can be stopped, what can be changed so that there is greater peace, be done.
We pledge and bring before you our commitment, that you use us personally, individually, and collectively, to cooperate for your cause. Use this Institute of Individual and World Peace for the purpose for which it was established. We ask that you call forward those who can align with this purpose so that we are united in greater peace.
We stand for peace, we live in peace, and forever, we hold peace to be what is reigning supreme.
Baruch Bashan (which means "the blessings already are")