The Way of the Traveler | Iberia 2017 | El Camino del Viajero
September 10 thru October 10, 2017
Dear Beloved,
We invite you to follow along with us by viewing our daily blog, pictures, and videos. We also invite you to send the light to the Tour and to all involved.
John Morton will be Live Streaming from Madrid, Spain for a Seminar on Forgiveness, a sacred evening experiencing forgiveness and the teachings of Soul Transcendence. The event is September 12, 2017 at 8:00 pm in Madrid (11 am PDT Los Angeles). Click msia.org/livestream at the time of the event to view the event.
Join Us in Planting Light Columns wherever you are and Light up the World together.
Here are two handouts from John-Roger on "Light Columns"
Click here | Planting Light Columns #1 by John-Roger
Click here | Planting Light Columns #2 by John-Roger
The map below shows the dates and locations of travel for the Spain & Portugal Tour. If you'd like to participate and support the Light action around the planet, join us in visualizing a Light column each morning in the city that's on the itinerary.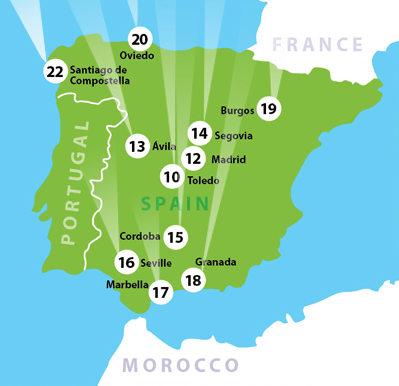 We Would Love To Hear From You
Click here | to Chat with us during the Tour!
Click here | to Email us at MSIALive1@gmail.com
Would you like to receive email updates for the Tour?
Add your email address to the OPT-IN list to receive email updates. When we have new posts you will receive an email in your inbox. Click the banner to Subscribe and Join the Celebration!