Toledo, Spain
Toledo is our first stop to kick-start the Spain Tour 2017. Jan Rovecamp described Toledo perfectly, "A beautiful tapestry of humanity and culture." We are all delighted with the hotel for a particular reason. We are staying at the NH hotel and the logo for the hotel when turned upside down spells HU.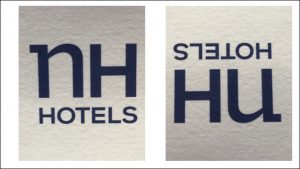 Once we all arrive, we gather together in communion from around the world. Vincent DuPont begins the evening by calling in the Light followed by a beautiful chant of the Ani-Hu. As the sound of the Ani-HU fills the room we begin to relax from the travels in preparation for our Journey. John shares and prepares us for our spiritual journey we are about to embark on. John reminds us to have fun now because if it is not funny now, it will be later.
Toledo is an ancient city on a hill overlooking the Castilla La Mancha plains in central Spain. Toledo is the capital of the region and the home of a number of beautiful monuments and home to the famous painter, El Greco. The exploration through the city of Toledo begins in the morning. As for tonite, the group dashes off the to Hacienda Del Cardenal Hotel Restaurant to enjoy the sound of its fountains creating a relaxing atmosphere. The Restaurant is inside an old Toledo mansion with rooms and outbuildings, decorated with tiles, wood and our first taste of Spain. The food is exquisite and we partake of many dishes of the Spanish traditional food. Chicken, salmon, fried eggplant, venison with cheese and the bread is out of this world. All complemented by a delicious dessert. We all slowly make our way back to the hotel with our spirit's and bellies full to have a deep rest in preparation for tomorrow's tour.
Love & Light, Julie
Touring Photos by David Sand
Scroll down to see Day 1 story by David Sand.

Join Us in Planting Light Columns wherever you are and Light up the World together.
Here are two handouts from John-Roger on "Light Columns"
Click here | Planting Light Columns #1 by John-Roger
Click here | Planting Light Columns #2 by John-Roger
Join in Visualizing a Light column wherever you are each morning with this map that shows the dates where we will be on tour to connect with the Light action around the planet.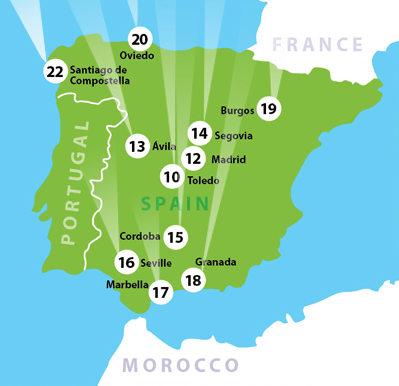 We Would Love To Hear From You
Click here | to Chat with us during the Tour!
Click here | to Email us at MSIALive1@gmail.com
Would you like to receive email updates for the Tour?
Add your email address to the OPT-IN list to receive email updates. When we have new posts you will receive and email in your inbox. Click the banner to Subscribe and Join the Celebration!
There are about 20 sound and video cases to shepherd through airports from Los Angeles to London Heathrow to Madrid, from van to airport, to airport customs to bus, and about as many hours in transit. The Madrid airport seems almost deserted. The passport control guy stamps my passport without a single word or question. There's no customs, no entry form to fill out—zilch. If we didn't have to register our mountain of equipment for import-export purposes we wouldn't have seen a customs person at all. Is it that it's siesta, or the weekend, or that nobody wants to come here? One of us says that an airport is a prime indicator of economic activity. That may be it. 
Why does it have to be Spain? Italy, England, France…sure. Spain has always looked like combination of a military prison and a monastery to me, and one of the biggest joys of being an adult has been that I've been able to stay out of schools, hospitals, prisons and churches. I don't know about you, but I can't say I've ever felt ecstatically joyful looking at El Greco or Picasso or Velazquez. Passion, or sublimity or beauty, yes. People were asking me if I was excited to be going on this trip for the last couple of weeks and my face answered for me.
Ina Cristina meets Roger, Julie and me at the airport in Madrid, we load the audio-video mountain into the bottom of the bus, and somehow during the hour's journey to Toledo the Spirit starts sneaking in…and Spain begins to look pretty good. There's a very specific, discernible energy in MSIA trips and events. Inside the skin, it's a little bubble of happiness. Outside the skin it feels like a canopy of protection. It's almost impossible to worry about anything. It's a revocation of fear. I can still get a bit upset or judge, but there's no fear because….well, because…it's like you're two years old and mommy and daddy are here. It's Mother-Father-God. Grownups might call it the Beloved because it's no one but it could be anyone. Upset or judgment can come in briefly but they can't claw their way up very high. Without fear to empower them, they slide back down. "Perfect love casteth out fear" says the Bible. It's impossible to get concerned about anything. I can get annoyed that I have to take photos or do other ridiculous physical procedures that interrupt the bliss, but if I just ask for the Light to guide me I can forget about the body enough so that it goes on a sort of automatic, my protests get drowned out in the activity of the moment, and I become a happy monkey doing my job.
It makes no sense because the outer world hasn't changed one iota. I start chanting my tone on the bus and soon I'm enjoying the graffiti and the barren landscape. This is not a rich country compared to most of the west. Unemployment is around 17%, and youth unemployment is down to around 38% now—so things are improving compared to a few years ago. There are a lot of scars here, a lot of history. But when the Beloved is here the outer world seems like nothing. It's a joke, basically. I start thinking of jokes, and recounting the plots of some TV comedy shows on the bus as we're all laughing, exchanging jokes while the arid countryside rolls by. 
We arrive at our hotel in the picturesque old portion of Toledo. It's beautiful, it's old, and the light on the stonework is silver-grey, yellow, pink, red, or orange depending on the time of day. It's a lot of stone. It's beautiful but it's hard. There's no carpet in the hotel, all stone and tile, so in your room you can hear people's footsteps and voices echoing in the hallway. It's that echo of monasteries, churches and prisons. An echo is audible history, a whispering of what took place just before. What's past seeps ineluctably into the present and reminds you that you can't really be completely free of its influence. 
It's a simple, charming, old-world hotel, with that feeling of ease and timelessness that lets you know you're in a place that was created by humans. The staff are very eager to help but they don't speak great English; there are a few sixties-looking odd large chairs in the attractive but sort of cavernous two-story lobby, overshadowed by big beams and more stone and tile. The electronic key-card system is broken so you have to go to whoever is at the desk to get them to open your door for you with their physical key. It's a problem when a lot of us get to the desk at the same time, and the staff is scurrying everywhere with their clanking handful of keys. But at least we can get out on our own—so it takes the sting off the intimation of prison.
I crash for hours and hours, wake up a bit, and sleep some more until I'm thoroughly groggy. Sleep is interrupted briefly by breakfast and I'm reminded that I'm in Europe—great breads, cheeses, fruit, juices. Our childlike, boisterous MSIA people start arriving and hugging each other, and as usual I glance at the more solemn natives on who are on vacation, hoping we're not bothering them too much. They seem cool, relaxed, like they can handle anything you throw at them. Then more sleep. In the afternoon I manage to get up in my dazed state and go downstairs to where our first orientation meeting will take place, and help get name tags, t-shirts and luggage tags set out. The orientation meeting is the usual combination of practicality, laughter, and just the right dose of chaos that are the hallmark of MSIA events. We meet our Spanish tour guides—stylish, friendly, smart. They'll fit right in with us. Everyone is commenting on the fact that the hotel logo looks like HU when upside down.
Then we walk through the old town for a typically Spanish, late, slow, 3-hour dinner. Now we're really in Europe, and under cover of the balmy evening all the echoes of monasteries and prisons dissolve. Great food in an outdoor dining courtyard, separate courses that go on and on outside a gorgeous old hotel. We enter through the wall of the old city with high stone parapets (Did this used to be a fortress? Let's not go there.) but softened by ivy, hedges, trees, gardens, delicate lighting on gravel footpaths, and a Spanish guitarist—with no echoes because we're outdoors bathed in foliage. 
We get colored dots to represent which main course we want, which of course some people put on their foreheads. It's a summery, sweet night, with everyone a bit muffled, punch-drunk and relaxed from jet lag and the shock of being suddenly dumped off a plane into this new world—except for one table that includes Marcos and his crazy battalion of Latins, who provide a laugh track for the whole group. I see this in MSIA workshops and events all the time. All it takes is one instigator to set it all off. It's still as true today as it was 2000 years ago. ("The form changes, but the formless never does." —J-R)
Strolling back at night through the brightly lit outdoor cafés in the park, with their white chairs and white umbrellas glowing under the trees, dotted by just a few people sitting quietly, looking at each other or staring off into the darkness, I feel like I could be in Italy. I think this is going to be OK.