This event is Open to All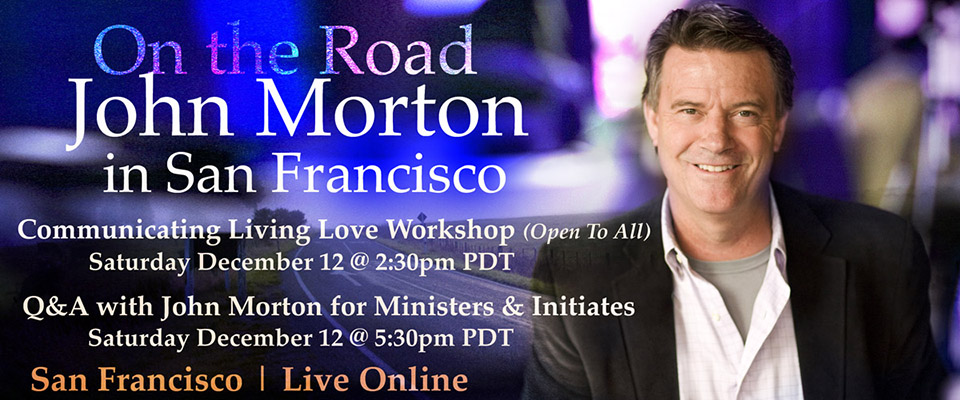 Communicating Living Love Workshop with John Morton, San Francisco & Live Online
Saturday  December 12  |  2:30-4:30pm PT | With Spanish translation
Have you noticed that when you turn to love everything falls into place? 
Join us at this powerful workshop and discover keys that MSIA Founder, John-Roger, shared about loving. "I communicate Living Love" John-Roger, D.S.S.
---
IN PERSON DETAILS
$15 USD  
San Francisco Marriott Fisherman's Wharf, 1250 Columbus Avenue, San Francisco, CA
*****See below for Special Hotel Rates*****
Click here to purchase tickets  -or-  Register at the door.
Questions?  Contact Eric Babinet  @  ebabinet@gmail.com
---
LIVE ONLINE DETAILS
Live Online Cost   Free
San Francisco= 2:30-4:30pm (PT) | NY= 5:30-7:30pm (ET) | London= 10:30pm-12:30am (GMT) 
Watch the live stream 15 minutes prior to start time here: msia.org/liveonline 
Questions?  Email  MSIAlive1@gmail.com
---
HOTEL BOOKING – MSIA GROUP RATE
MSIA has a special group rate of: $156 per night at the San Francisco Marriott Fisherman's Wharf.
So book your hotel now!
This special group rate is only available until November 6
Group Rate is available these dates: December 10-13, 2015
Reserve Online  |  Reserve via Phone: 415-775-7555
San Francisco Marriott, Fisherman's Wharf, 1250 Columbus Avenue, San Francisco, CA 94133