This event is Open to All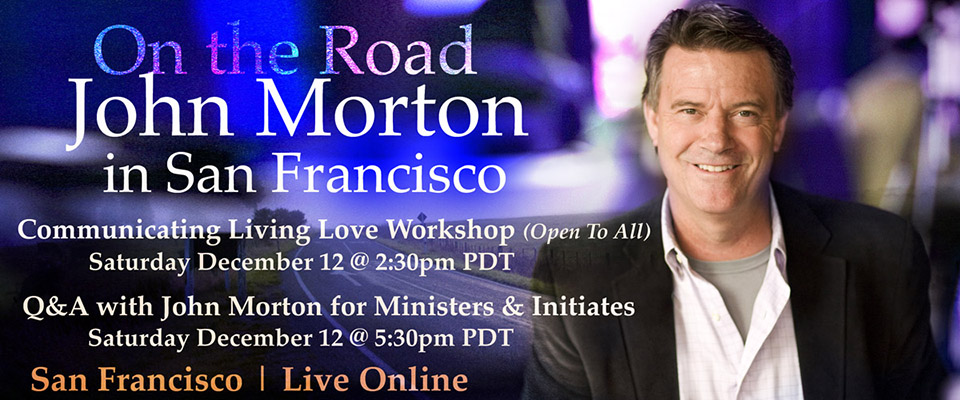 Q&A for MSIA Ministers and Initiates with John Morton, San Francisco & Live Online*
Saturday  December 12  |  5:30-7:30pm PT  |  With Spanish translation
This is a special, sacred opportunity that is only for active MSIA Ministers and/or Initiates to ask questions of John Morton, the Traveler and Spiritual Director of the Movement of Spiritual Inner Awareness.
****Prerequisite   Must be an active MSIA Minister and/or an active MSIA Initiate in order to attend. 
---
IN PERSON DETAILS
$25 USD  
San Francisco Marriott Fisherman's Wharf, 1250 Columbus Avenue, San Francisco, CA
*****See below for Special Hotel Rates*****
Click Here To Purchase Tickets   -or-  Register at the door. *Must meet the prerequisite. 
Questions?  Contact Eric Babinet  @  ebabinet@gmail.com
---
LIVE ONLINE DETAILS
Live Online Cost   Free
San Francisco= 5:30-7:30pm (PT) | NY= 8:30-10:30pm (ET) | London= 1:30-3:30am (GMT) 
To watch you will need an msia.org store account with activation. (Activation takes at least one business day.) If you have not already set this up, go here to get started: http://www.msia.org/participate/minister/
Watch the live stream 15 minutes prior to start time here: msia.org/liveonline/ministers/meeting 
Questions?  Email  MSIAlive1@gmail.com  
---
HOTEL BOOKING – MSIA GROUP RATE
MSIA has a special group rate of: $156 per night at the San Francisco Marriott Fisherman's Wharf.
So book your hotel now!
This special rate is only available until November 6
Group Rate is available these dates: December 10-13, 2015
Reserve Online  |  Reserve via Phone: 415-775-7555
San Francisco Marriott, Fisherman's Wharf, 1250 Columbus Avenue, San Francisco, CA 94133