This event is Open to All
Month 12 of a 12 month program
Full date & time info below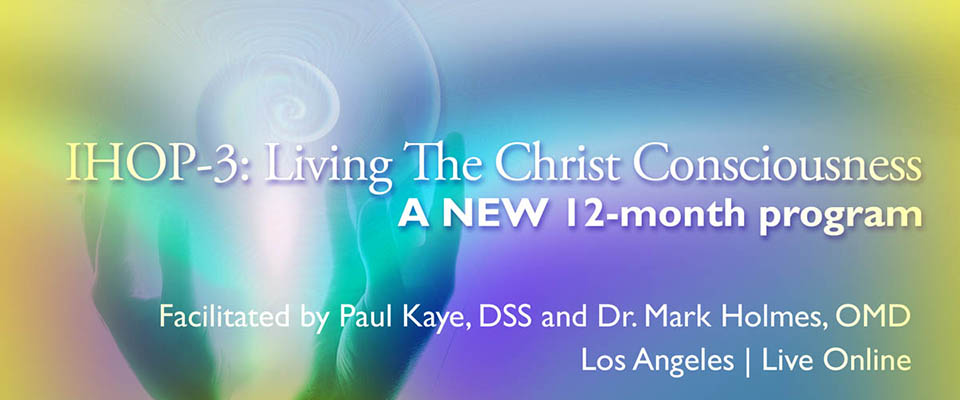 No homework, a retreat-like environment, just relax and receive. Intuition, Health, Openness, and Prosperity – IHOP3: Living the Christ Consciousness, will be presented live from Prana and online, in English and Spanish, starting in January, 2015, once a month for twelve months.
The class is about transforming our consciousness so that we can hold a consistent focus of unconditional loving and unceasing joy, and be living the Christ consciousness that we are. To guide us, we will be using the examples of the personal transformation of each of the twelve disciples.
"When you, in your individual way, tune in to that which is divine love, where you know goodness dwells, the place where you truly live and express calmly, peacefully, and with love, then your behavior becomes a true representation of the Christ within you. When this process starts, you are opening the portals of your Soul."
John-Roger, DSS
---
Registration REQUIRED: Tatiana Gallo  at TatianaGallo@pts.org or 323-328-1943
Note: If you are taking the class at Prana please add $25 to the tuition below to cover lunches on Saturday and Sunday and beverages during breaks (maximum of 20 cups of coffee per person per day). Attending in person at Prana also allows for conversations with facilitators during breaks. The $25 additional charge to attend live is not optional.
IHOP Virgins: $275 (price includes first year of discourses for people brand new to MSIA)
IHOP 2 Grads: $250
IHOP 1 & 2 Grads: $225
---
Facilitators
The class will be facilitated by Paul Kaye and, by popular demand, Mark Holmes, OMD. Mark is a long-time minister and initiate and has been a health practitioner and Oriental Medical Doctor in private practice for over 40 years. He has a wealth of practical knowledge that he will be openly sharing with the class.
In January, we will be joined by Joanne Avison author of Fascia, Anatomy & Movement. Joanne will be leading us, with her trademark clarity and humor, in a day of Heart-Centered Motion. We'll be learning how fascia awareness, embryology, sacred geometry, and an array of fascial movement tips all lead us to, and from, our Hearts – the place where Christ resides inside of us.
Along with lots of John-Roger seminars and meditations, John Morton is planning to share with us each weekend, as he did for IHOP 1 & 2. The class material includes the latest cutting edge science on health and well-being that is in harmony with MSIA's spiritual teachings.
Ways to Participate In IHOP
Once registered and paid up, you can take the class anytime you want during the class year. If you are in an MSIA community you can gather with other registered participants in your home and take the class together. If you are living alone, we will help you connect with other participants in your area or across the planet, so you can take the class with them.
The class offers a tremendous opportunity for you to apply the Traveler's teachings to enter into and awaken more fully to the Christ consciousness. If you are ready for a deepened commitment to your health and vitality, abundance and prosperity, and the unfolding of the Christ within you, please join us at IHOP 3. We'd love to have you join the growing IHOP global community.
---
FREQUENTLY ASKED QUESTIONS & ANSWERS
Is there homework?
No. You take the class at your own pace and participate in whatever way supports you. We will be offering optional additional material during the month and a group discussion portal. There may also be small assignments that are contextual to your life but that will also be optional.
Are there any books or materials or equipment I need to buy?
Nope. We will be providing what you need. We'll be sending out a regular email with additional news and tips for you, plus summarizing what has been working and what has not been working for participants. And, we intend to add free adjunct classes as part of the class structure to amplify, clarify or support particular areas that we'll be covering.
I have heard it is a retreat, is that accurate?
Yes. Think of this class as a monthly weekend retreat for your mind, body, and Spirit. It's relaxing, it's fun, and it's life-enriching. It's a gift of loving that you give to yourself each month. And remember, loving is the huge key.
Is this a brand new class?
Yes. This is the first time IHOP 3 is being offered. We will continue the IHOP themes of exploring new concepts and ideas that have emerged in the last decade in the field of cells, neuroscience, and movement that tie in beautifully with what J-R and John Morton have been sharing over the years.
We will be exploring fascial hydration and fascial fitness and how they can help our movement and mobility and add to our general health and well-being. The fascia is the connective tissue that forms a supportive physical and energetic network throughout our body, and into our cell structure.
We will continue working with the three selves in new and creative ways throughout the class, and we'll also be diving deeply into how we can create greater abundance., prosperity, and riches in our lives using the many ancient and modern tools available to achieve this.
Why else would I want to take this class?
Our health and well-being is really important. And the way we move physically is integral to that. We will focus on how we can be healthier and more vital, so we can live as fully and vibrantly. That involves freeing up our energy and unwinding our tensions, physically, emotionally, mentally, and energetically. Even a small but significant key applied consistently can have a positive and long-term impact on your health and well-being.
In the area of prosperity and abundance we are finding that perceptions of lack are rampant. The class acts as an antidote to lack, focusing instead on there being endless supply and the magnificent possibilities that stem from that, and how we can plug into this supply.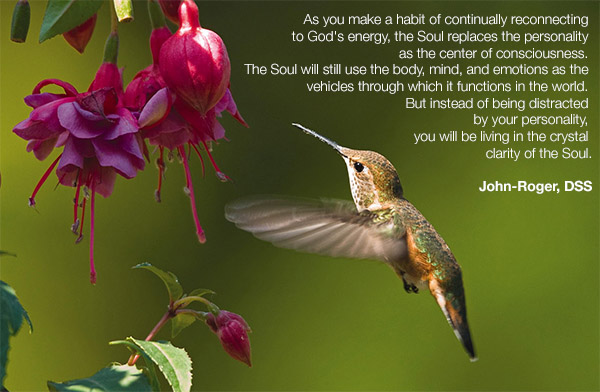 Do I need to commit to take all twelve classes?
For this particular PTS class, no. You do however need to take the classes in order. Although we have found that a high level of commitment to participate makes a huge positive impact on the energy of the IHOP class and each individual's involvement, we also recognize that you, or a friend of yours, may just want to try it out before jumping in with full dedication. So please jump in and give it a shot and see if it is a fit for you.
What happens if I miss a weekend?
While we prefer that you keep up to date, we also understand that our lives are very full these days. So, as long as you are a paid-up registered participant you can take the class anytime during the year that you want.
Can I take this class alone?
Yes. However, we encourage you to gather with others in homes in your MSIA community. If you can't do that, then we will assist you to connect with others so that you can get more value from the consciousness explorations we will be doing. All the explorations and exercises are done in groups of four (quads).
My time zone is a lot different than Los Angeles. How do I work this?
This format allows participants to take the class even if they have a full schedule and live in different time zones. This is an exciting feature afforded by our newest technology. If you are in England or Australia, for example, you can tune into the live portions in your time zone and also take the class the following weekend in your communities via the online recording. If time is a consideration, you could break the class up into modules and hold evening sessions – perhaps coordinating with class participants in your area so you can connect as a group. The possibilities are endless – we encourage you to be creative and have fun with it.
What are the prerequisites?
You need to be active on Discourses or SATs. If you know of someone who is interested in taking the class who is not on Discourses, you can let them know that the first year of discourses is included in the first month's tuition for the class.
Do I need to be "technologically savvy"?
We are using the latest broadcasting technology so we can continue to expand and create a supportive IHOP global community focused on health and prosperity.
If you're concerned about using the broadcasting technology or social media, we have a team available to support you. In addition to Julie Lurie, we will have a dedicated English-speaking person and a dedicated Spanish-speaking person available to provide you with the technical support you need. For example, linking you up with other participants and instructing you on how to share via Skype during our live broadcasts.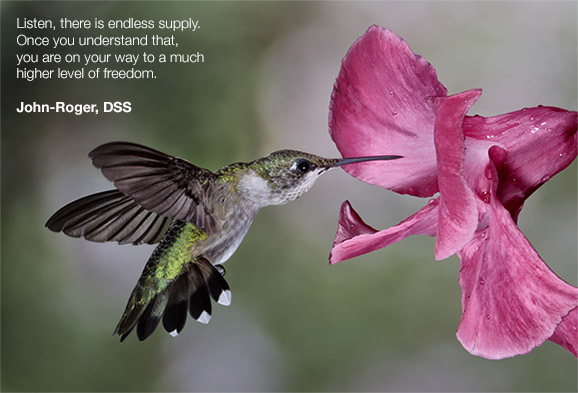 Complete Class Dates
The class times (Pacific Time UTC – 8h) are:
Most class weekend are just Saturday and Sunday, however please note that January and May are both Friday, Saturday and Sunday. All times below.
Friday (January & May only): 10 am – 6 pm
Saturday: 9:00 am – 7:00 pm
Sunday: 9:00 am to 6:00 pm on Sunday
All other months:
Saturday: 9:00 am – 7:00 pm
Sunday: 9:00 am to 6:00 pm on Sunday
Even if you take it live you can watch it again online anytime in the year you wish, as long as you are paid-up and registered.
In January, we will be joined by Joanne Avison author of Fascia, Form and Functional Movement. Joanne will be leading us, with her trademark clarity and humor, in a day of Heart-Centered Motion. We'll be learning how fascia awareness, embryology, sacred geometry, and an array of fascial movement tips all lead us to, and from, our Hearts – the place where Christ resides inside of us.
If you cannot take Friday off to attend in person or online, you can watch this day later on in the month, independent of the Saturday and Sunday.