This event is Open to All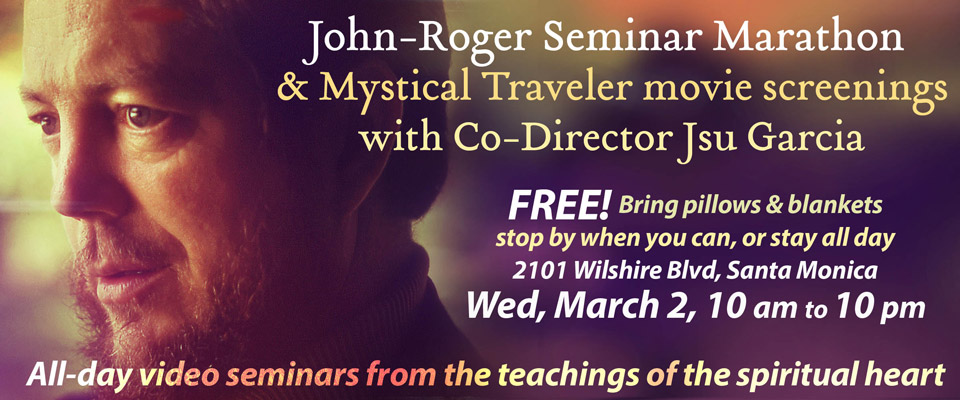 ---
We will be playing J-R seminars and the documentary of Mystical Traveler – The Life and Times of Dr. John-Roger for 12 hours Non Stop!!!
Bring pillows and blankets and make this a nurturing day retreat for yourself.
Stop by whenever you can, or stay all day for a real J-R Marathon experience!
---
Date & Time: Wednesday March 2, 10am – 10pm
Facilitated by: Jsu Garcia, Co-Director with John-Roger, of Mystical Traveler – The Life and Times of Dr John-Roger
Prerequisites: Open to everyone
Venue: USM Building, 2101 Wilshire Blvd, Santa Monica CA 90403
Cost: Free of charge — donations accepted
Registration: Via facebook – Click For Facebook Event | However NOT required – Just show up whenever you like
Registration Contact: Jsu Garcia | jsu@msia.org
---
Testimonials from around the world about the 'John-Roger Marathon Experience'
From Nathalie Franks…
At the beginning of the marathon when Jsu announced that JR was present and showed his face on the video camera I was overwhelmed.. When we started chanting the Ani Hu, I felt so blessed to have JR with us as the marathon began. The Light came in so powerfully, knowing that the two Travelers were physically present was such a treat. Thank you to all that made this available over the internet.
God bless us all.
From Kay Tucker, Missouri
Thank you. This is wonderful! 
From Jennifer Halet, Lake Arrowhead
Good Job! Greetings from Lake Arrowhead @ the Merrimack house.
Love,
From Jen Jacobs, Australia,
Dear everyone who created our marathon.
In Australia, it's sacred Sunday & this was a sweet profound way to do nothing but do SEs & love J-R & give thanks until the finish line!
 You are awesome… gratitude & gratitude.. it's amazing to be able to join in! 
From Donna Walton, San Diego
Loving to all of you that made this possible and devoted yourselves to bringing this to us online. It was an awesome experience to be so connected to the traveler. 
God bless you all.
Thank you, thank you, thank you.
---
Read about previous John-Roger Marathons
Los Angeles January 14, 2012 | Santa Monica March 23, 2013 | Video Moments with John-Roger PLUS More
---