The pandemic has forced us to turn to the internet for access of information like never before, digital libraries have become a necessity, schools turn to online distance learning, and most importantly, it is where we find our spiritual resources.
For this reason, the digitization of all the John-Roger legacy content along with John Morton's content, is now more important than ever.  We are very proud that this archiving process was at the top of the priority list way before it became a true necessity.
Since the end of spring, 354 masters (and counting) have been digitized for the first time.  As these tape masters come out of the climate controlled vault, they are escorted to highly skilled professionals that are ingesting the contents of these tapes to create a digital master, plus an editorial file, and a high quality proxy -or viewing/working copy. The images below are just a snapshot of a bigger picture that is quite satisfying, while daunting in scope.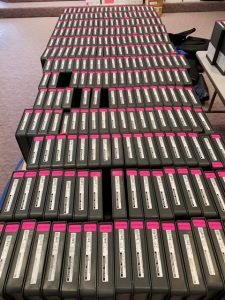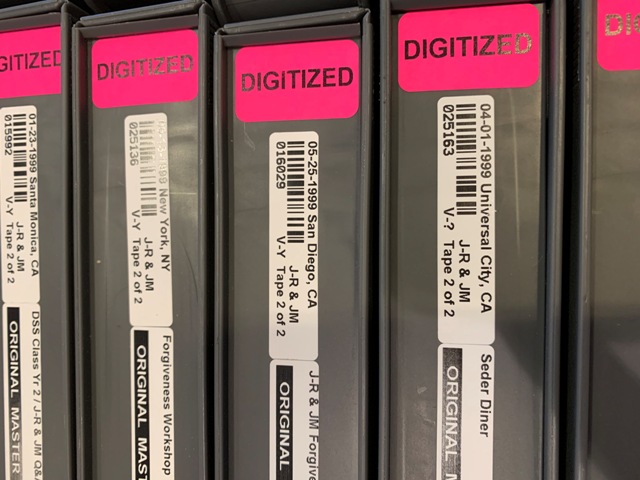 These digital masters will enjoy a long sleep in the Deep Cloud storage, while our proxy files will be easily accessible in our new Digital Asset Management system (DAM). The NOW Productions editors and post production staff will be able to edit and create content right in the DAM, a dream come true!
By using artificial intelligence (AI), the DAM can also create a time-coded transcript. It's crazy to watch the system typing every word automatically as the video of our Travelers plays, right on our screen!
But, while smart, AI won't get all the MSIA lingo right at all times; Prana becomes Piranha, etc. It can be quite entertaining!
As J-R says,
Start with one thing.  And when you have succeeded with that, you may decide to take on the next. – John-Roger, NDH Q&A, July 2003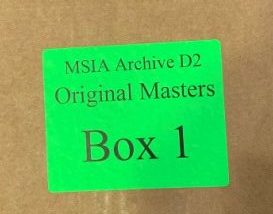 Until next month!  Be safe, and God bless us all.
---
On a recent Tuesday morning, a giant truck with 300 boxes of MSIA archival media arrived at our Santa Monica 2101 Wilshire building. With masks in place, Mark Lurie, John Pavilonis, and a friendly delivery guy got a good workout unloading all of the backup tapes –DATs, CD's, D2's, Betacams, and others — J-R and John Morton recordings that were once stored up in Felton, California (just north of Santa Cruz and Monterey).
When the Felton storage facility closed and relocated to Los Angeles, it defeated our plan to keep the archives in separate locations, in case the big one rocked Los Angeles. Move to plan B? No. We needed a new Plan A.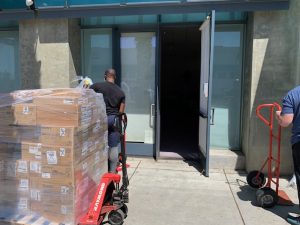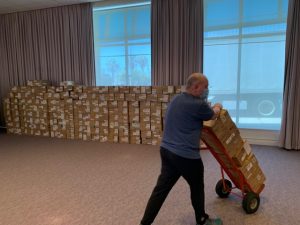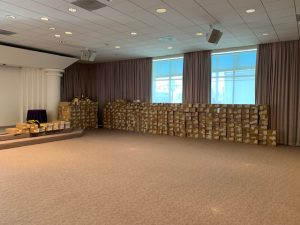 Setting up our staging area for inventory, repackaging for long-term deep storage
Under the new plan, we are gathering the media to do a thorough inventory and once we have ensured that we have all the copies we need, it will be packed and shipped off-site; this time to a salt mine storage facility in Kentucky. We found that the major movie studios, as well as the National Archives, hold hundreds of miles of film, tape and paper records in these underground mines – 58 stories underground – with controlled temperature and humidity.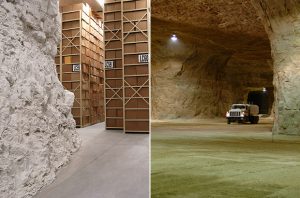 A week later, we did a reconnaissance mission at the Hollywood Vaults location in Los Angeles, a state of the art media storage facility where the MSIA masters and second archival copies are kept. We culled the media further to consolidate what will be kept in location A (Hollywood Vaults) and location B (Salt mine in Kentucky). We believe it is important to still retain the original masters and archive copies stored in physical format, to serve as backups even though we are converting all recordings to digital format. And who knows, maybe someday we will have amazing technology that will allow us to extract better versions from original masters.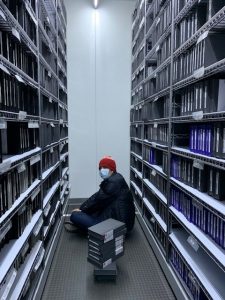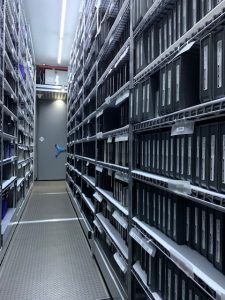 Mark Lurie at work in the vault, it's freezing in there!
Concurrently, the digitizing project continues to be underway. Digital archiving is currently the most efficient method for preservation. We are making both digital masters as well as digital 'working' copies available on cloud storage that can be easily accessed and duplicated into computer hard drives for editing, publishing, ​and ultimately make the teachings more easily available to you and all!
In loving,
---
Life in the J-R Library During the Pandemic
Shelter in place. Quarantine. Social distancing. What started as buzz words turned into a way of life the last six weeks. What seemed to be a safety measure for just a couple of weeks is stretching into months.
Life is different. And thank God I work for MSIA and the J-R Library. I am no baker, and streaming free yoga classes is not for me. Now, my days start with John & Leigh's daily blessing online. This gift of a twenty minute block serves to inspire, to come into gratitude and calm. Then the day gets BUSY!
As soon as we were advised to stay home, our small and highly experienced army of Library volunteers kicked into high gear. The emails started pouring in, asking for more projects. They are proofreading, checking, and transcribing John-Roger and John Morton recordings. They are turning around jobs within 2-3 weeks, sometimes even days, instead of the usual four weeks. We even received emails from new people who want to start volunteering. The newly digitized recordings we've done over the past year are getting transcribed, including J-R interviews he did with Rama Fox in Miami in the early '70's. More than thirty new and finished transcripts have been archived in the Library since March. A new record! This means they are now searchable and useable in many forms that will reach our community. The Library is becoming richer with content by the day.
Along with nature, our air quality, our planet's health, another beneficiary of this time when the earth stood still, is the J-R Library & Archives.
Now, gummy bears for lunch, because who's got time to cook?
Look for the good in all things and situations, and you may be surprised at what you see. –John-Roger
---
Welcome to the first blog entry of the John-Roger Archive Portal
In May 2018, I took over as manager of the J-R Library & Archives (JRLA). It was a dream come true for me. Though I have been on MSIA staff for a handful of years working with Products, I had spent many years working as a volunteer for the JRLA. Naturally, it is my greatest pleasure to work here now, immersed in J-R's teachings.
The Library was primarily focused on transcribing and organizing decades worth of John-Roger's recordings and documents. As I became involved in my current post, I took a step back and along with the Presidency, looked at the vast MSIA archival picture. When we examined the archival process of the transcripts, original recordings, and digital files we quickly realized that while NOW Productions and the JRLA were both archiving J-R's content, we needed to unify all of our systems to ensure that nothing was missed; to create the most comprehensive archive possible for posterity. At the most granular level, this means reviewing and analyzing the extensive NOW database to identify which older generations of media stored at the vault have not been digitized. Due to the vast volume of works, part of the digitizing is being outsourced and some of the more vulnerable pieces are being lovingly digitized in-house.
Through this process, my role has shifted and my title has become NOW Productions Archive Manager. My most important mandate from the Presidency right now is to coordinate getting every J-R recording digitized and catalogued, with a transcript to match, into a singular searchable system. Of course, the preservation and digitization of J-R's books, Discourses, articles, continues as well.
We are building a digital library of audio, video and transcripts, which will ultimately converge in a Digital Asset Management system so we can make the teachings more readily available for you.
Why am I sharing all of this and what is the John-Roger Archive Portal?
It has been a dream and goal of ours for quite some time to offer a way to share John-Roger's teachings — where users can explore content brought together all in one place. Some of this content, dating to back to the late 60's, hasn't been published since it originally came out. Additionally, we have wanted to do a much better job of keeping our MSIA community informed on all the inner-workings going on "behind the scenes" to preserve J-R's teachings.
The home page of J-R Archive Portal features the searchable archive content of over 2,500 Loving Each Day quotes by category, date, or free-form word search. This is just to get us started! Next, we will have an MSIA chronology and history, that we are planning to expand (any volunteers?).
This Blog page is where you can read about newly added content, you'll also find a section on How-to-Volunteer (because we always need your help!) and a section where you can read about how your donations can support the John-Roger Legacy Fund, which MSIA set up for the purpose of preserving and publishing of J-R's teachings well into the future.
If you are new to MSIA and not so familiar with John-Roger, browse around. We invite you to take a look at J-R's bio page. You can also learn about MSIA's current Spiritual Director, John Morton, here and watch his videos here .
We couldn't be more excited to finally have it up and running.
This archive will continue to expand with even more content, coming soon! We are building a text search feature for J-R's books, along with deeper archival content in the works.
Please take a moment to subscribe to our email newsletter to tune into all the future developments and get alerts when there's a new blog post (see subscription option below).
Last but certainly not least, we are building an awesome team. John Pavilonis has joined the archive staff and we are looking to fill at least two more positions.
In love and Light,
Marina Van Wormer, the NOW Productions Archive Manager
---