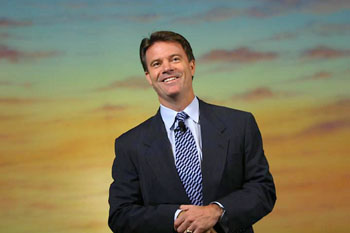 Click here to view a slideshow of photos from the Ministers Meeting at Conference 2003.
Preparations for the MSIA Ministers Meeting at the Conference of Momentum: Letting Love Lead began early on Sunday morning, July 6th. Ordinations of new MSIA ministers were taking place in the studio conference rooms. A full complement of ushers and assistants began preparing a place for the meeting to take place. Just before noon, the ministers began to enter the ballroom and take their seats for the meeting.
Ministerial Chairperson Alexandra Roberts called in the Light to begin the meeting. She introduced all the Ministerial Board members currently serving, the recently elected new Board, and asked those who had ever served on a ministerial board anywhere at anytime to stand as well. Looking around the room, it looked like more than half of the ministers in the room were standing!
Next, the Minister of the Year awards were given. Ina Christina Carbajal-Kiernan and Ruby Whang, last year's Ministers of the Year, came on stage to present the awards. Ina announced Joan Shea as Minister of the Year 2003. Joan was not in attendance, but her award will be sent to her. Then Ruby Whang announced Deborah Martinez as Minister of the Year 2003. Both Joan and Deborah received standing ovations from all of the ministers present, with some cheering as well.
David Rodgers, Managing Director of the Institute of Individual and World Peace had Alexandra draw tickets from the raffle box to attend the Blessingsfest Brunch on Monday, July 7th. Then, Paul Kaye demonstrated the new seeding and tithing envelopes and gave us all an opportunity to seed in the moment.
MSIA's Presidency, Paul Kaye, Vincent DuPont and Mark Lurie, gave out the much deserved MSIA Service Awards to Peter Kiernan, Steve Chopyak, Michael Hayes, Cleste Norris, and Rick Greene. Again, the audience gave standing ovations with much cheering.
Next, Alexandra lovingly introduced John Morton. John welcomed those ministers in Sydney, Adelaide, Brisbane and Jillaby, Australia, who were listening to the meeting in the pre-dawn hours over telephone lines. He stated that this year marks the 25th anniversary of Insight, and listed the new board members as J-R, John, Greg Stebbins, Matthew Molitch, Mark Lurie, Martha Boston, and Ron Hulnick, with Candace Semigran as Executive Director. He mentioned that there are Insight seminars scheduled for Australia, London, Israel, Mexico, Colombia, Ecuador, Uruguay, Chile, Bolivia, Brazil, Peru, Venezuela, Honduras, Spain, and Argentina, in addition to Austin, Santa Fe, Philadelphia, Miami, and Boston in the U.S. John urged that ministers consider assisting at Insight trainings again, and added that Insight is being re-energized, recharging it for the next 25 years, and that there will be a 25 Years Celebration in November of this year.
John read a quote from J-R and emphasized that if ministers got together and chanted for ten minutes, they could start the planet revolving in another direction. John talked a lot about what we as ministers can do in the world, going forth regardless of race, creed, color, situation, circumstance, or environment. He encouraged each one of us to be patient, to hold in loving, to go forward, to get active, and to be willing to respond in joy and beauty.
John recalled some of his experiences with Insight in 1978, and talked again about the expansion of Insight. He recalled a trip to Bangkok, Thailand, and a surprising visit to a serpentarium there. And he stated the J-R is his ministry. He closed by asking us to do spiritual exercises, to take care of ourselves, and to make ourselves available to do God's work in the world. And then luncheon was served, in the Studio Rooms and on the East Lawn outside the Sheraton Universal Ballroom.
Click here to read the article and view the photos from the IIWP BlessingsFest Fundraiser 2003
Click here to read the article and view the photos of the Initiates Meeting at Conference 2003
Click here to read the article and view the photos of Workshop Day 2 at Conference 2003
Click here to view a slideshow of photos from the Conference Momentum: Letting Love Lead Workshop Day 1.
Click here to read the article and view the photos of the IIWP Seminar at Conference 2003
Click here to read the article and view the photos of the PTS Graduation at Conference 2003
Click here to read the article and view the photos of the Representatives Meeting at Conference 2003
Click here to read the article and view the photos of the Exploring Spirit Workshop at Conference 2003
Click here to read the article and view the photos of the Prana Open Day at Conference 2003
Click here to read the article and view the photos of the Family Retreat of Conference 2003