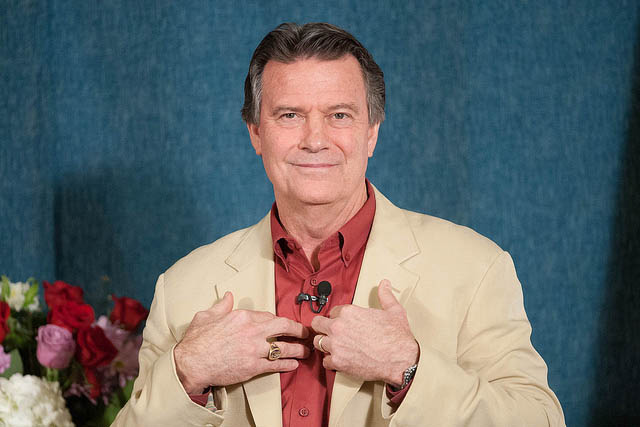 John Morton really turned on the Valentine's love with a themed Q&A at Prana on February 8th. This seminar was named after a classic MSIA bhajan devotional song, which was lovingly and harmoniously performed as an extended version with bonus lyrics by Matt van Fossan, LeAnna Sharp, Clara Beatriz Jansky, and Jason Jansky.
The event was charmingly emceed by newlywed Danielle Britton and interpreted into Spanish by Maria José Maranon.
Upon being introduced, John emphasized John-Roger's statement that "the greatest thing is Love," from one of two Moments of Peace that had just been shown. He asked us to consider, "Are you done with Loving?" and repeated MSIA's basic tenets, "Out of God comes all things" and "God loves ALL of its creation"…and what's more, this love is always unconditional.
Throughout the evening, John responded with humor, grace, and spontaneity to more than a dozen love-related questions, ranging from an inquiry about twin flames to how one can more deeply experience the Divine Presence within. Topics touched on: the ego, anger, karma, current events, seat-saving, the belt of Orion, Beauty and the Beast, loving through difficult times, ministering to family, and even an impromptu Dionne Warwick singalong!
Many days later, several attendees reported to this writer that they were still floating from the spiritual "high" of the energy that night. (Not to mention the rapture of Prana chef David Funk's delicious gluten-free, low-sugar chocolate chip cake with hand-whipped cream topping…yum.)
You can get the full experience by watching the recorded video…be prepared to have your heart opened wide!

Please enable Javascript to watch this video
VIEW THE PHOTOS

Join us for these upcoming events at PAL&G:
Putting Love First
Feb 21 at 7:30pm, facilitated by Jackie Peterson and Lori Matson. Explore keys to connect with your loving and share it in your day-to-day life.
Introduction to Meditation & Sound
Feb 28 at 7:30pm, facilitated by Paul Kaye. Join us for an evening of guided meditations, instrumentation and silence, as we relax and attune more deeply to the inner sound.
Sacred Mysteries of the Labyrinth, A Candlelight Labyrinth Walk
Mar 7 at 7:30pm, facilitated by Charles Bernstein and Carol Jones. Learn about and experience the sacred geometry of the labyrinth.