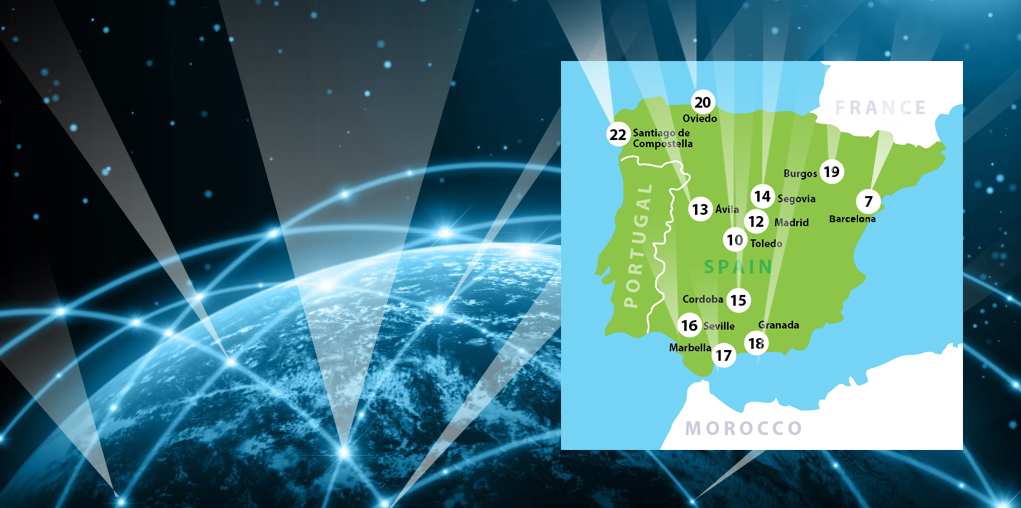 ---
To facilitate support for John Morton and the group going to Spain and Portugal, Marc Alhonte set the intention of a "flotilla of Light", and Louisa Holmes created a graphic to assist us in supporting this Light action.
---
From Marc:
As you can see, the graphic shows the names of cities and the dates the group will be there on a map of the countries.
In its simplicity, the action is one of placing a Light column wherever you are each morning of the dates on the map, then asking it to connect with the Light action in the relevant city, forming a matrix of Light that will both support and amplify the action.
We would be like ships in a flotilla supporting the mother ship. The support will be available for John and the group as they bring the higher Light to that area. This can also multiply the action, like a magnifying glass focusing the sun into an intensity that can burn things off.
Finally, it can serve as an action of protection and comfort for the group as they address what is being addressed by this ministry of Love, Light and Sound.
This graphic is also being forwarded to many Light workers participating in Latin America who, as you might imagine, wish to support this ministry. Peace.
LL,
Marc A.
---
WATCH A JOHN MORTON BLESSING ABOUT BEING A COLUMN OF LIGHT


---
For more about how to place a Light Column, click here.
For more stories about communities placing Light Columns around the world, click here.