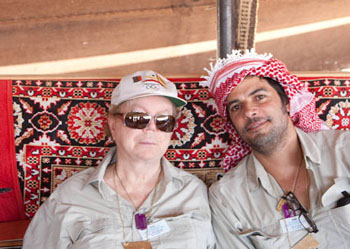 Photos by Jsu Garcia
Click here to view a photo slideshow by Jsu Garcia from the Garden Tomb, Garden of Gethsemane, Mount of Olives, Israel.
Click here to view a photo slideshow by Jsu Garcia from the Gethsemane, Israel.
Click here to view a photo slideshow by Jsu Garcia from Masada, Israel.
Click here to view a photo slideshow by Jsu Garcia from Mount Tabor, Sea of Galilee, Nazareth, Israel.
Click here to view a photo slideshow by Jsu Garcia from the Founder's Dinner for J-R's birthday in Jerusalem, Israel.
Click here to view a photo slideshow by Jsu Garcia from the trip from Israel to Jordan.
Click here to view a photo slideshow by Jsu Garcia from the trip from Petra, Jordan.
Photos by David Sand
Click here to view a photo slideshow by David Sand from Israel.
Click here to view a photo slideshow by David Sand from Petra, Jordan.
Click here to view a photo slideshow by David Sand from Wadi Ram, Jordan.
Click here to view a photo slideshow by David Sand from a Bedouin village, Jordan.
For the past 9 days I have been so blessed to visit Israel and Jordan in honor of J-R's birthday. We (150+ folks) joined Jsu, John Morton, and the MSIA presidency to be Light bearers and emissaries of peace. The first 3 days we toured Jerusalem in many of the places that were visited by the PAT IV and PAT V trips. This time was especially significant as it was the end of Ramadan and the beginning of the Jewish High Holy Days. The peace and Light that we were all bringing first to ourselves, each other, and the people of the land was palpable. We toured the Old City of Jerusalem, dipped in the Dead Sea, and all got baptized in the river Jordan. We visited the Sea of Galilee and took a boat ride across it.
These touring days were followed by 2 glorious days of sharing from John-Roger, Jsu, Michael Hayes, and John Morton. Between the shadings we were all entertained by stories of J-R's childhood from his brother Delile. If you have not met Delile yet, he and his wife Elda are 2 of the sweetest and kindest people around.
56 people stayed over to continue the celebration in Jordan. We spent an amazing day in the ancient city of Petra, which is stunning. The town was carved into the rock over 2200 years ago. The beauty and majesty of the city is amazing. Later that evening Jsu surprised us all by taking us to the home of a Bedouin sheik whose tribe prepared a scrumptious meal for us (sans onion and garlic). We ate and shared our peace and Light in the tent in the desert.
The next day we all climbed back on the bus for a real desert experience. We piled into Land Cruisers and headed out into the red sand desert in the Wadi Rum for a tour of the Seven Pillars of the desert. The rock formations in the mountains are the home for several Bedouin villages. The Bedouins are very kind souls who prefer to live in tents made of tightly woven sheep wool. They have camels whose feet seem to glide across the sand. Several of us got camel rides in the desert of Israel and Jordan.
After wandering in the desert for a few hours we were once again fed by Bedouins before we headed back to the ocean city of Aqaba, where we swam in the magnificent waters brimming with coral reefs and amazing fish.
One of the things I have learned from being in the Middle East is how loving each person I met is. I envision a time where each of us can drop our positions and just love one another. They describe this region as the land of milk and honey. I have experienced the sweetness of this land and it's people. What strikes me is how much each person loves God. And I will come home with the richness of the love of God and all His people.
Thank you Jsu for making this trip possible. And Happy Birthday J-R!
LL, Candy Spitzer
******
Holy Zeus! J-R's 75th Birthday Celebration
By Russell Bishop
J-R turned 75 on September 24th and, as has been the custom for quite some time, wound up working for his supper. In the past, we would have called this The Founder's Dinner, a fundraising event for MSIA originally envisioned and coordinated each year by Jan Shepherd.
Indeed, we had another Founder's Dinner this year, only with a Zeus inspired twist. Rather than gathering at Prana, 143 pilgrims found their way to Jerusalem for a combination mini-Pat IV, er PAT V, well something that looked like PATs gone by.
Arriving over the Rosh Hashanah weekend, we gathered at the King David Citadel Hotel, just outside the Jaffa Gate to the Old City of Jerusalem. Jsu and Jan kicked things off on Sunday evening with a short briefing on the events planned for the following days. Benji Shavit was there as well, welcoming us back after 15 years.
For those who don't know him, Benji is a delightful Israeli who met J-R when J-R was on an early trip to the Holy Lands, looking at possible sites for the yet to be announced PAT IV trainings. Benji has been with us on every PAT trip to Israel, and has become very much part of the MSIA family. Although he no longer works as a guide, having created a travel agency of his own along with a fledgling winery, Benji again headed up our touring for the next week.
We began on Monday with a return to the Mount of Olives for a traditional communion ceremony overlooking the Dome of the Rock and the Old City. We were joined by Shraga and Berta, two guides who have also been with us on our previous Journeys to the East. Berta reminded me that they would love to have another Insight seminar in Israel.
After communion, we walked down to Gethsemane and spent some time amongst the olive trees that were there when Jesus prayed that fateful night of his betrayal. John Morton treated us to an impromptu seminar in the Garden which further helped set the sacred tone for the days to come.
From there, we were back on the bus and headed to the Old City for a walking tour. This time around, it was pretty surreal — most of the shops were closed and few people were out and about. Rosh Hashanah certainly had something to do with that, as well as the fact that Ramadan was just coming to an end.
We walked the Via Dolorosa and visited the Church of the Holy Sepulcher.
We also found our way to the Western Wall, sometimes called the Wailing Wall, the only remaining part of the Second Temple and the holiest of Jewish sites. As much as this is a place of prayer, it is also a place of conflict; hopefully, a few more Light columns will help disperse some of the negativity here as well. For dinner, we wound up in a Bedouin tent in the desert where we were visited by Abraham.
Tuesday, we made our way to the Mount of Beatitudes where we enjoyed another impromptu sermonette from John, then on to Capernaum where Jesus performed many miracles. We made our way to Kibbutz Ein Gev for a lunch of St. Peter's Fish and a sailing across the Sea of Galilee. From there, it was on to the Jordan River for baptisms at the Yadenit Baptismal Site before returning to the hotel.
Wednesday morning we were again on board our buses, this time driving through the Jordan Valley and the Judean Wilderness on our way to Masada and the ruins of King Herod's fortress, the last stronghold of the Jewish Rebellion against the Romans. From there, we found ourselves floating in the Dead Sea, and smearing Dead Sea mud all over each other. On our way back, we stopped by the Qumran Caves, home to the Essenes and where the Dead Sea Scrolls were discovered.
Thursday was J-R's birthday and we began our marathon two day sharing session at noon with a lovely buffet lunch. One of the very special treats for this trip was the presence and Light of Delile and Elda Hinkins, J-R's brother and sister-in-law. Delile engaged us with many stories of growing up the J-R, most quite humorous and rife with Hinkins family humor.
Words cannot adequately convey the Love, the Light and Blessings that were bestowed. J-R never ceases to amaze, as he keeps coming back again and again to tell us what he has told us over and over again. For those who did not have the opportunity to join us, allow me to share a piece of advice J-R offered me in response to my question: "Your answers will come in your SE's."
After two days of sharing with the Chief, John Morton and Michael Hayes, the group split, some returning to their homes in Europe and the States, others heading to England for that part of the trip, and some of us joined the Traveler on the Zeus inspired tour of Jordan.
Jsu took us on a mini-tour of the Spiritual Warrior movie, starting with a day touring Petra the "Rose Red City" of the ancient Nabataean civilization. We walked the Siq, a marvelous canyon carved in the sandstone cliffs to see the magnificent Treasury, Monastery, the Roman Colonnade, Amphitheater and the Silk Tomb. That evening, we were guests of the Sheikh of the Amarin tribe at his home in Little Petra. The sheikh had been instrumental in helping Jsu with the filming of Spiritual Warriors and displayed considerable hospitality and caring to us, right down to preparing a meal devoid of onion and garlic.
The next day, we went on a Land Rover tour of the desert, visiting Wadi Rum and the Seven Pillars rock formation. The Seven Pillars represent the biblical Seven Pillars of Wisdom and the Wadi Rum is the site of T.E. Lawrence's base of operations during the Arab Revolt of 1917-18.
We brought this part of the trip to a close by checking into the Movenpick Hotel in Aqaba overlooking the Red Sea. Crossing the border the next day went quite smoothly all things considered and we made our way back to the airport in Tel Aviv. Many continued on to London for the next part of the trip while others found their way back to homes in Europe and the US.
Thanks again to Zeus and to Jan for putting this together and our eternal gratitude to J-R for his loving, Light and patience with us all!
Russell Bishop
******
I'd like to first thank Jan Shepard for her persistence in making the, "J-R 9/24 – GEVUROT-HERO Israel-Jordan 2009" trip the best I've seen. This trip was more then a PAT IV. She's truly a mama Warrior. We love ya.
Our love and support go to Benji, Doris and family. Benji did a super job. We love ya Benji. Ziv's Spirit was present everywhere we walked.
I want to also send my love and thanks to the Prez: Paul, Vincent and Mark. This trip ran smoothly because the Prez came with experience and focus. This made the trip awesome for me. I'd like to take all credit and say I did it all but I was awesomely aware that Spirit/Christ/J-R walked with me and all of us in the Holy Land.
I'm home now writing this and I'm looking back at the trip and I can describe it as a "ZONE". I was in the "ZONE". I'd love to have that "ZONE space" everywhere I go in my daily life. The "ZONE", doesn't require thinking, emotions, it's only requirement is listening to Spirit as it speaks to all us saying, "serve with love".
I want to thank Michael Hayes for standing in the healing for J-R.
Delile and Elda Hinkins were so delightful to have in our presence.
The continuing Birthday trip for J-R to London/Scotland/Paris gave us another miracle. Again I want to thank our Spiritual Warriors on the ground, Zo