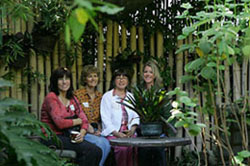 Click here to view the photo slideshow from the November 12th Spiritual Spa Day at Peace Awareness Labyrinth and Gardens.
Who better to lead our Spiritual Day Spa centered on "Realizing God's Abundance," than Nick Segal and Deborah Allen-Segal. With 99 people attending and assisting the day, we were graced with an abundance of people, an abundance of laughter, and most certainly an abundance of loving at Peace Awareness Labyrinth & Gardens.
The morning's session lead participants through sharing, a meditation and discussion centered on the "abundance key" of Gratitude. The microphone was passed around to all participants and they were encouraged to share one special blessing in their lives that they were truly grateful for. What a lovely affirmation to all of us in the room it was to have participants sharing and claiming the bounty of blessings they experience in their lives including: family, our Beloved Traveler's Teachings, the heartfelt outstretched arms of a son's hug, the opportunity to serve as part of the Traveler's Team. As I'm writing this and reflecting upon this magical sharing, I can feel the electric energy of love, peace and appreciation that filled the room.
Brunch was, of course, another way for us to experience and partake in the abundance of fantastic food that we are blessed with at Peace Awareness Labyrinth and Gardens almost every day of the week. Brunch was shortly followed by an abundance of praise and positive feedback, participants naturally expressed their gratitude for such a lovely meal. As an example of how we are opening our doors to more and more people in the Los Angeles area, we also hosted a group of docents from the historic Gamble House in Pasadena for brunch. 38 delighted lovers of fine architecture and beautiful gardens enjoyed a tour of the historic rooms and the gardens and dined together with Spa Day participants. We look forward to our docents visiting the Gamble House sometime soon.
After brunch, the invaluable principles of seeding and tithing were shared with the group, together with the heart of the Traveler's Teachings — Soul Awareness Discourses. The way Deborah and Nick were able to weave their own personal experiences, quotes from the teachings, and discussion with the audience, together with their gentle encouragement for us to explore these concepts in our every day lives was a blessing to observe.
The end of this Spiritual Day Spa was concluded in the traditional manner — a walk of the Labyrinth and the opportunity to share the experiences and realizations from the short and sweet journey. For all of you who have observed this breathtaking process as participants describe their own processes of awareness and insight, you'll know how powerful and precious this magical tool that we have in "our own backyard" is. For those of you that haven't yet had this pleasure, I hope we'll see you here at Peace Awareness Labyrinth and Gardens for our New Year's Eve Sacred Tones Evening, Saturday, December 31, 8:00 pm. It's a lovely way to ring in the new year–chanting the names of God in the beauty, warmth and comfort of the Gardens' beautifully appointed gathering spaces. Visit www.peacelabyrinth.org or email to registrar@peacelabyrinth.org or call Zoe at (323) 737-4055 x127 to register or for more information about upcoming events.