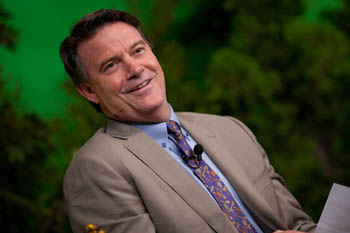 Despite the fact that it was a balmy Southern California evening, more than 100 Peacemakers gathered in the Grand Ballroom at the Universal Sheraton Hotel to attend a meeting of the
Institute for Individual and World Peace
(IIWP), to reaffirm their dedication to peace.
After calling us all forward in to the Light, Debbie Roth did a masterful job of moderating the flow of various video media and speakers, and presented herself with authenticity and clarity, as well as her natural joy.
Joan Shea was asked to share the "Nine Magic Words," and led us in a Peace Meditation based upon the Worldwide Peace Prayers that are presented four times each year.
Appreciation was shown to the Windermere Ranch staff and volunteers, to the "back office" staff, to the volunteer Garden and Orchard crew, and to the Santa Barbara residents who hold their Peacemaker meetings at Windermere Ranch's big, beautiful barn.
We watched a short video describing the latest news from Windermere (especially the goats and llamas!), and an excerpt or two from John-Roger, founder of IIWP, on the source of peace within each one of us.
Eric Lumiere shared an uplifting song about living from the heart. Well done Eric.
Leigh Taylor-Young facilitated an exercise regarding how to attune to our inner peace, and how to increase that attunement.
And then, John Morton spoke about the "peace that surpasses understanding," and shared some of his thoughts and insights about how peace is active in our lives.
The evening was a demonstration of the true peace of the heart, one that is both quiet and joyful, deep and playful. More than one person's eyes were misty, as the loving in the room was palpable.
Many blessing flow from Conference each year, and tonight's meeting was one of them.