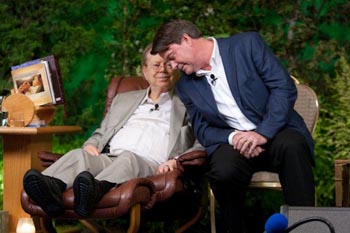 Bright and early all good folks gathered for day 1, of our 2 day workshop, "Living the Spiritual Principles of Health & Well-Being." First, I shopped in our Conference store and picked up a necessity — a new bottled water carrier — and then I entered the workshop room. Soon the room was filled with happy campers, and loving energy everywhere. Wow! And the workshop hasn't started yet. Finally the beautiful Rachael Jayne our M.C. welcomed us to the opening of the workshop and the room roared its approval. After going over all the logistics, Rachel introduced Facilitator, Paul Kaye.
Bounding up to the stage, Paul immediately moved us into John-Roger's breathing meditation. We were informed about the confidentiality guideline, and it is important that we cannot share the techniques yet, as this workshop is full of information that others will want to have their own experience of. Oh more joy! How can I share the joy without words? Can you catch the Spirit? Let me share, without giving away secrets.
One thing I can share that I heard, which we all know, but still it was profound, "Everybody here in the physical body came from one single cell." Really! Honest to God, and so we learned about eggs too …. and their counter part. As we listened to the information pouring from our beloved friend Paul, he stood straight and tall, yet casually relaxed. Which is quite a paradox, come to think of it. Next he introduced a pair of Docs; Dr. Phillip Barr and Dr. Marc Holmes; along with Diane Botticelli.
We learned the nitty-gritty on detoxifying and eliminating, how our basic self comes into play with our health, food and nutrition. It seemed as if the workshop was only on for a few minutes, but we had already digested an hour or two of information.
Finally we were into our first partner exercise and this Health thing part of the workshop became really exciting, and we haven't even explored the Wealth and Happiness yet.
I can tell you this, NOW Productions did another wonderful job of creating a stage design with a green colored backdrop, and lots of flowing green trees & ferns, etc. While taking the workshop we are bathing our eyes all weekend in green healing. And we learned so very much more.
The next great morning adventure arrives as Paul Kaye introduces John Morton. John's sharing was, as always, right on, and I heard him reminding us that Loving is an important aspect of Health. Well, we all know that, so I'm not giving any secrets away there. We just need to practice and practice more loving each day.
Another special feature of this workshop was the very latest new book authored by John-Roger with Paul Kaye, on Living the Spiritual Principles of Health and Well-Being, as a free gift to workshop participants for us to take home. Wow! This is not even yet available in stores, and we're receiving this tremendous gift. Thank you Travelers, thank you Paul Kaye, and thank you MSIA.
We adjourned the workshop so we could all go to lunch and take good care of ourselves.
After lunch we came back for the afternoon session. This started off with Kevin McMillan, Prana's guest services host who shared about the joys of visiting/living at Peace Awareness Labyrinth & Gardens. He gave us the "experience," as a video played of a recent news clip from FOX News — that was a real wow factor. Yes! Our home is a spiritual oasis in downtown Los Angeles!
Then Web-Mistress Deb Martinez got up to share, with NOW Productions assisting at the computer, how to explore our new website — with so much in it! She spoke of the new MSIA website being our home of the Traveler on the Internet. She demonstrated how to click on videos of J-R himself giving the teachings, and how we can make the site our own; and how to surf the site on mobile devices! Twitter on MSIA's Website!! Oh my.
As if that wasn't enough excitement, up comes our outrageous Jsu Garcia – and he introduces the latest video of Morocco – and reminds folks that J-R is going there for his birthday this year, and for us to come along. Finally, within moments, Rachael Jayne was back introducing Paul Kaye for our afternoon session.
I must remember not to give away any secrets. Oh well, let's just say the biggies were covered — from the immune system, to stress, more breathing, and before you could take another breath, once again Paul was introducing our pair of Docs.
Dr. Philip Barr shared many stories about …….. [remember, confidentiality!] Then Marc Holmes shared about …… [sigh. I can't tell you.]
I can say this, there is a Health Packet selling in our products store, with J-R's seminar about: "Causes and Cures of Diseases", it comes well recommended!
We did another enlightening personal sharing exercise with a friend next to us. Ah, I'm discovering I need to take more rest times — small pauses in my daily life. Just like a musical song is not one continuous sound, but has rest moments in a measure, or even in several measures, I need to pause during my day too. Rest, or silence, between the sounds, is where healing happens for me.
This has been one jammed packed day of a workshop, and the best is still to come. John Morton, John-Roger and Michael Hayes are walking down the aisle and the room comes electrically alive. Our Travelers ascend the stage, making J-R very comfy in a large cushy chair, and we settle back for an afternoon's sharing that went on 'til almost 7:45 PM.
Thus ended day one, and day two starts early tomorrow morning. Stay tuned to this website, for Part Two of "Living the Spiritual Principles of Health & Well-Being", which of course I can't tell you about (smile).