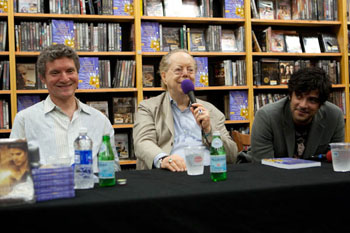 Workshop, Q&A and Booksigning: Living the Spiritual Principles of Health & Well-Being: The Way of the Spiritual Warrior
July 17, 2010
Breaking ground in Connecticut, Valerie Walsh and the Spiritual Warriors staff organized the first book signing in many, many years in CT. The benefit of these pioneering efforts are often small intimate crowds and that is exactly what we got in the Borders Book store in Waterford. There was a fair combination of folks familiar with J-R's work and also new people who had an openness and curiosity that was refreshing to us all.
Paul Kaye opened the event reminding us about our basic selves and how they relate to our health and the communication we can have with our basic selves. One of the best ways to support this communication is to bring things to completion. We had the opportunity to talk in partner processes about the things we could complete. This was set up so we were not overwhelmed by our 'to do lists' but could honestly evaluate them and move onto next steps.
After the processes everyone had a chance to ask questions directly to John-Roger, and to Paul and Jsu – with such a small group they were able to speak to everyone who stood up to share. The crowd was supportive and appreciative and the mood overall was that of a quiet home gathering.
Afterwards we were given a chance to purchase books and get espresso at the cafe, we all cued up to have our books signed and again, we were treated to the gift of more time with J-R and Paul. As usual, Zoë GoLightly was there to keep the line moving and assist J-R — her efforts were very touching to people waiting in line to see J-R. Much credit to the film crew as well, setting up in such a small space.
So yet another seed has been planted in CT– and hopefully this will entice the Spiritual Warriors & The Wayshower staff back again next year. We will see you then!
Hugs and Light! XOXOX,
Leigh
The book signing at Borders was awesome! The workshop, Q&A with John-Roger was fantastic! We can't wait to delve into the book! We are truly blessed to have these events here!
Love and Light,
Val & Rick, Mystic CT
I've been procrastinating trying to describe my experience of the booksigning because I don't know how to put in words the amazing uplifting gift I got from going. The information Paul shared from the book, was spot on perfect for me to hear, and J-R's sharing was freeing and as always perfect. Jsu's sharing with me was really helpful too. But my favorite part was being able to hold J-R's hand, look him in the eyes and share a smile. That smile and all that was in it is still with me and still lifting me days later. I can't thank you and the whole team enough for making this event possible.
Much Love and Light,
Louisa Holmes, CT