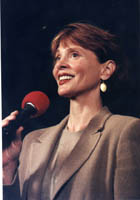 Well over 500 people attended the "By Invitation Only" Institute for Individual and World Peace Donor Seminar. It was great to see so many people financially support the work the Institute provides. Leigh Taylor-Young MC'd the evening, which began with Lucy Dickinson's beautiful singing, accompanied by a fabulous fiddler, Tony Selvage, who continued with a solo that brought people deep into their hearts.
A 2001 Award for Peace was given to Laren Bright. The new Director, David Rodgers, then gave an IIWP update and showed a new four minute video on the workshops IIWP is putting on around the world.
IIWP has designed three new workshops that are ready for the general public. New classes are available by email and IIWP is working to receive NGO (non-governmental organization) status at the United Nations. Peace workshops and presentations were held throughout the world over the past year and many more exciting fresh events are planned for the upcoming months.
John Morton was the guest speaker, and I heard him talk about how the weapons of the war for peace are loving, caring and acceptance. John took sharings from the audience. I heard John share that we can change things by actively praying for peace and using the power of our consciousness.
I enjoyed John discussing that Disneyland's original theme was "The Happiest Place on Earth" and how they created that by using it as their Mission Statement. I experienced John suggesting how we can use a theme of peace as our intention and we can choose to be at peace when things are disagreeable to us.
Every attendee received a new issue IIWP's Peaceful Times newsletter that lists all the new workshops being offered by IIWP, and upcoming events at Windermere Ranch.