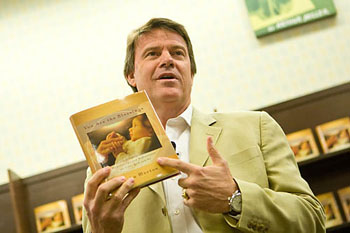 Question: Why did you write the book, "You Are the Blessings?"
Answer: It's very simple. When I would do booksignings for my first book, The Blessings Already Are, I often inscribed the phrase, "You Are the Blessings." I wrote it for the same reason I wrote this book — as a way of doing God's work in this world. I want to share God's message that we are all born as the blessings in the making. We are the blessings as a life potential that is always awaiting our realization and choosing. We are the blessings regardless of past choices and conditions.
In my first book, The Blessings Already Are, I spent a chapter talking about the blessings John-Roger identified as loving, caring, sharing, health, wealth, and happiness, abundance, prosperity, riches and touching. All the blessings, every single one, are present all the time. That's because the source of the blessings, God, is always present.
As we let ourselves be more aware of the blessings, more conscious of God's presence within us, we allow the blessings to manifest. We allow ourselves to know we are the blessings.
Everything in our life, at its core, is a blessing. So when all is said and done, when the day is done, when our life is done, everything has been serving in some way as a blessing.
Since I have the experience of knowing we are the blessings, I choose to share that knowing with others. As a minister in MSIA, I have a good window on the amazing, constant, practical application that calls upon God as the best way to respond to life's challenges, especially the unwanted and painful aspects of living in this world.
I travel to many places and situations where I'm aware that our presence is to help partake of the blessings and an opportunity to assist others. Regardless of the personal situations and challenges that each of us experience we can choose to be more conscious that we are the blessings.
When I am faced with a challenge, I find an opportunity to ask within to realize the blessings. I have experienced again and again the wisdom of looking for the blessings present and coming forward with our cooperation. So I encourage people not to draw their first conclusion about a situation or challenge but to be open as much as they can. The greater blessings are often something that we can't yet see.
When things challenge us, whatever they are and to whatever degree they challenge us, they're simply demonstrating that we are here to learn and experience for our growth. We are being tested. Perhaps we're learning to be more loving, to be more accepting and more compassionate. Perhaps we're simply learning to know we are the blessings present and coming forward.
Choosing the blessings can take tremendous courage, clarity and conviction. Nonetheless, our choices are freely presented.
Others may scoff and turn away, but I know the blessings already are. I am grateful when I choose the blessings. I am grateful to know I am the blessings. And I enjoy sharing with others You Are the Blessings.