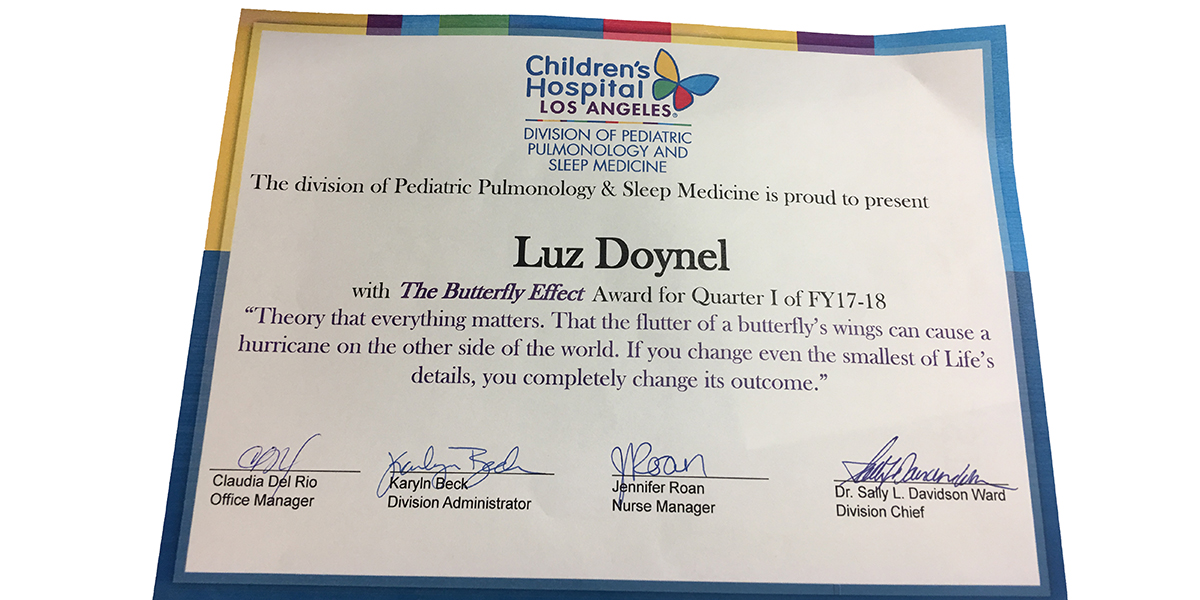 ---
Most of you know Luz from her many years in MSIA and in her many years of managing the MSIA Products dept. As many of you know she recently has taken on a new career of being a Spanish Interpreter for the Children's Hospital in L.A.
I am very proud to share with you that she has just won an Award for her work after only a few months of service AND while recovering from the effects of a life-threatening illness. Although I know Luz to be worthy of every acknowledgment they make about her (and more), I was impressed at how the doctors and nurses that she works with have recognized her skills and contribution as clearly and articulately as they have.
Please read and join me in celebrating the essence of the Spiritual Warrior, acknowledged in Luz, and resonant in each of us.
– Tim Thompson
---
Luz is an absolute lifesaver in clinic. Having her at my side to facilitate communication with Spanish speaking families has made a tremendous impact by improving my ability to assess and connect with these patients. Luz has singlehandedly improved the quality of care that we provide to our very specialized pulmonary population AND she enables the clinic to run more smoothly – decreasing frustration amongst patients and providers alike.
However, it is not merely her abilities as an interpreter which make Luz so special and important. Luz has an energy which is positive, dedicated, and intuitive. She does so much more than translate words from one language to another. She reads people and picks up on non-verbal cues that I would otherwise miss which could lead to serious miscommunication.
Luz goes above and beyond to make herself available to as many situations as humanly possible. Whether it be by email, phone, text or office communicator instant messenger, Luz is constantly coordinating and communicating. She is in tune with the different needs and schedules of the many different settings and individual providers with whom she works.
Luz never complains or makes excuses and is one of the most genuine people I know. She is a true inspiration to everyone who is lucky enough to work with her and leads by exemplifying integrity every single day. I know Luz isn't officially part of our division but, in my mind, she is a valued colleague and I hope she knows how many lives she has touched already.
-Lindsay Barr