When I was invited to write about my recent art show, art, and how it relates to my spiritual life, I thought, "writing, oh, no." Then, I got that it was another way of sharing what's been for me, an amazing unfolding of inner and outer experiences. I must start way back in time. Looking back, I realize that since I was a child, art has been a way to express my inner life and what I felt couldn't be said in other ways. This led me to take an art class as an elective in college when I was having trouble in another course. I ended up winning the best beginning sculpture award, which encouraged me to go further into my art focus and the following year led me to study sculpture for a year at L'École des Beaux-Arts in Paris.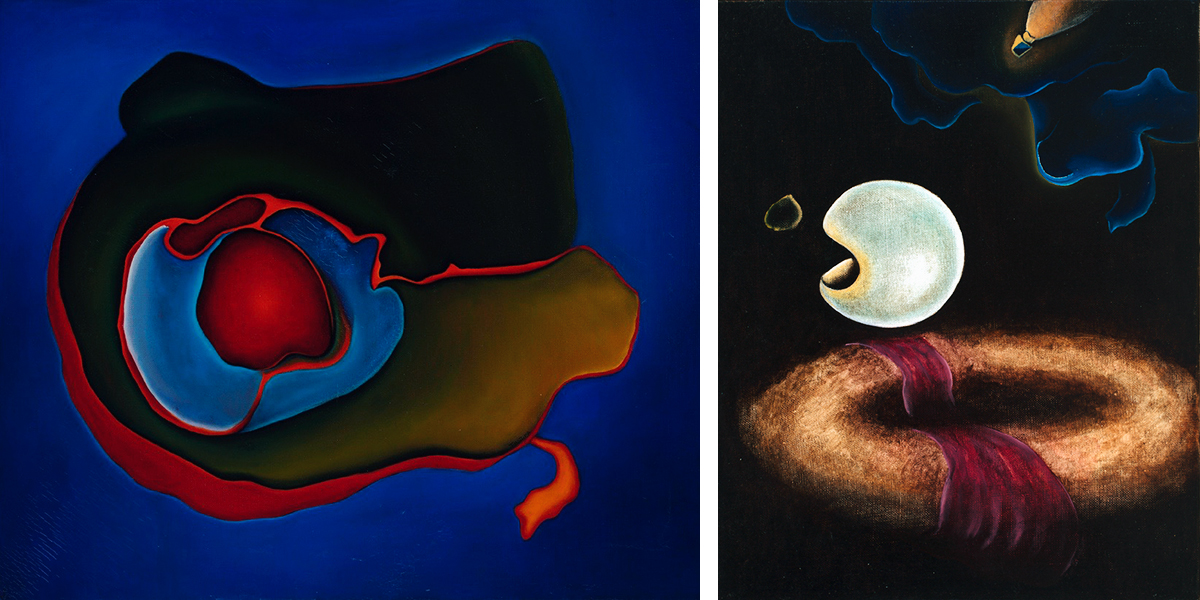 Genesis and Inner Journey, Paris, 1967-1968
Sculpting led to more drawing and painting and eventually returning to the USA and getting a Bachelor's degree in Fine Arts from Stanford before returning to Europe. I spent a year in Spain drawing and painting after which I was awarded a painting studio at La Cité des Arts in Paris for another two years (painting in Paris for several more years after that). Drawings and paintings from this period in Spain and Paris were included in my recent art exhibition.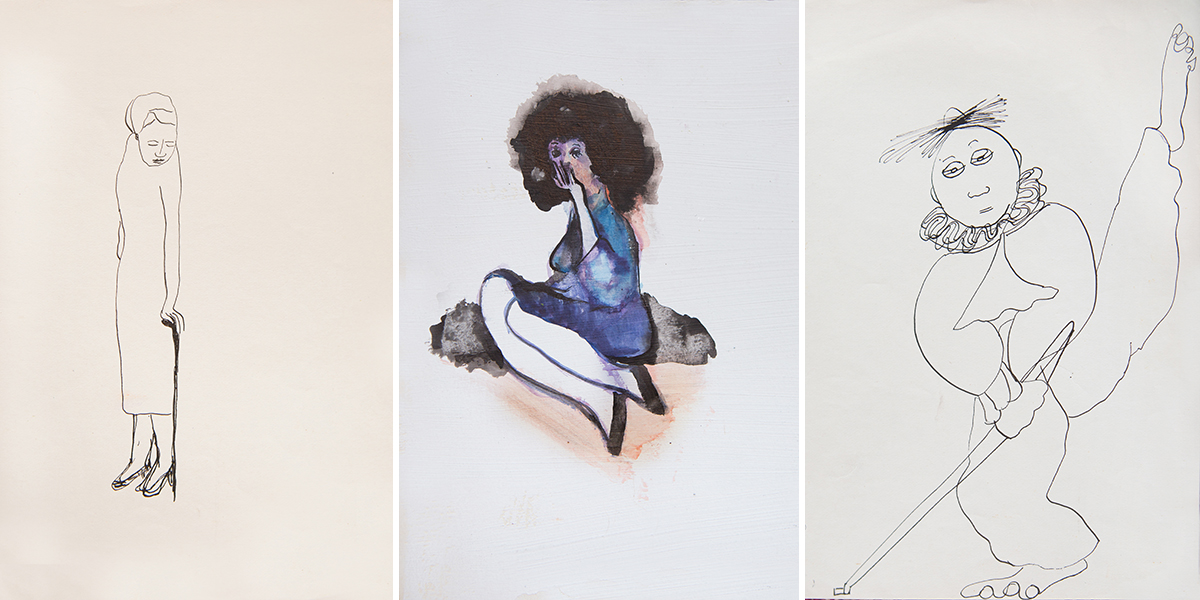 Drawings from Spain, 1967-1968
On the backdrop of this, what I called "coincidences" and many things that couldn't be explained logically started happening daily. Being raised as an atheist, I had an existential view of life while still being interested in the mysteries and questions of what's beyond. I remember being in a shop in Paris where I was asked to choose, as a gift, a colored ribbon that had been blessed by a Brazilian priest, to make a wish, and to wear the ribbon tied on my wrist until it fell off. I made a wish choosing a lavender ribbon and wore the ribbon until it finally fell off, raggedy and old. I now think that in that moment, by the nature of my wish, meeting J-R, The Traveler, became inevitable. It probably always was, yet this was a choice point and I chose in.
Flagging the Future, Untitled Drawing, and Soul Journey, Paris, 1967-1968
A year or so later I moved back to the USA and then met J-R. My life changed radically. I had stopped painting in Paris as my life had been shifting and my energy had been going out more, involved with the outer world. I continued art consultant work then I moved back to the USA and eventually opened an art gallery in Los Angeles on La Cienega. I had recently been introduced to J-R and I remember him coming to the gallery opening. From the time I met J-R, an inner journey began and the focus of my life changed. A new world opened up that led me, within my first year in MSIA, to start traveling with J-R whenever I could, assisting, and later facilitating, with Insight trainings, then as MSIA travel staff and on the many PAT and other J-R Light work trips. I left the gallery and followed the pied piper, the Traveler, whose music I was guided to follow wherever it led.
When more than forty years later in a PTS class, Traveler's Through the Ages, I saw the energy of the Traveler I had chosen to work with, show up visually (inwardly), I realized much to my surprise that instead of a report, I needed to paint a version of what I saw and felt. Awkwardly, I started painting again. The first painting led to others that needed to be much bigger, then to a series of triptychs and onward. That was six years ago.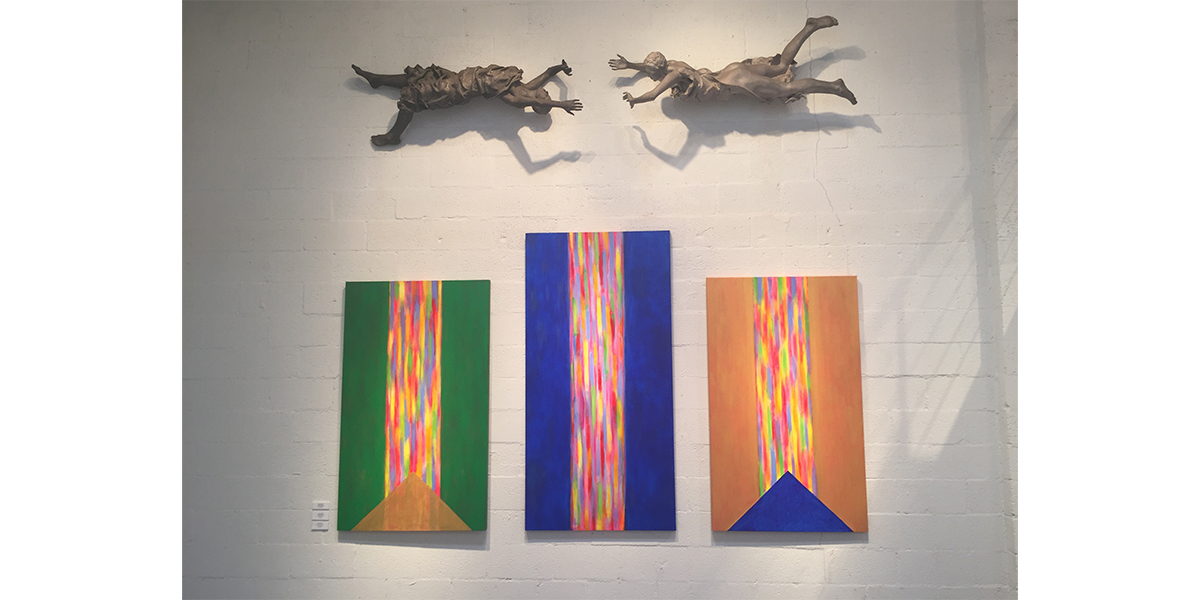 Cheops Triptych (2012 – 2013) with Robert Graham's Angels
The paintings continued and became more front and center in my life. I had thought that the painting chapter of my life was over and here it was back again but without the angst and perfectionist demands. These paintings were about energy and vibration expressed in color, rhythm and some form. They unfolded like a puzzle. Their colors were bold and sometimes even brash which surprised me, yet I couldn't tone them down. They need to be that way. I have experienced such an uplifting process in doing these paintings. I feel like l am relating to the joy of spirit and that there is a vibrational dialogue going on. It is hard to explain, even to myself.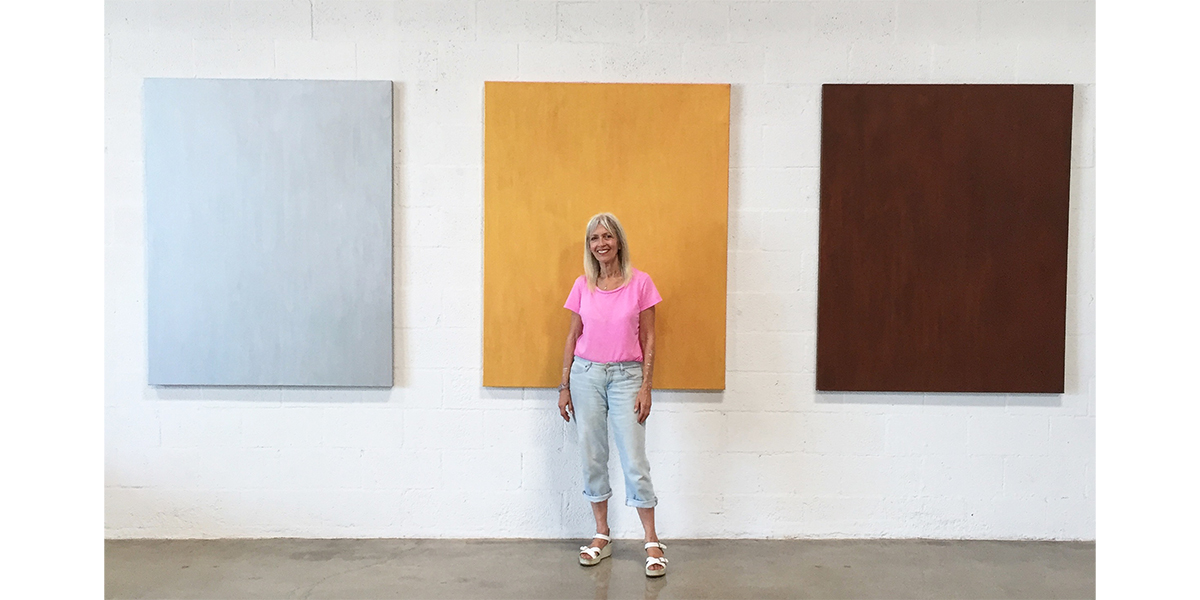 Timothea with the Alchemy Triptych, 2014
Two years into painting and thirteen plus paintings later, I started to envision my paintings on the walls of a gallery. This stayed with me and I just kept painting. I was pleasantly surprised when people saw the paintings and were affected by the energy in the most interesting and different ways; ranging from healing to transporting. With this feedback for me the paintings took on a ministerial quality.
Then one day I walked into the Robert Graham Studio and I literally did a double take, because it was the expansive type space I had been envisioning. Did I dare imagine my paintings on these walls? I couldn't get this perfect setting and space for my work, out of my mind.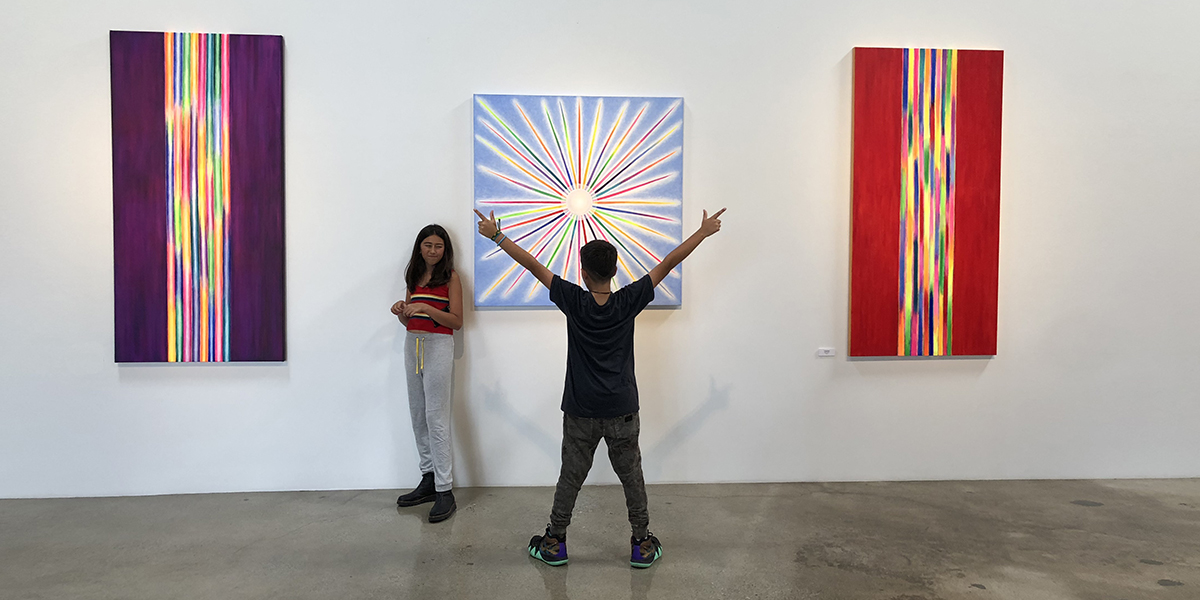 Strumming the Chord, "Then There Was….." I, and The Royal Road (2016) at Robert Graham Studio
A year and a half later, on August 18th, the art exhibition in my ideal space became a reality. The opening at the Robert Graham Studio Gallery was a celebration! With paintings and drawings spanning five decades in four rooms of the gallery. Each room representing a different period of time and a different expression of my consciousness.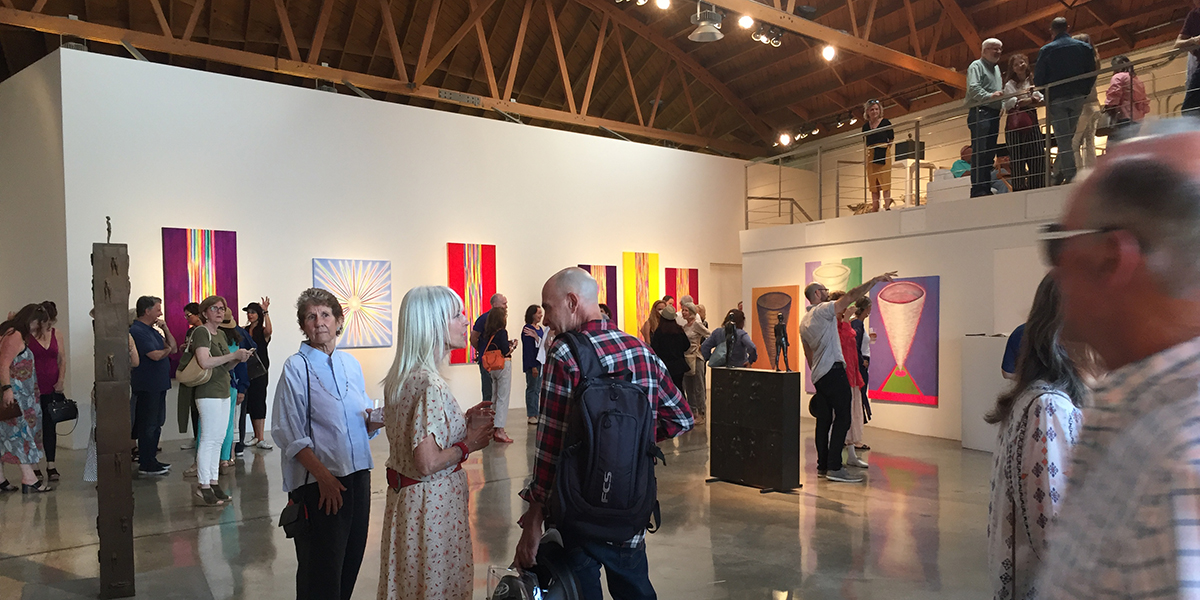 Timothea Stewart's Opening Celebration at Robert Graham Studio Gallery, 2018
There were the whimsical drawings from Spain; then the pencil drawings and oil paintings from Paris done in the late 1960's, many having juxtaposed forms floating in inner and outer spaces, paintings from the unconscious; twenty-six paintings from what I call the NOW series (2012 to August 2018) were included in the main room of the exhibition. Many of the paintings are six feet tall and they could soar in this expansive gallery space. Since many paintings are vibrational Light columns or pillars of Light or lifting spirals of Light, they had the perfect setting in which to vibrate and ascend upwards. I loved that many people, though not involved in MSIA, expressed that they felt the movement and uplifting energy of the paintings. The nine-year-old daughter of a dear friend in MSIA, wrote this in the guest book after deciding which was her favorite painting: "Your paintings helped me travel to places I didn't even know existed." Wow! That a young girl received that from viewing my paintings left me feeling it was all worth it as I continue on.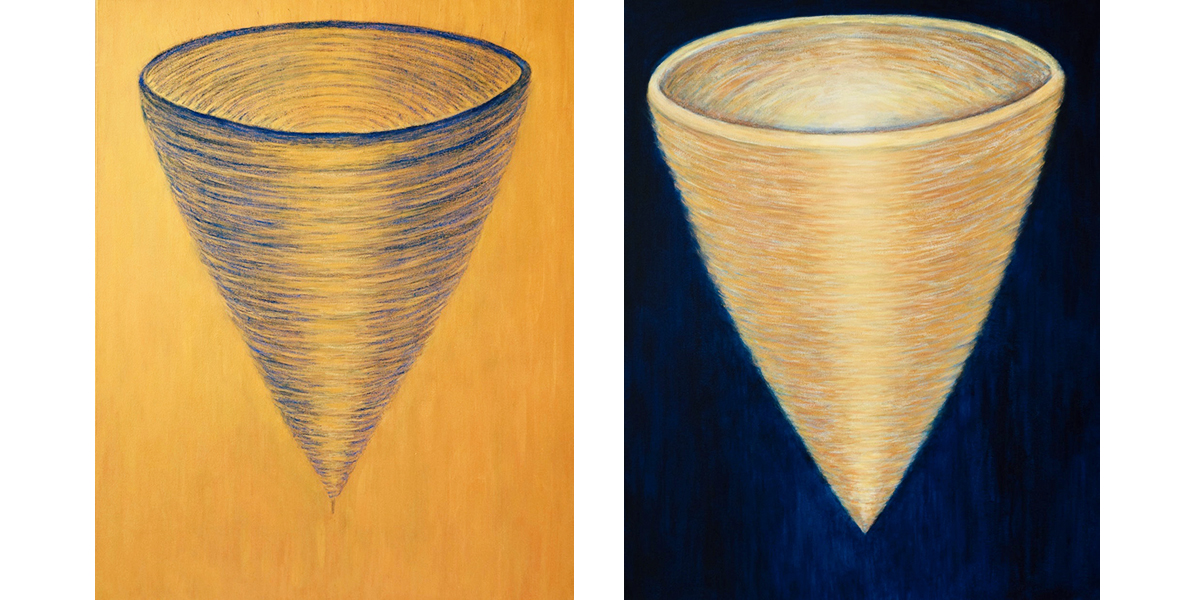 Golden Spiral II (on Gold), 2016 and Golden Spiral in the Deep, 2013
So this NOW period of time has been about expressing the joy, loving or mystery of Spirit through playing with forms of energy, vibration, color, rhythm, time and space. Some paintings involve "form" juxtaposed to "the formless." I hope you've enjoyed seeing photos from the exhibition and artwork. It was wonderful to see so many of my MSIA family at the exhibition. The gallery was filled with Light.
I will end with these two quotes about art that strike a resonant chord:
"My art is merely meditation or prayer in colors."
-Alexis Jawlensky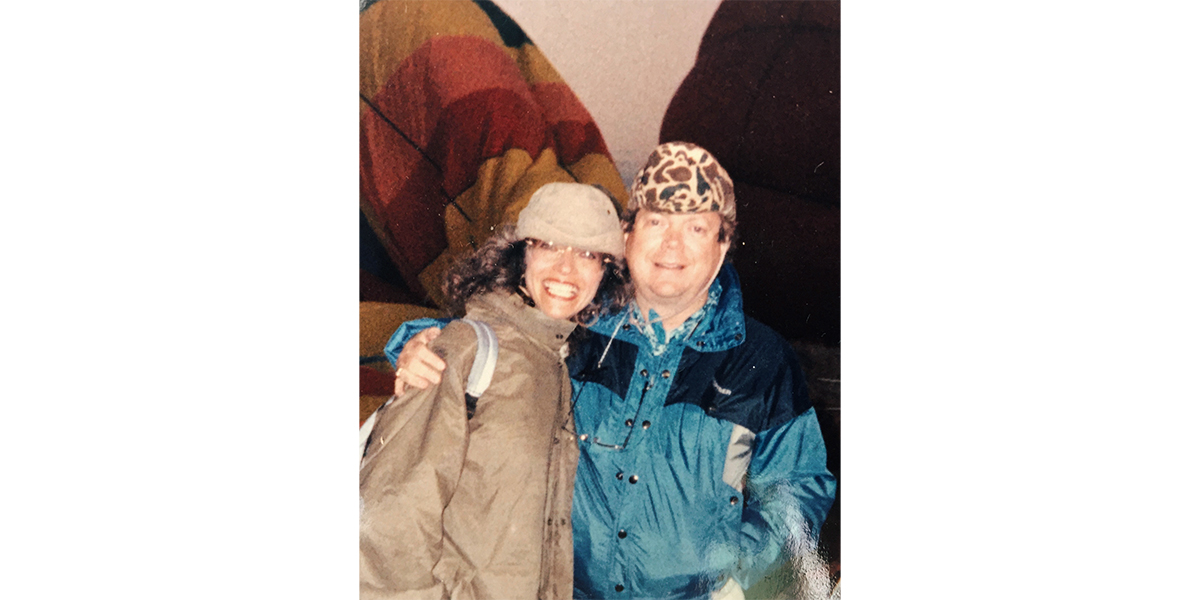 Timothea and John-Roger
"In our life there is a single color, as on an artist's palette, which provides the meaning of life and art. It is the color of love."
– Marc Chagall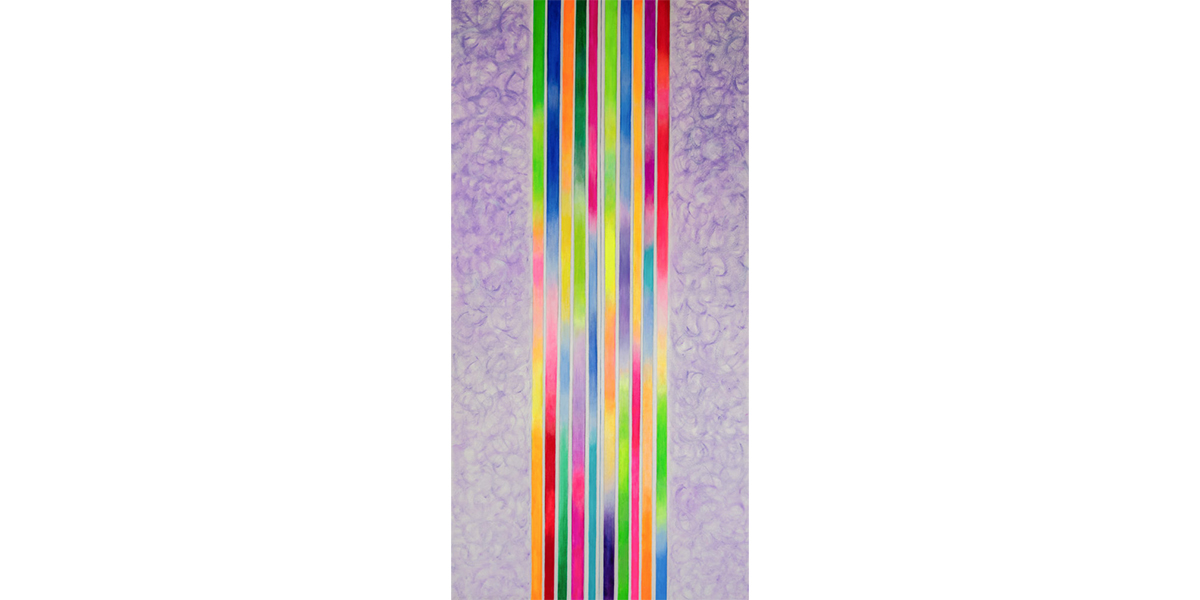 Lavender Mist (2018)
—
To view more photos of Timothea's artwork or to contact her visit timotheastewartart.com