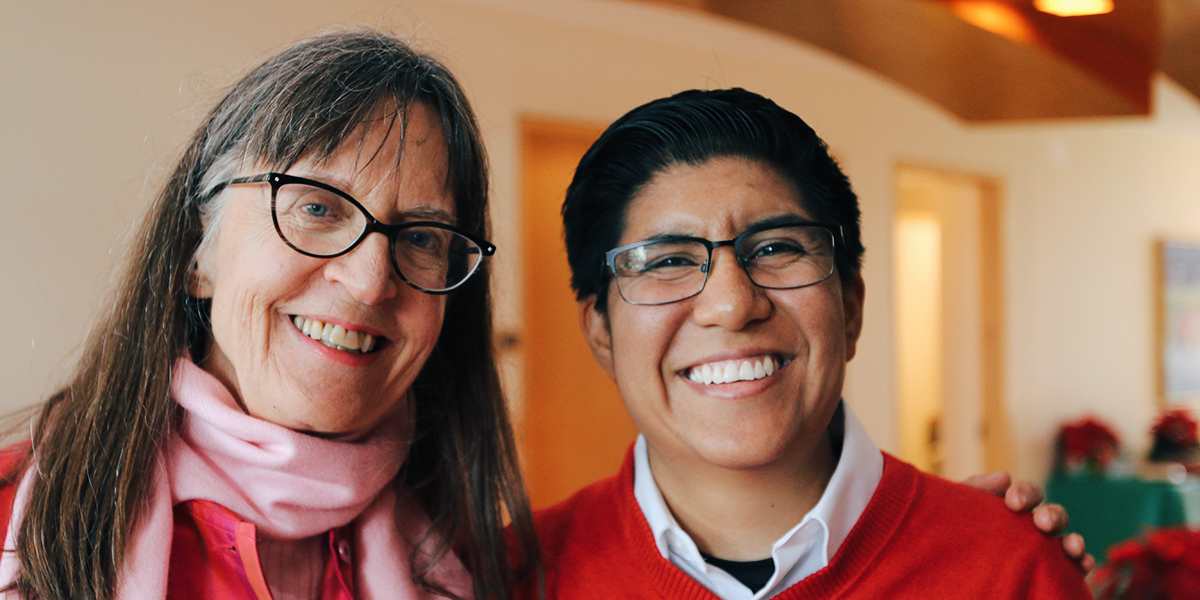 ---
This beautiful evening of blessings began with our own little drummer girl, adorable and talented Lucinda Jones, serenading and drumming an African song for us for Christmas. Lucinda was then joined by her lovely parents, John & Carolyn Freyer-Jones, who called us forward into a centering process where we invoked the Light of God of all creation. What a precious way to come together and begin our MSIA's Family Christmas Eve!
Folks from all over the world tuned in this evening, including the United States, United Kingdom, France, Spain, Australia, Canada, Nigeria, Brazil, Colombia, Chile, Korea, and Thailand. As an online viewer from Florida, I treasured the abundance of blessings being shared so freely in the chatroom as my fellow viewers and I posted messages of love, Light, peace, joy, and Christmas blessings throughout the evening. Emojis of hearts, presents, sparks of Light, and happy faces filled the chat as we sent one another and our planet our love and blessings.
Deborah Martinez sang a capella a powerful and sweet rendition of It Came Upon The Midnight Clear. Following Deborah's heartfelt honoring of the reason for the season, John HRuby and the MSIA HUGS Kids performed a scene from the all-new Lighty the Light Light musical. Although in years past, John and the HUGS Kids narrated a Lighty the Light Light story, this year we got to see the story played out theater-style, accompanied by singing and a perfectly-played trombone. We then enjoyed an original song from the new group, Christmas Explosion, comprised of Liz Bagish, Matt Van Fossan, and Gabe Morgan. Their beautifully harmonious folk-rock singing resonated with the message of their song, Driven by Love, reminding us of what Christmas cheer is all about.
We were then welcomed to turn to one another and share the peace that is present by saying, "peace be with you." When we heard that message from our neighbor, we responded, "and with you." It was so inspiring to see the in-room participants reaching out to one another, sharing peace and joy in such an easy, gentle yet profound way. We followed along online, sharing across the miles through our loving chat sharings.
John Morton, Spiritual Director of MSIA, joined us and reminded us that Christmas, celebrating the birth of Christ, is about remembering we are all born the Lord. He shared how we can bring forward the blessing of the Christ that exists within each one of us. John then shared stories he learned from John-Roger, Founder of MSIA, that brought forward the sweet humor and tender joy that come with our awareness of the divine presence in each moment. I appreciated John reminding us to call upon that presence in times of difficulty as it is always within us, bringing forward joy, peace, and blessings.
John closed his seminar with a welcome and reassuring Christmas blessing, focusing on knowing we are already fully blessed and that we are to extend the blessings to others. We can bring forward greater good by doing everything in God's name, for ourselves as well as others. As John reminded us, we are all to have peace and joy more abundantly. So we are to go forward blessing, loving, and caring for all.
To close our precious Christmas Eve seminar, Maria José Marañon from MSIA Staff, sang an exquisite aria, Exultate by Mozart, which she explained means to sing in exalted rejoicing of the Lord. Maria José's beautiful resonance and her devoted honoring of Spirit's gifts provided a profoundly uplifting closing for our evening of Christmas Eve blessings.
May we all go forward bringing the blessings of who we are as God's beloveds more fully into the world so there can be ever greater peace, love, and joy for all!
WATCH THE VIDEO RECORDING:
View the photos from the event: