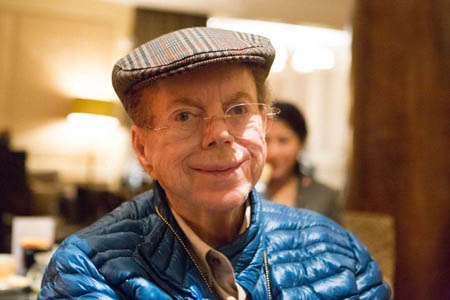 Here's what some of the folks watching live online had to say, and read a chapter from the book below, followed by a beautiful poem from Carolan Nathan, who was so touched and inspired by the event, she wrote this beautiful dedication to John-Roger. And, you can view the photos below and watch the full event right here!
Please thank J-R for coming to us publicly once again, and showing us how to live and age gracefully and fully enduring all unto the end. My heart bursts with loving joy each and every time I have the opportunity to be with him, see him, and enjoy his truthful and non cosmetic approach to living his life fully, in front of us all knowing we love him, and knowing how important it is for us all to have a idea of what growing old looks like, and is like, as it is hidden in our culture and he opens that door for us all each and every time he makes a personal appearance and is like he is. No one who sees him can help but be transformed from his spiritual power, but also his simple human behavior as he grows older in body, and makes no effort to conceal or alter what will be for us all.
Ashes at his feet,
JG, Santa Monica CA
I so appreciated seeing you all online just now. I loved that the camera focused in on JR.  I held my hands to the screen to send him Light and a stream of God Bless You's and Hu's.
AN, France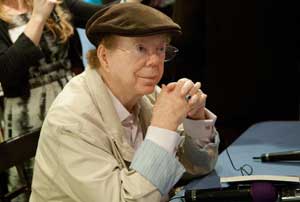 This was a blessed event.   Great to see J-R.   God Bless Him. Please extend my loving and blessings to him.
MB, Liverpool NY
J-R, Lots of loving and Light from Chile. I am watching the booksigning live. Thank you!!!! God bless you beloved…
NV, Chile
After Jsu promoted The Wayshower app at the book-signing earlier today, I downloaded it and think it's great! Particularly the Gratitude Journal and Meditation Timer… What a great idea!
Lots of Love, Light and Peace to all
Now and all ways,
DW, Australia
This was so awesome! Felt like you were all right in my living room…thank you for doing this!
BB, Marietta GA
Nice to see you all!!!
JM, Colombia
J-R is there!!!!  Light to everybody I wish to be there with guys!!!
GG, Venezuela
Dear J-R, I Love You, God bless You and Peace Be Still…… Thanks so much 4 being in my life…
WA, Nigeria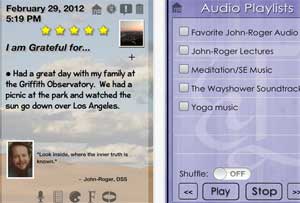 DOWNLOAD THE FREE THE WAYSHOWER IAPP HERE The MSIA App demonstration was probably one of the best parts of the presentation. It was interesting, the app looked very slick/professional, Jsu's energy/enthusiasm were great. I enjoyed the presentation … and I want to say I really appreciated that Jsu pulled in the new people to get face time with J-R.
Love,
LB, Los Angeles CA
If you have trouble viewing the slideshow below, click here to view the photos on Flickr
[cincopa A8DAT16aIP9V]
An excerpt from the book The Wayshower, by John-Roger:
"Working with People"
People asked to know more about this Spirit that was present. So I started lecturing a little bit here and there. People began asking more and more for me to talk with them. I knew I did not want a crowd, a group, a following. I just wanted to do what I had to do and to get free of this level without creating havoc. A lot of spiritual teachers, if they are not careful, end up creating a lot more hell than heaven, and I did not want to do that. I have been careful. I have done the work, but I have watched very carefully for the guidance of Spirit all along the way. It is rare that I even get out of bed unless I have a clear directive from the spiritual forces that work with me. I wait until I have the clearance before I even move.
One time, years ago, I was lying in bed and said, "Lord, I'm not moving from this bed until there's a direct okay from You. No messengers. This has to be something that is definitely a process independent of me."
The answer I heard was, "There are no processes independent of you. Don't be a fool." So I got out of bed.
The rest of the message was that I had all the keys, the blessing had been given, and the responsibility was to take care of the people who would come to me because every one is brought by the Father, and those who step into the consciousness of love and who follow the Light and the Sound of God will be returned to Spirit. All have been charged and all are known to God. The directive was laid out very clearly and is now being fulfilled in very beautiful ways.
After holding the Mystical Traveler Consciousness for several years, I completed what I had contracted to do here. The time that I had agreed to serve was up, and I was making preparations to go back to where I live in Spirit. Then the forces that I work with closely informed me that the ones who were being trained to become the Traveler had defaulted, and I thought, "Why me? Why now?"
Their response was, "That's just the way it is." Also at that time, other spiritual leaders were leaving the planet and leaving their groups without a focus of spiritual energy through which to function. So it was suggested by the spiritual forces that I might like to keep on and function as a battery of power for these other groups, even though I would still be working specifically through the Movement of Spiritual Inner Awareness. So in the end, I agreed to continue and to work with people here in the best way that I could.
My job is really quite simple. I love and I stir people into the awakening of the Spirit within, and I act as a wayshower as people move on their spiritual path towards Soul consciousness.
I thought that this whole action would be enhanced if I found others who could assist me in this work, so I started looking around for ways to train people to do what I could do. I asked for some assistance and was sent angels. I thought, "What can angels do? Angels are unreal here. Couldn't I have a master or two?"
But the forces said, "Masters won't work with you because they're masters."
I said, "Could I have some apprentices? Could I have somebody that can do this, because if I can get someone else to do this, I can just sit back and channel energy, which is what I do best. I can do a lot of things that I enjoy and then, every now and then, I can focus in on the action, just enough to keep the energy flowing."
Their response was, "Don't get cute."
I said, "That's just the way I am, and for better or for worse, you've got me. And by the way, you said that I have all spiritual authority, so you can't tell me what to do." I made it clear that I was not in a state of rebellion, but rather in a high state of cooperation to find out what was happening. But I found out, as I always find out, that the point of view and the requests expressed by the high spiritual forces are always right and proper, that there is nothing to do but to flow with what is, and that to be of service to Spirit is a blessing beyond all words.
My joy in working with people is in watching them move into their joy, their truth, and their loving center, because that is me, too. That place inside of them that wants it perfect and right and loving is that same place inside of me that has awakened to the perfection that is Spirit, that is Soul.
For so many years there was a part of me that resisted the spiritual flow and said, "I don't want to do that," and I beat up on that part. I said to it, "I don't care what you want to do or don't want to do," and in its hurt, it would say, "I don't want to talk to them. I don't want to confront them. I don't want to do that. I don't want . . ." Eventually I found out that, more than anything else, I didn't want to beat up that place inside, so I said, "Okay, it's all right that you don't want to be with people, confront them, work with them, talk with them, but I'm not going to pay a whole lot of attention to you. I'm not going to beat you up, but I'm just going to go ahead and do what I have to do. If you'd like to come along, that's fine, but if you don't, just don't get in the way. I can put you on 'hold' and override you if I have to." And that's what I sometimes did.
That part is still there, and I still hear it every now and then. Some days I give in to that, stay away from people, read my mail, and feel really good about that. Other days, when I have other work to do, I just go ahead and do whatever it is that Spirit directs me to do. I keep the center flowing and let everything live around the work that has to be done. I am living free, and I do not let those childish parts of me run my life or my love. I just am love, and that love runs me perfectly because that love is God.
For those of us who know that we are of God, the responsibility is to live in love and to be loving in all that we do. By our consciousness, we can lift the planet, just by being present and by the energy of Spirit that is manifest through us.
You can purchase The Wayshower book from The Wayshower on Amazon.com or from the MSIA Store.
And thank you Carolan for this beautiful poem:
"My Traveler, J-R"
by Carolan Nathan
I remember when my John-Roger
My beloved Traveler
Came to me
And through his eyes
The Light shone forth
And from my Wayshower
I received the Darshan
I remember
When my brother
Held me in his arms
As the energy of spirit
Moved through me
Making me shake
Now I am who I Am
Having learned so many keys
To living Life and Loving
There is so much more to come
But always I do rest in J-R's heart
As He is in Mine

Baruch bashan … the blessings truly are


AND … RENT OR BUY THE WAYSHOWER MOVIE ON ITUNES