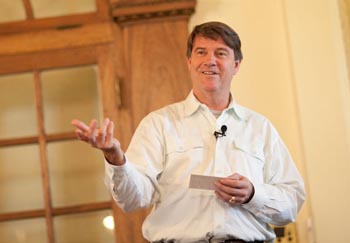 Keeping with tradition, MSIA's annual Conference concluded with a Blessings Fest, held at
Peace Awareness Labyrinth and Gardens
. The event was conducted through the Spirit by our beloved Traveler, and the Spiritual Director of
MSIA
,
John Morton
. Michael Hayes was also present, supporting John and making himself available to extend his ministry and the blessings of his service to us all.
The Presidency of MSIA were in attendance, as were the First Ladies, and Drs. Mark Holmes, Diane Botticelli, and Phillip Barr (the three expert presenters at the Conference workshop.) Except for all of the sugary desserts, lots of creamy syrupy delights, baskets of bread, butter, and plates of thick rich cheese, with not a leaf of cilantro or broccoli sprouts in sight, it was almost like a mini workshop.
Victoria Ross (PAL&G's head chef) and David and Kelley Funk, along with a host of additional kitchen assistants, outdid themselves. Together they put on a spread with so much variety, flavor, and abundance that many of the participants were left speechless, and ate so much that later on they were wondering what, if anything, they had learned in the Conference Health workshop.(Or maybe this is just my projection?)
Being at the Home of the Traveler, and enjoying such a lovely brunch with friends and family is a great blessing, yet the real treat of the day is having the opportunity to place a prayer or request up into Spirit to be blessed. In true form and goodness of heart, John came through and gave us his all, addressing each contribution with love and great care, until each participant's request had been handled. With generosity of Spirit, Michael also contributed a considerable bit, if not in length, in depth.
With well over sixty people in attendance, and with a volunteer support staff of servers and cooks just about equal in number, I am sure there are just as many perceptions as to the highlights of this event. For me, four awarenesses stood out, the first being that we are all related.
In a most ordinary way, we all pretty much share the same concerns. We'd like our friends and family and children to be healthy and happy. We'd like our businesses and professional interests to be abundant and successful. We'd all pretty much like to be happy and healthy and successful ourselves and we'd all like to love ourselves and others as God loves us. We'd all like our next level of initiation, have clearer direction and support in fulfilling our ministries, and we all wish J-R and John the greatest abundance of Grace, care, and gentleness that can be extended to them from Spirit, all for the highest good. Most importantly, we pretty much all want help writing our DSS Practical Treatises, we want to finally graduate from DSS, and we would be so happy if John, J-R or Michael would petition the archangels on our behalf to make the cat stop throwing up hair balls on our favorite couch.
President Kennedy stated something to the effect that we all share the same Earth, we all breathe the same air, and we all cherish our children's future. Having had the privilege of attending numerous Blessings Fests on numerous continents in numerous countries around the world I find there is something very comforting, revealing, and ultimately healing in witnessing the commonality of the concerns that are brought forward. To me, it is demonstrative of the great beauty that is our ordinariness.
The second awareness I had today was that karma is dissolved through neutrality. It is by holding on to and assigning ourselves to the action through judgment or blame that we lock ourselves in the karma. By practicing observation and neutrality, the karma can be lifted very rapidly and returned to the nothingness from whence it came because in God it never existed in the first place. I am not certain I have this accurately, but it sure sounds like a good thing to me.
Thirdly, one way of bringing and manifesting greater Spirit into the world is through service. Service represents the highest form of consciousness on the planet as a demonstration of lifting consciousness and giving back. Just as much as we call to and petition God, God calls to us. One way to let God know where to direct all that loving energy is through service. It's as though through the act of serving, we are letting God know where and how to connect the call.
I see it like the switch boards of old, when the cable had to be physically plugged in when the light comes on, thus completing the connection. The way I have it inside of me, through service I am lighting up the switchboard, and God then knows where to plug in the cable.
I am not sure I have this accurately either but it sure sounds clear inside of me that this is so, and that's a really cool thing. I am going to check it out, pay closer attention, and see what happens.
These are three memorable themes for me over the seven hour long event; that we all share the same concerns; that karma is dissolved through neutrality; and that service calls forward God's loving and Light down into the world. The impression I am left with is one of great loving, knowing that with every breath we take, the Spiritual promise is being fulfilled, and that we are all being taken care of, just as we each take care.
This leaves the forth. What if we did not have to do anything else but simply be kind? Taking this approach, it sure does simplify things a bit, which to me is a bit of a relief. It can be enough to be kind. That sure seems like a blessing to me.
The Dalai Lama (and for you IIWP fans I am not talking about Casper, the Llama, who can be visited at Windermere,) has stated that kindness is his religion (Kindness also happens to be Casper's religion too.) One of my favorite lyrics is a line by Robert Hunter that touched me deeply, and goes, "All I want to know is, are you kind?" When I consider how I know J-R and John to be, I see a history of loving service and kindness to all.
Reflecting back on this past week, on our Conference of Health, Wealth and Happiness, on the direction we all receive to minister to ourselves first, to take care of ourselves so that we may help take care of others, to not hurt ourselves and not hurt others, to use everything for our upliftment, learning and growth, I can think of no greater blessing relating to human expression than that of kindness.
All of the above seems like a very kind way of being to me, and in alignment with the commandments; to love God with our body, mind, and Soul and to love one another.
With all these blessings present; with life being as simple as breathing in and breathing out; being kind; with the certain knowledge that the blessings already are and that the Spiritual promise is an active living reality that is constantly being fulfilled; I can once again think of only one unanswered question;
Why the long face?
Baruch Bashan.