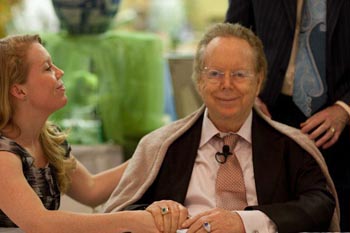 The
MSIA
Initiates' Meeting is the last meeting of Conference and the culmination of a week of activity that is a reunion of old friends and the making of new friends. It is a busy week of bonding as a spiritual family. It includes an intensive and transforming workshop weekend. Each day witnesses a growing involvement and participation in the energy of the Traveler's love as more people congregate. That spiritual energy is at its peek on Sunday afternoon at the
Initiates
Meeting.
By the time Phil Danza, the MC at the Initiates' Meeting and the head of NOW Productions, takes the stage we are more than ready for one last wonderful session with John-Roger, John Morton and Michael Hayes. They did not disappoint. And, the 1,000 or so people in the room were of one accord.
John turned the format of the meeting into a Question and Answer session. First-time Conference attendees who had never shared with the Travelers before were encouraged to participate. The subject of the questions ran the gamut of the human condition. They ranged from birth to death and mourning, health and wellness, and the surrender to Spirit.
The result of the meeting was a classic example of John's insights from Spirit and Michael Hayes' attunement to the Soul's journey augmented by the incomparable presence of John-Roger.
Dear reader you will understand that I can't say more about the awesome experience that took place here. The sharing of Spirit is sacred and meant for the individual involved as well as those with the ears to hear. However, if you have ever experienced the confluence of love that comes from this kind of session, no more need be said. Remember that time in your life and call it forward for yourself. You will then be present as an Initiate of the Traveler.