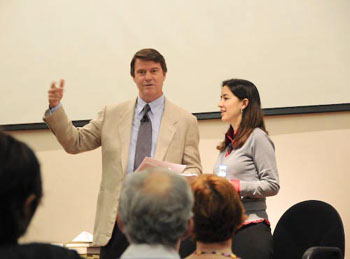 MSIA travel staff are currently on the East Coast, providing MSIA Services (Innerphasings, Polarity Balances & Aura Balances) as well as MSIA events. Staff member, Angel Gibson, provides this update from the trip:
Click here to view a photo slideshow by Ezra Mack from the Open Workshop with John Morton in New York, May, 2008.
Click here to view a photo slideshow by Ezra Mack from the Q&A Fundraiser with John Morton in New York, May, 2008.
DAY 8 – NEW YORK
We're full on in New York today for Services and then an Open Workshop this evening. A full schedule doesn't stop Cleora and I from starting the day bright and really early with our NY MSIA Rep, Wayde Binder. Now Wayde is a man-about-town…and boy does he know this town. So he escorts Cleora and me over to Peyards for some of the most flavorful and crispy croissants with, "mais oui!", some double espressos and macchiatos. Yum. Then we catch a cab over to the conservatory gardens. So beautiful…I go from Lilac bush to lilac bush…white, dark violet, light violet, white and violet…bewitching scents and colors everywhere we look. Lest we get completely distracted from our work today, Wayde steers us back to a taxi and back to our hotel to begin our first Services day of our New York visit. Lesley joins us and soon we're right in the rhythm of Services. Bruce and Elizabeth are now with us each one making strides in their learning.
Roger and Vincent take off with the equipment to set up for the workshop tonight which is being held at the Abigail Adams Annex. This historic building has been home to many Seminars and PTS classes. With Manny Stissi and Larry Brock they move quickly and get everything set up and tested with time left over for a little relaxing. At the end of Services, Cleora and I taxi over while Lesley decides to walk. John and Leigh have arrived there ahead of us and already John has started signing "> You Are the Blessings and share how the particular passage they picked relates to them. I'm touched that so many spontaneously bring forward truths about themselves which brings us into an empathy and oneness. To me this is one of the most profound and effective ways to create opportunities for our friends and family to meet and experience the Traveler and the messages of Soul Transcendence.
I leave as John goes into booksigning mode; he is in the good hands of Leigh Taylor-Young and our beautiful hostess. Back at the hotel I start packing for tomorrow we drive to Stamford and begin our wonderful weekend events there. All seems pretty quiet with the staff as everyone is packing and doing a few emails before catching some sleep.
Click here to read Days 1 through 7 with Angel Gibson.
Click here to read Days 11 through 14 with Angel Gibson.