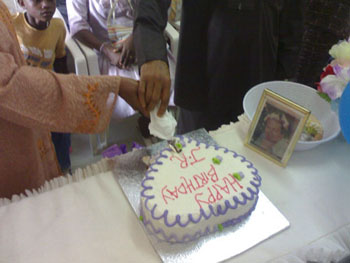 Click here to view a photo slideshow from the J-R Birthday Celebration in Nigeria, 2008.
The program started by 12-Noon on 28-Sept-2008 with a Light invocation 30 minutes Hu chant. We also had the opportunity to perform a Baby Blessing before commencing the Traveler's birthday celebration.
The Traveler's birthday celebration, with over 90 MSIA participants, was so charged by the Traveler's love & energy and everybody was so happy and excited all during the celebration.
John-Roger's biography MSIA history was read during the sharing section. "Honoring the Travelers" videotape and the 36 video shorts of "Moments of Peace" were also shown. The amazing thing is that MSIA students in this part of the world were very happy celebrating this great birthday as if it's their own personal birthday celebration! I love this impression and it gave me more joy when we appreciated and recognized the Traveler's love in our lives.
I think the Traveler's birthday every year is worth celebrating because it is an opportunity for the Traveler's votaries to come together in peace, love and one accord to reflect and celebrate the Traveler's birthday inside of us.
Yes! I decided to call the Traveler's birthday cake "the miraculous J-R birthday cake" because there was a clear indication of the Traveler's hand writing on the wall. Because I was engaged in other errands preparing for the Traveler's birthday celebration, I couldn't go to Mr. Biggs Fast Food to make the normal four days booking as per special birthday cake requests. Instead of Wednesday, I got there on Friday evening for the request — booking for Sunday morning. Of course they told me that is not going to be possible. I tried to convince them by offering a higher payment, they rejected the offer, to maintain their integrity of not disappointing me for the service. They told me that the only way is to come back on Saturday afternoon to pick from what they already have, to enable them to write the name of whoever I want on it. A special order, for the colors like purple and white background and greenish sport flower on it, would not be possible due to the time frame.
Well! I decided to test the first law of Spirit which is Acceptance. I paid and gave them what to write on it, "Happy Birthday J-R", and left without bothering myself to go back on Saturday evening to make another choice. Getting there on Sunday morning, I was baffled beyond my imagination! The first surprise is one of the salesgirls told me that other cakes were brought from their headquarters and one of them looked like the one I described. And they just wrote "Happy Birthday J-R" on it. I couldn't believe my eyes. In fact, when you see the pictures taken you can confirm with me "the Traveler's hand writing on the wall" on the miraculous birthday cake. It dawned on me once more that when you work in the Traveler's name, his mantle, guidance and love over us supersedes.
Finally the cake and wine was present, which represents a lot for us as MSIA students on special occasions like the Traveler's birthday, to me it has really a lot of significance. We came to an end with lots and lots of fun! Fun!! And dancing. Dancing! And with a special "Hoorraayy! And Happy! Birthday J-R".
Love & Light,
Prince Iwuoha
Nigeria