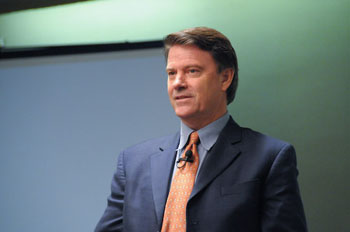 Click here to view photo slideshow by Ezra Mack from the MSIA travel staff trip to Minneapolis, 2008
MSIA travel staff were recently in the Midwest, providing MSIA Services (Innerphasings, Polarity Balances & Aura Balances) as well as MSIA events. Staff member, Angel Gibson, provided this update from the trip:
DAY 9 — MINNEAPOLIS
Oiy! It's rainy and blustery, but that doesn't daunt either Cleora or I from going to the nearest Starbucks for some coffee. This coffee place is inside the Barnes and Noble. I love bookstores so it's fun to browse the books while waiting for our espressos. Then it's back to the hotel for breakfast, they have a great Irish steel-oatmeal there. Roger and John join us and we laugh and moan and laugh again over the economic whirly-gig that is happening. We bless it and all involved! Then each of us is off to do what is on our dance-card for the day — Roger has set up, Cleora and I have Services, and John has his agenda too.
Lunch has a special treat for Cleora and I as we watch on the bar TV "Shadow of a Doubt", an old-time movie playing while we munch. The day zooms by and soon we join John downstairs as he meets, greets and signs books for those who come early. J.B. McLain plays background music on the guitar that is soothing while people visit with John and register for the workshop. Then just before doors open for the workshop we come together to do an ordination and again I am reminded of the lineage that stands behind us as ministers.
Doors open and it's showtime. Tracy Uttley, our Mistress of Ceremonies, welcomes the group and there are a few new faces among many old-timers in the group. Then she introduces John who warmly embraces all of us in the room and gently brings us to recognize all the blessings that we have in our lives. This is happening at the same time that the Presidential debate is happening, and I can't help but wonder about the Light that is being poured out to all parts of this country as we hold a focus for finding a blessing in everything happening in and around us.
After his Baruch Bashan, John continues to meet, greet and sign. Shar Kanan's bookstore has provided the books for the evening and there's another special Buy 2, Get 1 Free offer that a number of participants take advantage of. Meanwhile we staff, Bruce Rosenfeld, Elizabeth Frumin, Ezra and some wonderful Minneapolis volunteers help us pack up the equipment. This seems to go so fast tonight and then John, Roger, Kathy Kornblum and I walk at a clip to Zelo's for a late night snack. The menu looks so good at this artful Italian restaurant. I have a julienned/parmesan zucchini side that is to "live for", and a "little" flatbread creation that ends up looking like a full-on pizza — hits the spot with lots to share. Tummies full and some of us sleepy we head back even faster to the hotel. I know I'm asleep in minutes!
DAY 10 — MINNEAPOLIS
Beep! Beep! Persistent little alarm clocks this morning, but rise we must. Cleora and I look like versions of the Keystone cops running here and there in the bathroom, getting dressed. We are up early this morning to breakfast with Roger and John before they go to the airport. We sprint for coffees for our foursome and then sit down for the last group breakfast of the trip. Then it's goodbye hugs all around and off they go to fly back to Los Angeles, and we go to Kathy Kornblum's to do Services. Kathy and her partner, Clare, have a snuggly warm house about 15 minutes drive from downtown Minneapolis. We enjoy seeing the trees that have now started to turn into their radiant colors. My favorites are the oranges and the golden yellows. There's a nippiness in the air which is a trademark of Fall in Minnesota. At lunch time we take a quick walk just to take in the sunshine and more colors. Kathy makes sure we are well fed, even baking some gluten-free cinnamon cookies. Thanks, Kath! Bruce and Elizabeth are there to continue their training in doing Services. Our day flies by and soon we're back in our van headed back to the hotel. Cleora enjoys a quiet night on her own, and I visit with my brother and nephew and their families over dinner. By the time I get back, Cleora is sleeping and I'm settling in to catch up on some emails. Tomorrow will be a long full day!
DAY 11 – MINNEAPOLIS then HOME
We're up even earlier today scurrying around the room to dress and pack our suitcases. Cleora has been the designated schedule-maker for the two of us. One of her many talents is keeping us on track. We manage to get in SE's, get dressed, all packed and then load up the car in record time, so there's a little leeway for not quite a sprint for the coffee. Still the coolness of the weather sort of encourages a lift to our step. Back again at the hotel we eat a more substantial breakfast to last us through the day and then we say goodbye to our hotel and head once more to Kathy's.
The Services' schedule is shorter today to allow for us getting to the airport. With hugs and thanks to Kathy, we jump into the van with sandwich bags full of goodies under each of our arms. Kathy wanted to make sure we were well taken care of…and we were. The trip to the airport is smooth. I drop off Cleora and go to return the car. Eventually Cleora and I meet up for a last goodbye as she goes off to her flights that will bring her home to Santa Barbara, and I kick back to relax and wait for my flight which will take me to Los Angeles via Dallas. When I finally make it back to my apartment in L.A., it is about half past 11pm. All the flights were easy and I even fell asleep on the second flight, much to my surprise! This has been a sweet and powerful trip. Thank you to all who assisted and looked after us in each city and for all of you who kept the Light focus going with us along the way. See you around the bend in a few weeks when we'll head for the friendly land of South America!