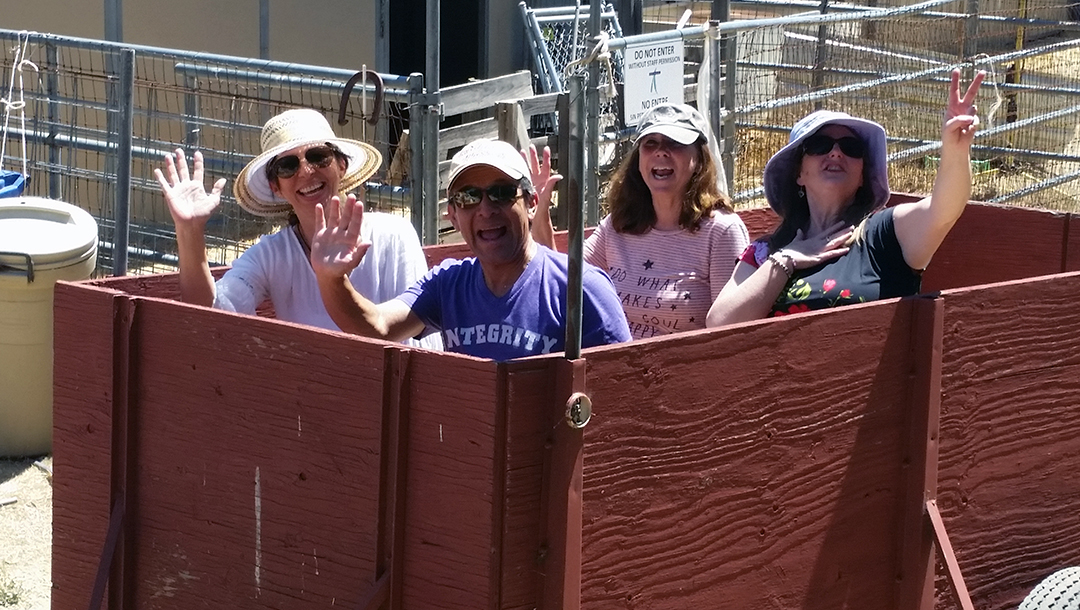 ---
I guess you don't have to look far to find out where the term hay ride came from.  You're thinking, 'I'll bet it has something to do with hay.'  And who am I to argue that point?  Well, this year we bought some hay bales and put them in the back of the ranch pickup truck.  Okay, pretty exciting so far.  Then, we thought, we have extra hay.  What do we do with it?  Archery?  No, too pointed.  Sofa?  What? What else you got?  Sofa, jeez.  Where'd ya get that hay futon?  IKEA?  No.
We came up with a great idea.  Not ikea, idea.  We put the extra hay bales in the ranch trailer.  Not the Winnebago.  Do we have one of those?  Nope.  The red wooden sided trailer that was used to transport valuable art work from San Francisco to  Hugh Hefner's in Beverly Hills.  Wow, not.  But it is red sided and it's never been to Beverly Hills, but as it turns out, it's really great for people to sit on hay bales and look around the ranch as they jostle (understatement) about down the trail on their way to market (Whole Foods, jeez). 
Turns out they liked it.  The tour goers that is.  And, I'm thinking very few hay rides traverse four wheel drive roads, have to wait for an insistent albeit playful donkey to get out of the road (after a few hugs and kisses – don't you love our 'people'?)  Joker is our donkey's name.  Someone asked if Joker was the name he came to Windermere with.  I said with all the seriousness I could muster on a day so full of laughs and joy, 'you must be joking.'   I think it was funnier at the time.
And yeah, it was a day full of great people that came to Windermere to bless and be blessed.  I know that because they said things like,'we're so blessed to be here.' I told them I was blessed too but by then they were scrambling up Queilin Rocks, yanking off their shoes and socks (the rock vibrates, honest) to experience the healing qualities that abound there.
We called in the Light just because and we chanted a bit out loud and silently and just took in the soft air and the fog that sat so silently along the coastline far below us.  Just another one of those moments that wrap your heart with a soft cuddly hug to be taken with you for well, the rest of your life.  That's a cool thing about Windermere.  You can order your peace and joy to go.  'would you like sugar with that sir?'  Naw, it's sweet enough already thanks.'   
We said hi to the chickens as we drove by but who knows what they said back.  It's hard to find a good chicken interpreter these days.  Really.  Then as we climbed the hill above the barn we passed Matt and Rita. I called out to folks way back in the trailer not to feed the indigenous wildlife to which Matt broke into the best ape in a deodorant commercial I've ever seen.  
We made it to the famous tree swing.  Not viral, but famous I think.  It was about as fun as usual as in the rope and the branch held fast while old guys with a bit of a gut (me, jeez) swung and laughed and laughed and swung.  We made our way past the Garden House and on to the West Side's grove of Oaks and of course the ponds.  Ah, the ponds.  They never disappoint.  At one point I stood alongside the peace pole gazing across the rippling waters and pink floating lilies at the people talking and laughing all around the pond.  Yes, another one of those moments.  Man, I love being with neat people at that ranch. 
Lastly, we jettisoned the trailer for the Kubota and the ranch 4 wheel suburban and headed for the 'lower property' where the sky opens up and the land sweeps away to the sea as if to say, 'here I come my beloved.'   And yes, Valentino the beloved llama of Windermere was standing on a point high above the sea awaiting our blessings, kisses, and okay a few alfalfa pellets.  Do llamas have basics?  Valentino is so cool he could start his own college fraternity.  Phi Kappa Llama.  Hmm….  
We 4 wheeled down further to see the goats.  Valentino flashed us a peace sign as we left.  Really, I think he did.  The goats were well, enthusiastic.  They're sweet though and it's obvious they haven't learned the pickpocket tricks so aptly demonstrated at petting zoos around the World. 
We made our way back to the 'top' of the property and hung out at the barn for a bit.  Some folks painted peace words on some rocks we'd collected in order to place them at the base of the peace pole by the pond.  Or take with them.  Whatever.  I have no attachment to rocks.  Well, maybe Windermere rocks. 
Lots of hugs and smiles and just like that the van was disappearing over the hill above the barn leaving behind a trail of dust and peace and love.  That night a few of us gathered in front of the Bunk House where you have like the most amazing view in Southern California, and watched the 4th of July fireworks shows put on by the cities of Goleta and Santa Barbara.  And yes, we were looking DOWN at the fireworks.  Very cool.  The moon high above was smiling, a soft cool breeze tickled our faces, and yeah, we had some ooh's and aah's and laughs. 
A magical place, old Windermere.  Thanks to everyone that helped!  I hope they all take away as much Windermere as I did.  Blessings   
---
VIEW THE PHOTOS