---
"Years ago, you were taught about placing columns of Light throughout the land. Some of you do that regularly. Some of you do it less regularly. Spirit and the Traveler are asking again that you activate that ability and become more aware of anchoring the Light, specifically and consciously, wherever you are.

"You will probably never know directly the benefit that such work has. You will not know the ways it touches to people or the positive changes it brings about. It is a silent work, a silent ministry, and a powerful one." John-Roger, DSS
---
When I heard about John Morton and Leigh Taylor Young-Morton being invited to Strasbourg to facilitate two MSIA Seminars I knew that there was a likelihood of a day of planting Light columns. The EU Parliament and Council Buildings are there and with so many changes going on in the 27 European countries – including Britain's exit – it was a wonderful opportunity to plant Light column's there and around the centre of the city.
Once this day – Sunday, July 23rd – was confirmed, I was on the internet to book my trip – to my surprise nothing came together for the flights. Only one thing for it – do SE's and ask J-R what's going on? The answer was to do Light Up London and plant Light column's at the Houses of Parliament at around the same time as the Light was being planted at the EU Parliament. Now that just made perfect sense to me.
Then, a few days later, I had the thought to see if ministers in other European Union countries could plant Light columns at their parliaments on the same day. I tracked down contact details and within a short time, Madrid, Rotterdam (only one minister in Holland!) and Sofia (Bulgaria) were on board. I learned that just about all the folks in Paris and Switzerland were heading to Strasbourg. I heard there was a minister in Italy but had no idea who she was. Then, bless her (grace!), she contacted folks in Madrid to say she was going to participate in Rome. And then out of the blue, a minister from Estonia contacted me to say she wanted to be involved. Light Up Europe was born.
Then I was inspired to invite the rest of the world. Even if people were not living near parliaments, senates or congresses, they could still send Light to Europe and also plant Light columns locally. Folks in Australia, New Zealand, the US and Canada (along with many I have not heard about) joined in to support the Traveler's trip to Strasbourg.
---
July 23rd, 2017
Here in London, six of us circled up at Paddington Station and made our way to Westminster to plant Light columns at the Houses of Parliament, the Government offices in Whitehall and Downing Street. A really uplifting day with the added bonus of lots of emails and social media coming in from folks around the world with much joy and enthusiasm and gratitude for being part of this Light action.
There were also many ministers doing SE's at the same time and sending Light. Here are some of the Light Up stories:
Dawn White, Sydney "After the Sydney Ministers Meeting, a few of us gathered at Centennial Park, by the beautiful Labyrinth. Blessings poured forth as we focused on Loving Light going wherever needed, in Great Joy, Peace + Light! I experienced a huge Joy-Full gathering in Spirit, including some of our Ministers who were with us in that way ~ it was palpable! What a Huge Blessing to be part of this Worldwide Web of Light ~ WOW!!! Onwards + Upwards! Thank HUUUUU!!"
Lyn Walsh, Sunshine Coast, Queensland It was an honour to be involved in Light Up Europe. I started locally, asking for all Light Columns that I have placed in my travels to be reinforced, reactivated and regenerated. Then I asked that ALL Light Columns ever placed anywhere on this planet be reinforced, reactivated and regenerated FTHG.
I had a vision, from way above our planet, of Light Columns shooting out of (or into) the earth. The vision was so powerful that it will not fade from my memory or from my heart. My thanks, and gratitude for the lessons. The Blessings Already Are.
Beverley Voight, Adelaide We had an amazing Traveler Through the Ages class and we as we planted a column of Light we asked through the grace of the travelers working with us in the class and in their Ministry of serving the universe that all light columns across the planet be re-established, strengthened and expanded FTHG. We also planted a Light column at Maslin Beach at lunchtime.
Heather Lemaire Beards, Northern NSW A Sydney minister moved to our local Northern Rivers area 10 days before the 'Light Up' day on July 23rd. She thought this would be a great way to share the Light as well as have her new home blessed.
Suzie Temple, Wellington Ya HUUU. L&L from NZ'ers. On the Wellington Parliament steps doing Columns of Light at the highest rate. Activating…reinforcing…& regenerating for the highest good. Then off home to do MM at Tawa…ready for take-off and beyond. God bless you Sheila for reaching out. Terrific to have our little group of ministers from the outpost on the other side of the world involved!
Enrique Gomez, Madrid We had our event in the morning. A very sunny warm morning in Madrid. We were seven ministers physically in front of the Spanish Congress building and some others that were doing SEs at the same time for the same purpose. Lola Hernandez facilitated the process. We spent around 30 to 40 minutes asking for the Light, chanting the HU out loud and inwardly and doing the light columns seeding process.
Kylliki Neuman, Estonia I wanted to participate in this event at Riigikogu Parliament, especially as Estonia holds the presidency of the Council of the European Union the second half of 2017. Also on the same day, we had a meditation for protecting our forests (government has new laws about cutting forests) so the field is ripe for welcoming Light columns.
Betsy Washburn, Philly There were six of us who gathered at the Independence Hall, Liberty Bell area as well as Washington Square in Philadelphia. It was so graceful. We were enthusiastic and focused to be part of a multi-country action of planting Light Columns. A joyful peaceful time was felt during our walk in this historic area.
Linda Whitaker, West Virginia I am in Helsinki Finland, where I attended a family wedding yesterday. I have been here for nine days and have been planting Light columns in Helsinki and other places around here. Today I'm flying back to the US and will continue to plant Light columns on my journey.
Esther Jantzen, Oregon I love, love, love this idea! Thanks for sharing. Yesterday I went to the capitol building of the state of Oregon in the town of Salem, OR, and planted Light columns there—in the rotunda and in the Senate and House of Representatives chambers. You inspired me!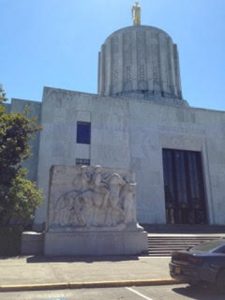 Ashtar Athena, California Very excited over your example and momentum–it's motivated me to include activating the existing Light columns, as well as planting them in the oceans and barren deserts and places where the Travelers and their teams have not gone–yet. I use a plastic blow up Earth balloon I got at MSIA productions awhile back to aid in my visualizations.
Pam Inman, Hawaii Sheila, I want to say again how much you inspired me to plant light columns all over. Time and distance are not a concern, so I plant them worldwide. I was just thinking that I do have a map on my refrigerator that I can look at to decide where I want to plant more. I can also plant them in areas the news posts as turmoil and wherever John, Leigh, and staff are traveling. This is a lovely way to minister with ease and grace. Great Ministry to awaken in us all. Let's all work together to make things better! Much better for the highest good of all.
Brenda Gould, Sydney  It has been an amazing day, the Light of the World Day, July 23rd, 20117. I spent many hours in Holy Prayer, deep meditation + SE's + holding the Light etc.. and what came forward was a most uplifting and inspirational + insightful, visionary, + loving heartfelt attunement with the LIGHT  and WOW, the Light of the World Ministry…. was such a blessing to behold  and the Light Columns previously placed reactivated, renewed and strengthened, all over Australia, etc etc.. including all court houses, federal Parliament in Canberra, all States Parliaments and all local councils etc etc…..+++ Gold Stars for your wonderful postings and outreaching.  J-R is smiling, and USA and England, and Europe…In fact, all countries in the world and their capital cities. Blessings Be.
---
Much gratitude and loving to John and Leigh for all their dedication, loving and support. And to Leigh who is the most amazing cheerleader for Light columns. And gratitude to all who caught the vision and participated in this Light action around the world. And finally over to our Traveler John:
"Consider that in the Christ, the messianic consciousness that is the Light of God, that you are a physical column of Light. The key is being conscious of this Light into the physical activation, the anchoring, so that where you walk, where you go, is hallowed ground. We are talking also of degrees as in magnitude. The more you are capable of holding and transmitting the Light, the more that Light is placed through your openness and intention to be the Light, to place the Light, and to send the Light. Where two or more are gathered in the Name, the Sound that is the Light, the Word of God, then the source that is the Light, the source that is God incarnate, is in your presence and all who are gathered in this Way, this Truth, this Love of God." – John Morton, DSS