In mid-April, we took a trip to Florida to visit our MSIA family. Our purpose was to connect one-to-one with folks and explore how each of us is called inwardly to live and share the Traveler's teachings and to expand in loving service.
This is a new outreach experiment to share what's happening in different MSIA locations, touch in a family, gather together in the Spirit to see what's next to make the Teachings available, and how we can better support and love one another.
The trip was above and beyond what we imagined!! Here are highlights:
We landed in Miami, and the community greeted us with such loving and gratitude, shepherded us around, and seemed so happy to have us there. Terilee Wunderman, Elke Biljani, and Nydia Rey met us at the airport and welcomed us with open arms. Here we are with our hosts, Elke and Nydia: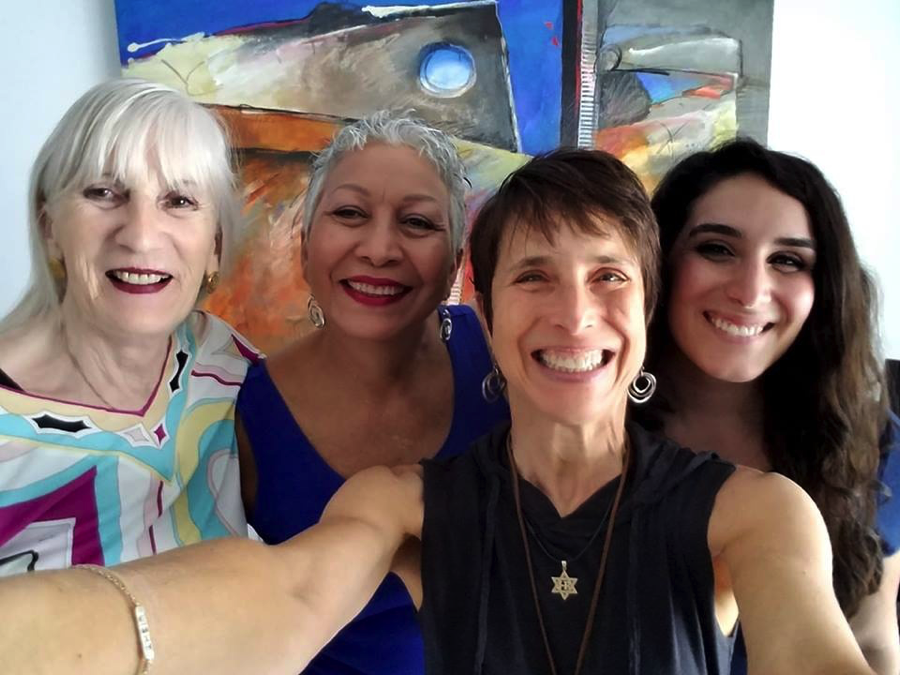 From left to right: Elke Biljani, Nydia Rey, Debbie Roth, Skyler Patton
The event line up over the next six days was incredible. We had amazing events every single day in Miami and Jacksonville: a state-wide online Ministers Meeting, a PTS class, a Soul Awareness seminar, HeartFelt and Insight discussions, and a community gathering. There were so many blessings!!
We got feedback that our presence infused the community and events with energy. For example, Luis Mario Agudela and Marybell Castaneda's seminar on our first night had double the attendance – folks took off work to attend! When we tried out Zoom (a video conferencing tool similar to Skype, but much more reliable and interactive!), for Sunday's Ministers Meeting, the community was so jazzed. A few ministers shared this was fulfilling their long-time dream of having a state-wide Ministers Meeting.
We took photos GALORE & posted all over Facebook. Here's a gallery of the photos (THEY'RE AWESOME):
And watch these two videos on how these Miami folks were inspired to study in MSIA:
And a video with Marybell Castaneda (Luis Mario's wife) on why she holds seminars:
Great next steps came out of our visit! Here are a few of them:
*The Florida community now has a Zoom account! Their Min Board meetings are now online via Zoom, along with Luis Mario's seminar, and the Jacksonville Joyful Transitions class, and possibly their local monthly Ministers Meetings.
*Numerous folks requested to become Seminar Leaders so that they could hold Soul Awareness Seminars as a way to offer new ways to gather together in Satsang.
*At least one MSIAer is now coming to Conference for the first time in years!
*The Miami community is working on next steps for a HeartFelt service project to support Venezuela. (Elba Escobar is creating a What's App group for interested folks!)
*The Jacksonville community is opening discussions on a new HeartFelt community service project with kids.
*At Jacksonville's 1000 Ways to Happiness workshop, participants received a loving invitation to attend Michael Kowalski's next meditation seminar. It's at the same location where we held the class.
There were lots of seeds planted and lots of giving and receiving of loving, caring, and sharing.
Let us know if you have suggestions by emailing serve@heartfelt.org and DebbieRoth@msia.org. Please also send the Light for next steps, both with Florida and a possible next location to visit.
We are so grateful to have done this visit. It was deeply meaningful for both of us beyond words. Below is more detail on each of the events if you'd like to read more.
Love,
Debbie & Skyler
---
FLORIDA EVENT BLOG:
IT ALL STARTED IN MIAMI:
We landed in Miami safe and sound. After being greeted by our lovely hosts, we had a great night's rest to prepare us for the many wonderful events of the next four days. Here's what happened:
(1) Soul Awareness Seminar on Thursday, April 19:
Luis Mario and his wife Marybell held a seminar with 25 people in attendance (their usual crowd is 12 – 15). The energy was magnificent, with a delicious meal afterward! They come from Cali, where there's an established MSIA center, El Sede. When they arrived in Miami, they had a clear intention to start a regular seminar, and now it's alive & thriving! It was a beautiful experience and completely bi-lingual. Each person shared their Soul and Light so beautifully, and it was a joy to be in communion with them.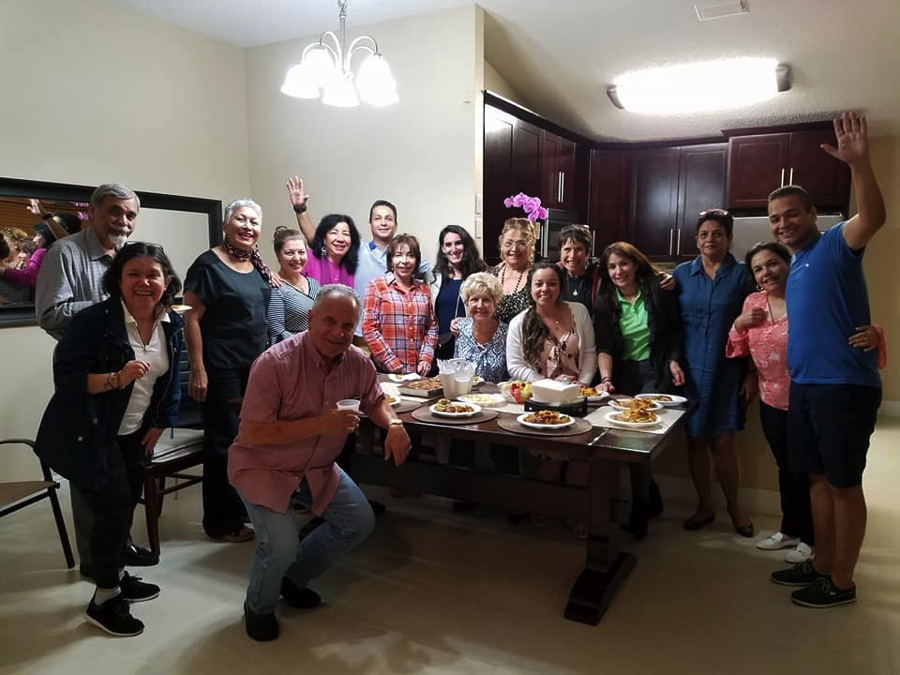 Front of table: Blanca Molentino, Keith Prutinsky
Right in back of table: Brooke Prutinsky, Marybell Castaneda
Back row: Michael Biljani, Nydia Rey, Sofia Saracho, Margarita Rosa Saucedo Ferrer, Luis Mario Agudelo, Mirtha Perez, Skyler Patton, Mimi Molentino, Debbie Roth, Maria Isabel Vivas Carrizales, Janeth Sanclemente de Agudelo, Rosita Chacón, Julio Agudelo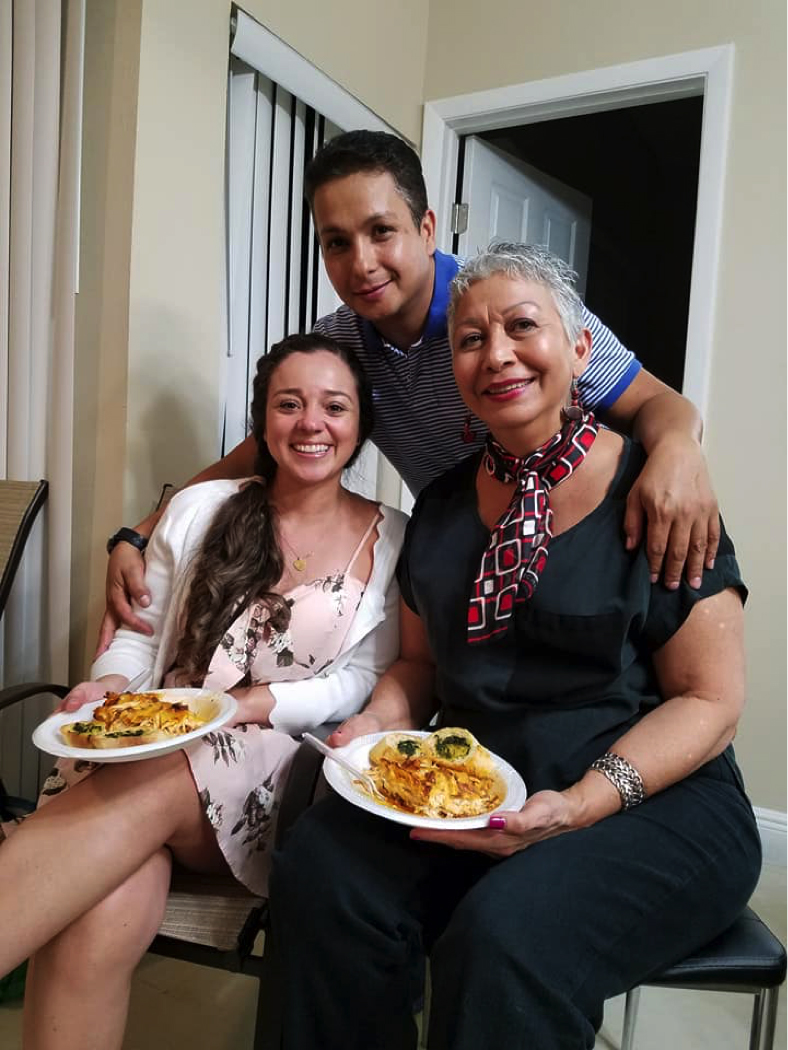 Marybell Castaneda and Nydia Rey (seated), Luis Mario Agudela (standing)
(2) HeartFelt Gathering on Friday, April 20:
Elba Escobar offered her home for a discussion regarding a HeartFelt project to support Venezuela. Folks expressed their personal experience with conditions in Venezuela— it was healing to share and be heard in a loving group of Light Bearers. Discussion then turned to what they could do to help, and Skyler went through how HeartFelt can support their efforts to get funds or supplies to Venezuela. Everyone had great ideas for raising money, and most importantly, expressed hope that they could make a contribution using the unique gifts they each possess. No service is too small.
Here's what Rosita Chacón wrote:
Your Light and love were strongly felt, you arrived at the right moment. I had been particularly moved by the situation that my country, Venezuela, is going through. The day before your visit, an unfortunate outcome of the situation of a child had shaken me to the core. I felt powerless, not being able to help more people, I felt sad, exhausted. I had asked, from the depths of my being, for more financial resources that would allow me to help more compatriots because despite my budget management I cannot reach as many homes as I would like. And the next day, puff! you appeared as if by magic, facilitating an opportunity to gather and to join forces, offering each one of us, who for whatever reason find ourselves in other latitudes, an opportunity to come together and to contribute… and from a place of love to alleviate so much pain and lack of an endless number of Venezuelans. Truthfully, I do not have words to express the feeling of joy and gratitude that I feel toward John Morton, toward you, toward all MSIA, may God bless you.
Su Luz y amor se hizo sentir, llegaron en el momento justo, me encontraba particularmente conmovida por la situación que atraviesa mi país, Venezuela. El día antes de su vista, había ocurrido un lamentable desenlace con la situación de un niño que estremeció mi alma, me sentía impotente de no poder ayudar a más personas, estaba como rendida, triste, pedí desde lo más profundo de mi ser, más recursos financieros que me permitieran ayudar a más compatriotas, pues a pesar de mi buena administración con mi presupuesto no alcanzo llegar a tantos hogares como me gustaría. Y al día siguiente, ¡puff!por arte de magia aparecieron ustedes, brindando la oportunidad de sumar y organizar esfuerzos, ofreciéndonos a cada uno de nosotros, los que por la razón que sea, nos encontramos en otras latitudes, de incorporarnos, de aportar…y desde el amor aliviar tanto dolor y carencia de un sin fin de venezolanos. La verdad no tengo palabras para expresar el sentimiento de gozo y gratitud que siento hacia John, hacia ustedes, hacia todo el MSIA, que Dios los bendiga.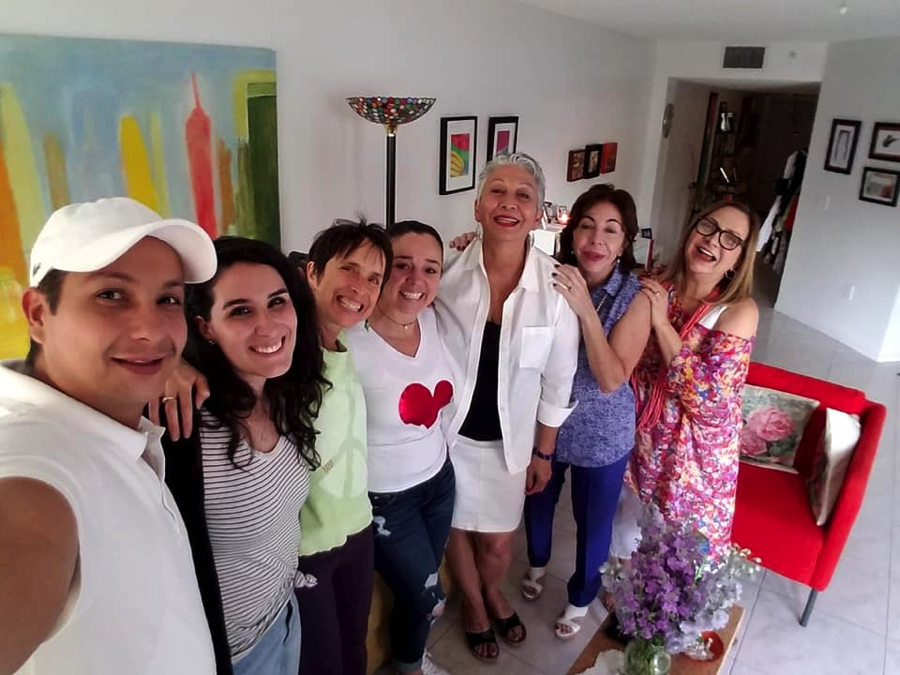 From left to right: Luis Mario Agudelo, Skyler Patton, Debbie Roth, Marybell Castaneda, Nydia Rey, Mirtha Perez, Elba Escobar
(3) Brunch with Insight folks on Saturday, April 21:
Skyler and I met with three folks who are very active in Insight – Jacques Girard, Gaby Santander, and Julio Trujillo. They shared their vision for Insight coming up in the next months, i.e., to do an Insight 2 in August followed possibly by a bi-lingual Insight 1 in the Fall. We explored together ways to bridge Insight & MSIA – one highlight was to offer meditation gatherings for Insight grads. How cool is that? Julio said that "it was a great experience to share with both [Debbie and Skyler]." and both Gaby and Jacques intend to apply as MSIA Seminar Leaders to hold meditation seminars. They all seemed engaged and ignited!
(4) Ministers Meeting and Community Gathering on Sunday, April 22:
What an amazing day! In the morning, we started off with a Ministers Meeting, available online for the first time via Zoom. Ministers joined in from all around Florida, including Boynton Beach, Orlando, Jacksonville, and even Ligia Marcela Chaparro from Atlanta! Many folks said this was their dream to hold a state-wide meeting, and it felt like a door opened for future online events.
Then we had a scrumptious lunch, followed by a community gathering (also offered on Zoom). Most people stayed for this. We did contributions, such as sharing the talents that each of us can offer to heartfelt service. Folks generated amazing ideas for the Miami community, including:
*creating a community vision board
*doing a bi-lingual PAT 1
*holding a regular Soul Awareness seminar on the south side of Miami
*starting a WhatsApp group for their Venezuela HeartFelt project
Stella Reinis said that our visit to Florida:
reminded [her] how wonderful it is to get together to share our love for the teachings that sustains us in this world. In the midst of struggles the soft, loving presence of Skyler brings the element of peace and calm. While Debbie is like a boost of vibrant energy and enthusiasm that is contagious, she brought hope and light that continues manifesting the blessing.
You left light working in our lives in a very special way. The loving service is always in your hearts.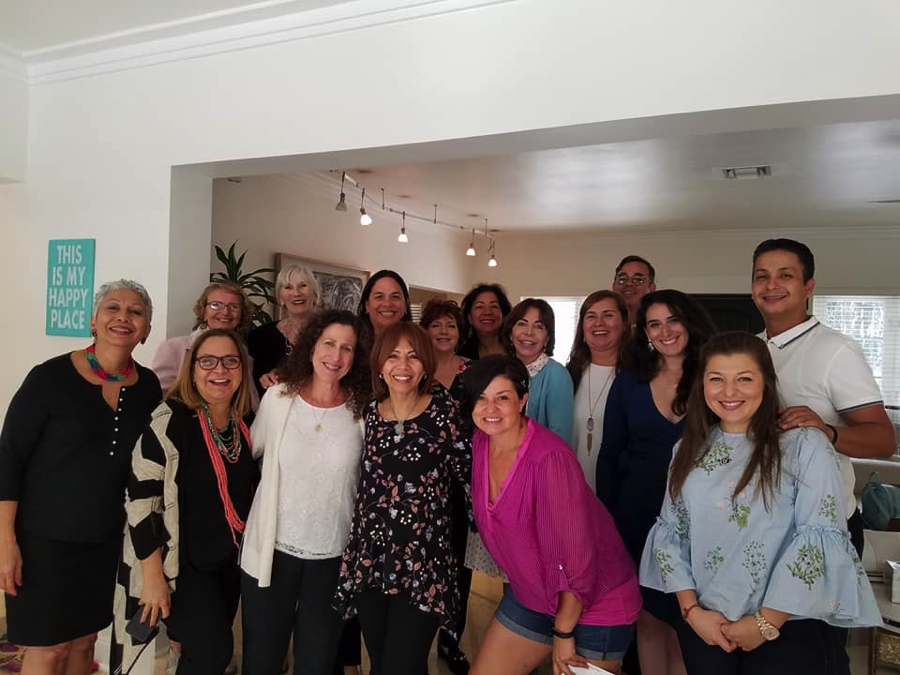 Front row: Nydia Rey, Elba Escobar, Terilee Wunderman, Stella Reinis, Claudia Calle, Sofia Saracho
Back row: Alicia Cassan, Elke Biljani, Katuy Tenorio, Miriam Oroshnik, Margarita Rosa Saucedo Ferrer, Mirtha Perez, Mariela Nieto, Jose David Martinez, Skyler Patton, Luis Mario Agudelo
AND THEN….JACKSONVILLE:
After saying fond farewells in Miami (for now!), we rented a car for the drive north to Jacksonville. En route to Jacksonville, we made a quick stop to overnight & breakfast with Richard and Mimi Castellanos (they lived in San Diego & served as Reps for years), and Joan Niles (a minister and initiate and Skyler's beloved godmother!). Richard and Mimi live near Cape Canaveral, and we planted a Light column & did s.e.'s to be of service (what else? ☺ ).
The next day, refreshed and ready to go, we arrived in beautiful Jacksonville. MSIA Rep Judy Jackson and her husband Skip greeted us with such loving and caring. The community put us up at a beautiful complex, where Miriam and Marcy Goldstein recently relocated. Here's a photo of some of us chatting before dinner: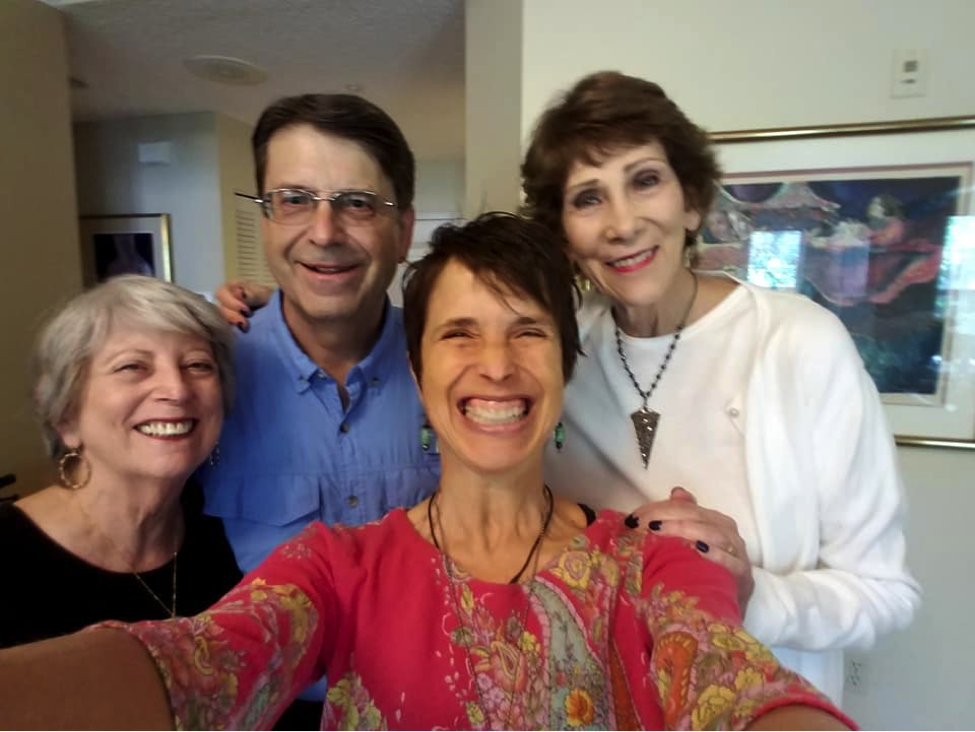 From left to right: Judy Jackson, Skip Jackson, Debbie Roth, Miriam Goldstein
That evening, we hosted a "1000 Ways to Happiness" PTS Class at Michael Kowalski's office. There were 13 people in attendance, including 7 people new to MSIA. Wow! Participants shared together and laughed a lot, we listened to J-R and attuned to the happiness that is always present within. Folks seemed to have deep experiences, e.g., one person cried in the first sharing. At the end of the evening, Michael invited folks to his next meditation seminar – he recently started holding seminars again after John Morton's visit to Florida in January. We then enjoyed delicious refreshments and great conversation before calling it a night.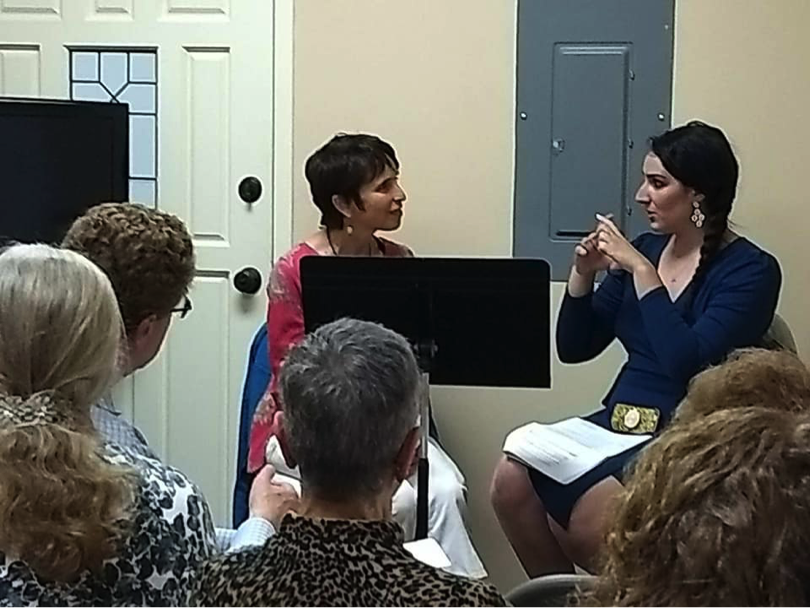 From left to right: Debbie Roth and Skyler Patton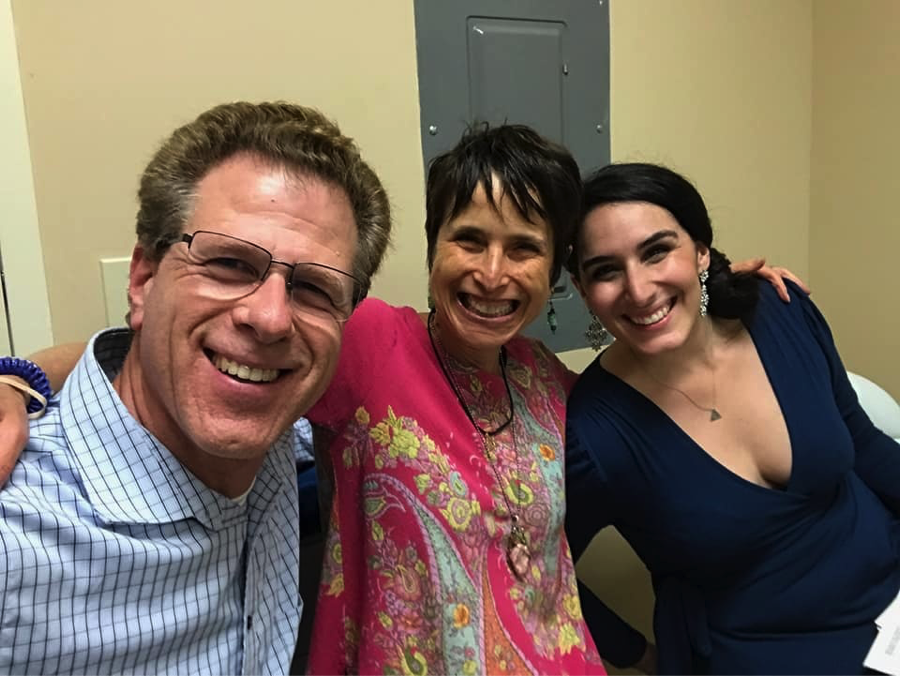 From left to right: Michael Kowalski, Debbie Roth, Skyler Patton
The next morning, we met with the community to have brunch at Sweet Pete's, a fun and colorful restaurant in downtown Jacksonville (they make their own candy right inside). It was really lovely to relax, connect, and enjoy a nice meal with several Jacksonville ministers! Our discussion included ideas for simple, uplifting HeartFelt service projects for kids that ministers could do on their own and share about during Ministers Meetings. We also talked about the possibilities of using Zoom to connect with other MSIAers across the state.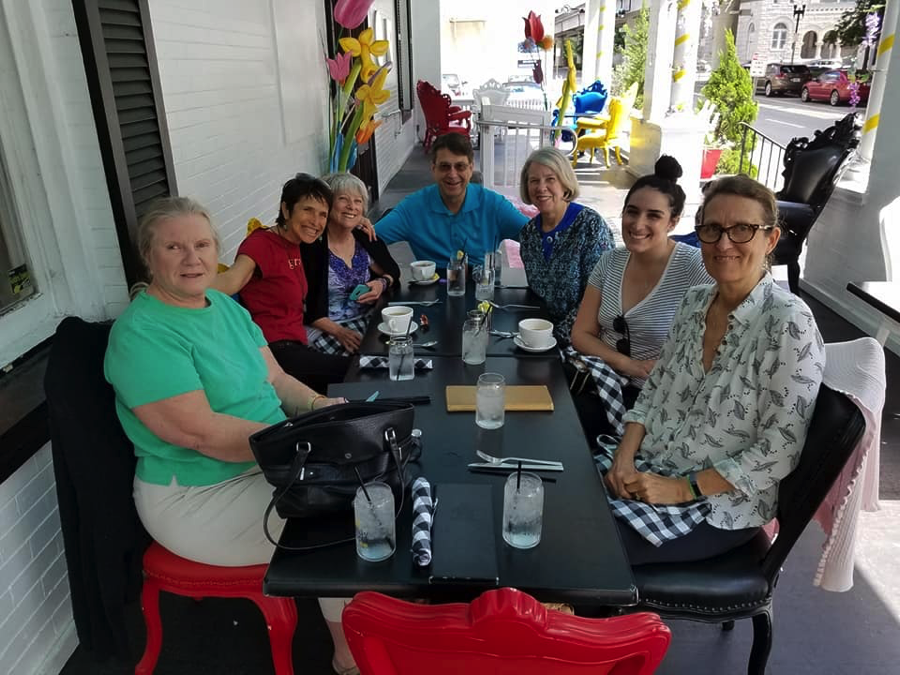 From left to right: Kathleen Lucansky, Debbie Roth, Judy Jackson, Skip Jackson, Barbara Moulding, Skyler Patton, Diane Longo
After brunch, we said our goodbyes and took off for the Jacksonville airport, perhaps a little tired ☺ and so very fulfilled and blessed with the love of the MSIA Florida community throughout this amazing trip.
Baruch Bashan.