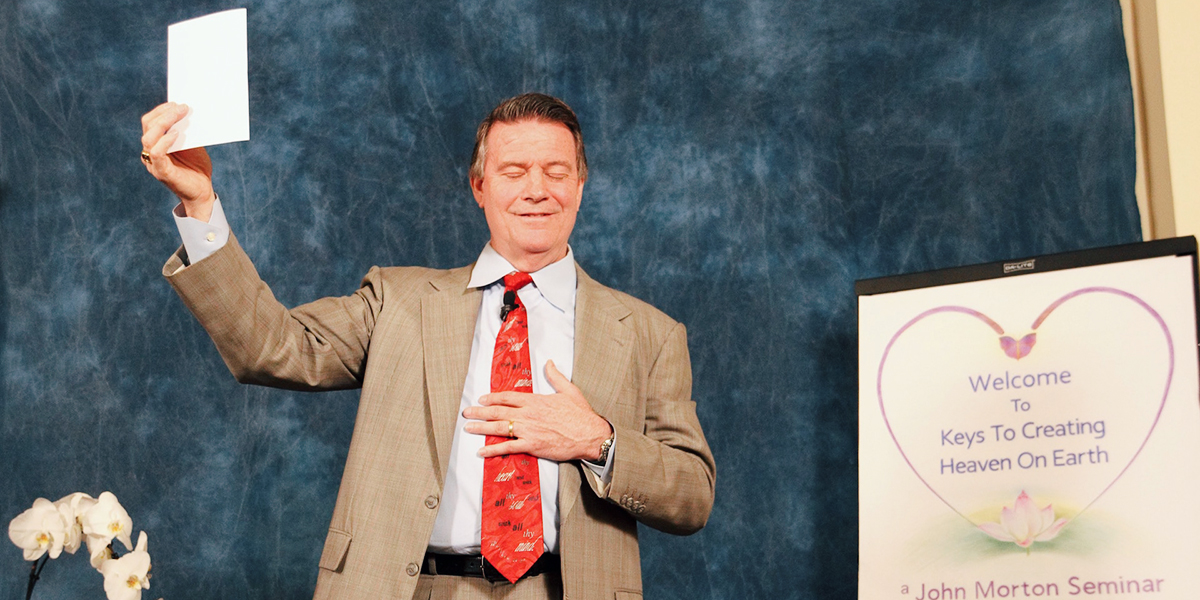 Flying over the Pacific Ocean on my way to Japan, I'm transported to "Keys to Creating Heaven on Earth" with John Morton. Last night's seminar at Prana (aka Peace Awareness Labyrinth & Gardens) was an invite to dive into God's infinite ocean of love and mercy.
During the seminar, John mentioned that Heaven on Earth is a decision.
One candle can spark a holy blaze, which warms cold hands and fills hungry hearts with comfort. All right. Maybe such idealism belongs to the lovers, the dreamers, and me (and Kermit the Frog!). However, given the alternative, I'll say "yes please" to John Morton's keys to creating Heaven on Earth.
Please Note: The following keys are this writer's interpretation of the presented information.
1. Get Creative!
We can create Heaven on Earth.
Traveler seminars have always had creative contributions. Last night was no exception. Prana's Fred and Ginger – George Scott and LeAnna Sharp – performed dancing Cheek To Cheek. Their song and swing dance sparkled with Spirit. I jumped to my feet to join in a standing ovation for the duo who brought so much joy.
Amazing how a dash of imagination and a dance or two can elevate life to another level. Next time the doldrums hit, maybe I'll turn up the music and foxtrot around the room.
2. Change the Channel
This is Heaven on Earth.
How we relate to ourselves, each other, and our experiences informs our realities. A subtle switch of focus softens the rough edges. I'm not an advocate of sweeping emotions under the carpet and painting on a Pollyanna smile. But, I believe in asking WWTNTTHTYT? That's how my Great Uncle George would sign his letters. (Yes, dear millennial, once upon a time when dinosaurs roamed the earth, handwritten letters existed). What is WWTNTTHTYT? What was the nicest thing that happened to you today?
3. Twinkle, Twinkle Divine Star
The Kingdom of Heaven is already here.
Maybe Heaven is always here. As hard as it is to swallow, I'm the one responsible for not seeing it that way. I agree with John that, "God is love; and he that dwelleth in love dwelleth in God, and God in him." (1 John 4:16 KJV)
What happens though when rage and reactions to unjust accusations or attacks arise? John Morton suggests that we call ourselves forward into the Light.
Part of claiming Heaven on Earth (as I understand it) is allowing the Divine to dance with us. To ask for the Light is to remember that we are one of the Creator's precious kids. (Even when our oh so delicate ego begs to differ). Enter the most excellent of tools – spiritual exercises.
4. Surrender, Dorothy
Lay down whatever stands in the way of serving God.
The big "F"…Forgive! The pay off is more freedom to have fun. Of course, there's a caveat: Surrender pissed-offness and release resentments. My Great Uncle George's second favorite phrase was "There ain't no free lunch."
"Patience is a virtue that will never hurt you" was his first favorite saying. So, when forgiveness seems impossible, it's time to double down on TLC from you to you.
When the hurt feels too deep: Besides therapy, and crying to my husband, I hit my knees and free-form write like crazy. Then, I repeat the process. Through gritted teeth, I've also prayed for my alleged antagonist. Warning: Be ready for miracles!
5. Have Fun with Dick and Jane
Come into the expression of loving regardless.
The brilliant MC of "Keys to Creating Heaven on Earth" was David Bransky. He referenced one of the greatest mystery series of all time – Fun with Dick and Jane. (At the American School in Japan, every first-grader read the books). David spoke of the wonder on his child's face as he poured over the big question: "Where is Spot?"
Spot was the dog…dog is God spelled backwards. (Stay with me…) In the midst of growing pains, even saints like Mother Theresa have been known to cry out and wonder where the Loving Creator is hiding. Maybe we just need to keep turning the page. Along the way perhaps we'll get glimpses into the divine design. As we close the book, we very well may realize that God has placed the keys to creating Heaven on Earth in each and every one of us.
Watch the Video Recording
---
View the Photos:
---