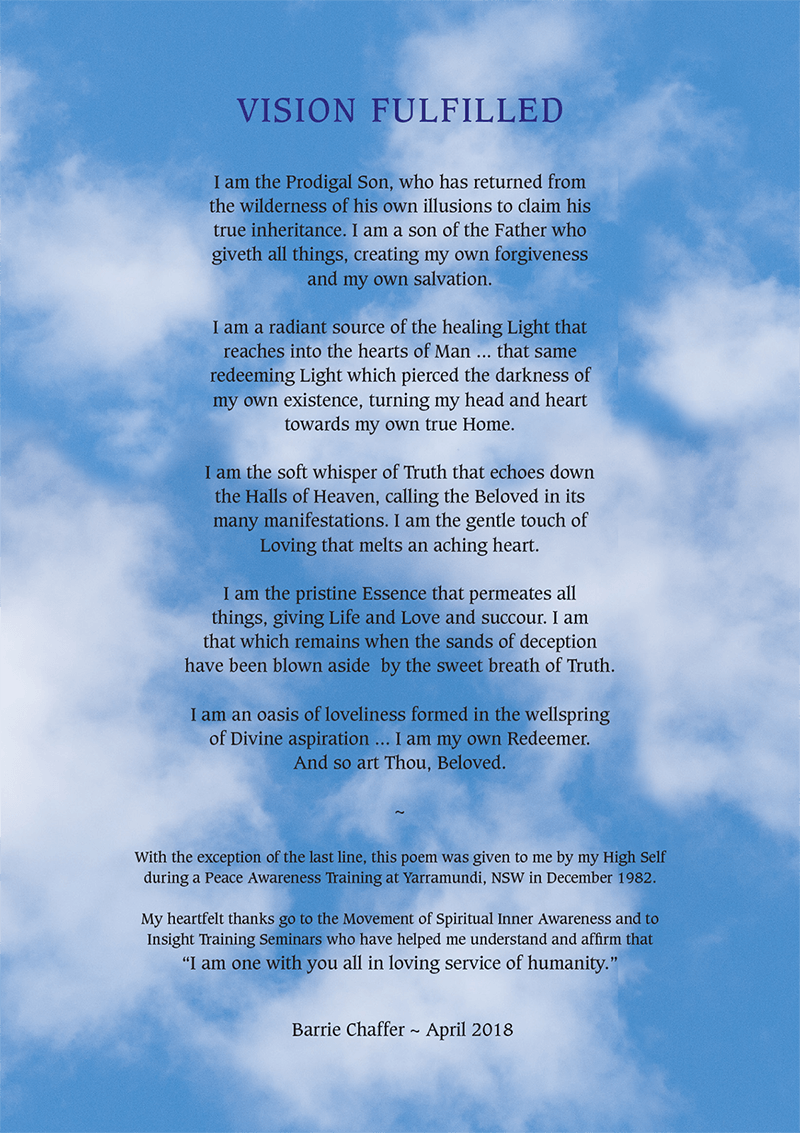 Origins of Vision Fulfilled
Having recently completed PAT 8 "Passage into Spirit – Resurrection in the Christ" at Bowral NSW, I am moved to share a divine gift with my world-wide MSIA family. Some weeks ago I was moved to share this inspirational poem with my fellow participants during a wonderful concert given on the last night of the PAT 8.
Introducing the poem, I explained that it had been given to me by my High Self during the first PAT I held in Australia.. Facilitated by Candace Semigran in December 1982, it was held in a bushland Retreat at Yarramundi west of Sydney. Towards the end of the week, Candace encouraged all participants to take a pen and pad into the bush and to find a solitary place for some inspired writing.
Suggesting that everyone has an "Inner Poet" she advised that we begin by writing down the words "I AM" and see where that led us. I did so, and to my everlasting wonderment, my consciousness was flooded with a succession of sublime poetic stanzas of infinite depth and beauty. Each stanza evoked a stream of tears as the significance of its content was revealed.
The whole transmission took little more than ten minutes and its substance really rang true for this 51 year old seeker of truth. My inwardly prompted title for the poem had its origins in a 1968 astral meeting with my then unknown Wayshower, who revealed to me an ineffable Vision of Divine Light towards which my whole Being was inexorably drawn – but that's another story. The full implications of spiritual consummation are still unfolding as I explore the divine possibilities inherent in "Vision Fulfilled."
When sharing the poem at our PAT 8 concert, I found myself struggling to complete the opening stanza – an extraordinary occurrence given my 36 years of constant inner practice. It was not for any lack of memory or confidence. Nor did it prevent my successfully completing the recital. It just had to be a divine intervention for the highest good, which set me thinking about the past history of this poem.
It was first shared along with the contributions of other participants at the 1982 Yarramundi Retreat. I then wrote to John-Roger detailing all that had taken place.  J-R's reply was enthusiastic. He suggested that I submit the poem to The Movement Newspaper at Prana for general distribution.
Without a computer, I typed the poem with left-margin alignment and "improved" the visual layout by adding a few innocuous words to the first stanza. Thus amended, I posted the poem to The Movement Newspaper office where it remained unacknowledged for many months. Eventually, after a home-visit by our expatriate Robbie Uniacke, it was published on page 14 of an MSIA Ministerial Newsletter then in general circulation.
No general distribution of "Vision Fulfilled" has since taken place. Now Spirit has intervened and a number of PAT 8 participants have requested copies of the poem. One of them, Stephen Myers, came forward offering to assist the author in re-editing the text and creating a more attractive layout. My divinely inspired 1982 poem in its exquisitely designed habiliment is ready for international distribution in 2018.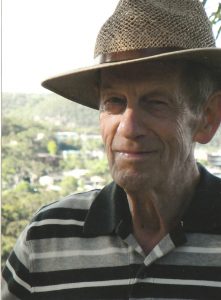 ---
Peace Awareness Trainings
The Peace Awareness Trainings (PATs) were created under the direct supervision of John-Roger – the Founder of MSIA to provide a retreat where people can break whatever blocks their conscious awareness of Spirit. If you've ever wished you could get free of the habit patterns and mind chatter that gets in the way of attuning to the divinity of your heart, this is the training for you.
PATs this summer!
English: https://www.msia.org/events/category/peace-awareness-trainings/list