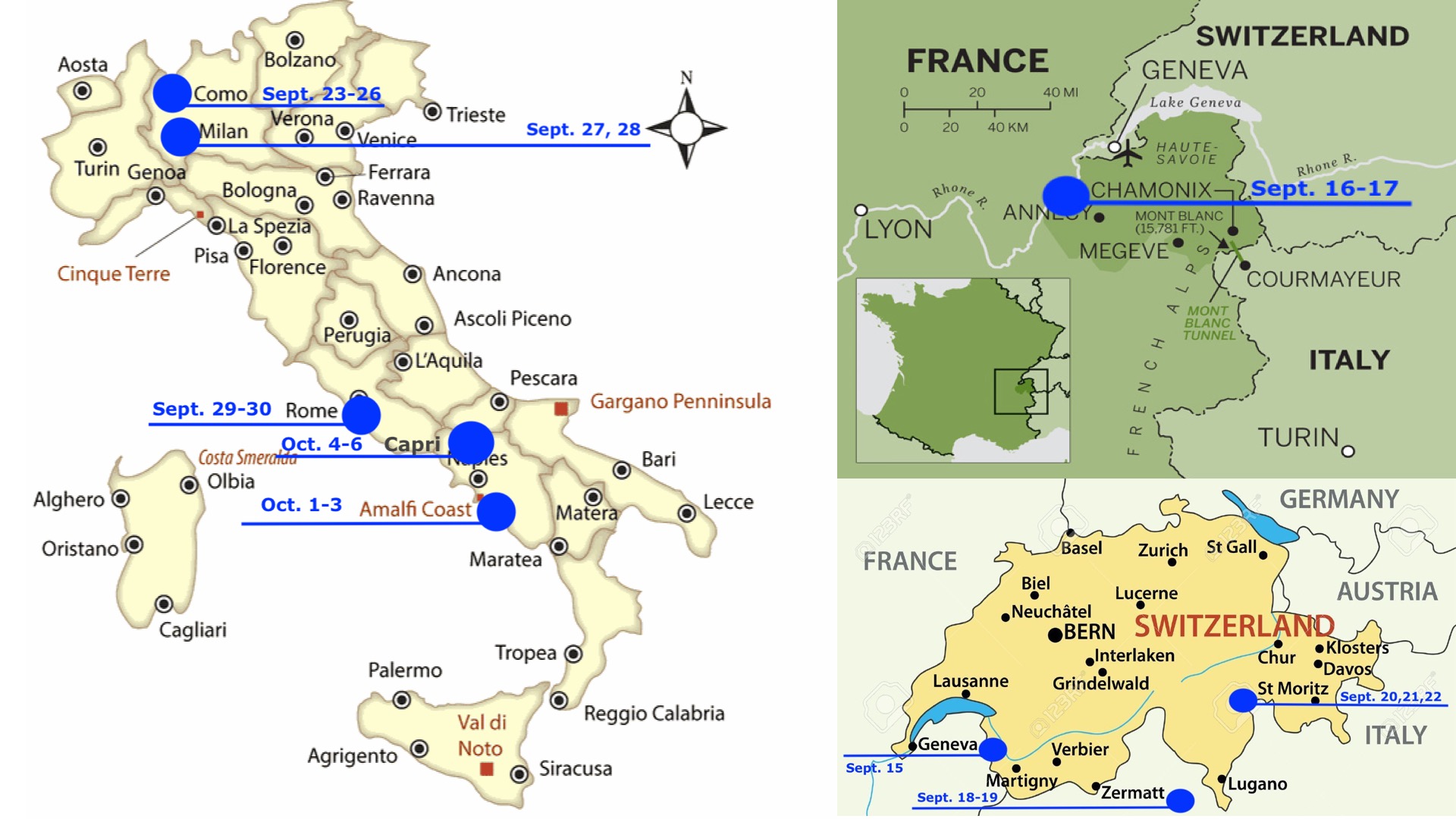 "My job is to awaken the soul into the soul realm, so you can have heaven while you're on earth." John-Roger, DSS.
Alps – Italy Lakes Tour
We begin in the beautiful city of Geneva, Switzerland with its marvelous lake, headquarters to international organizations such as the UN, Red Cross and others. From there we journey onward to the high country experiencing the French and Swiss Alps, as we explore Chamonix, Zermatt (home of the Matterhorn), and St Moritz. We plan to travel by way of the famous Glacier Express and Bernina Express and other trains, which offer Disneyesque views of the surrounding beauty via panoramic windows and unmatched Swiss engineering. Our itinerary takes us to many heavenly and high places, from the Southern Alps to Lake Como, Italy with its charming towns, gorgeous scenery, delicious food, stunning villas and gardens. The Part I tour culminates in Milan, Italy worldwide fashion capital and home to Leonardo da Vinci's Last Supper painting. This tour provides ample opportunity to experience new inner dimensions, explore the outer beauty, relax in these magnificent settings and partake in sharings with our beloved Traveler.
Two Day Rome Extension
Rome, known as "The Eternal City", to bless the Vatican with our beloved Traveler! During these two days we plan to stay at the majestic St. Regis Rome Hotel.
J-R Legacy Tour | Rome & The Amalfi Region
The J-R Legacy Benefit Fundraiser tour supports the J-R Legacy Fund. This tour begins in Rome with a plan to visit and bless the Vatican. Then on to the magnificent Isle of Capri and the Amalfi Coast, where Italy meets the Mediterranean Sea, a rare geographical combination of mountains, sea, Italian food and outstanding hospitality. Being in such beautiful places with fellow spiritual warriors, and plenty of opportunities to share with the Traveler, embodies the essence of Heaven on Earth.
Join Us in Planting Light Columns wherever you are and Light up the World together.
Participate in Planting Light columns with us. The map that shows the dates of where we will be on the tour for visualizing Light Columns.