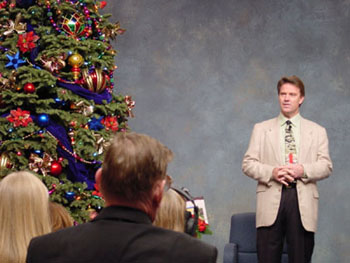 At the 2101 Building in Santa Monica, California, MSIA held its annual Christmas Eve Seminar for MSIAers, their friends and family. The event was broadcast live via the Internet with 866 people participating online — a record number of people tuning in to an MSIA event via the internet.
All of the event rooms at 2101 were filled with participants, a bit over 400 people in attendance, dressed in a wide range of holiday attire. Attendees at the 2101 building were treated to a fabulous array of MSIA gifts, toys and goodies to purchase in the upstairs lobby. Prior to the start of the program, the MSIA Carolers sang in the building lobby as well, organized and accompanied by Barbara Wieland at the synthesizer. In the Brentwood Ballroom, participants were treated to beautiful Christmas music played by Aaron Roose, on the oboe, and Claire Smith-Roose, on the flute.
The broadcast began at 3:00 p.m. (PST) in the sunny afternoon with the Sara, Eyren and Ian Powell singing "The Little Drummer Boy." Their parents, Richard and Karen Powell, were hosts for the event, welcoming everyone and calling in the Light.
Next, Richard Powell introduced John Morton. John read a letter from a woman whose daughter had been very ill in the hospital, and had been found to have a nail in her intestinal tract. The nail was eventually surgically removed, and was found to have been encased in threads of fatty tissue, posing no threat to her body. The woman attributed this to prayers and the Light, and John reflected on the miraculous nature of the events, and the way in which loving meets all needs. He went on to discuss certain aspects of the Nativity story, as portrayed in the Bible.
John's talk was followed by Jsu Garcia singing "Blue Christmas," with back-up sung by Claire Donnelley Morton. Jsu was charming and Claire was beautiful and their song was a hit with the audience. Claire then introduced her "abba" (grandpa) John-Roger.
J-R began by telling stories of Christmas past from his childhood, and the ways in which gift-giving and gift-receiving are experienced at various ages. Many of the stories brought much laughter to the audience. He also discussed the Nativity story, and read from the Bible, Book of Matthew, Chapter 2, verses 1 — 11. He remarked that there may have been more than three wise men visiting Mary and Joseph, and other parts of the story may not have occurred exactly as they appear in the Bible. He added that this does not change the fact that Jesus' life effects us even now, more than two thousand years later.
When J-R's portion of the program was complete, Jeffrey Morgan played guitar, and Eric Lumi