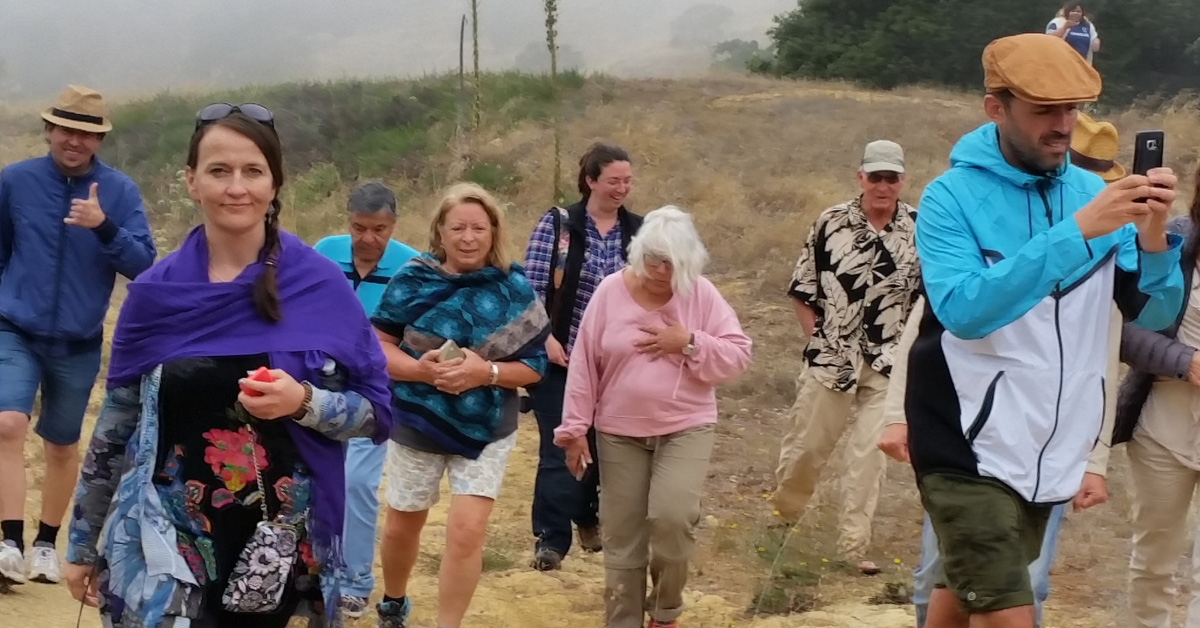 ---
There was a great ad on TV awhile back where people were stopped on the freeway having to wait for an eighteenth century boat to cross the road in front of them.  In the boat stood George Washington staring toward the distant shore.  When a car honked at him, he chastised the driver and yelled out, "We all have somewhere to go!  We all have somewhere to go!"  What I especially like about it (besides the fact that they got George Washington to do the ad:) is the way he put it.  He didn't say he had to go somewhere.  He said he/we have somewhere to go.  I've never felt like I had to go to Windermere.  It's more like, "No I can't help you move your piano.  I have somewhere to go."  And they would say, "What can be more 'pressing' than moving a piano?"  And I would say that I'm going to assist an amazing group of people from all over the World in their quest to see a place called Windermere.  A place known for its absolutely pure essence of peace. How do I know that?  Because I've been there.  A lot. And, I am one peaceful dude:)
So our group of Windermere visitors, on Tuesday July 3rd, gathered by the barn to call in the Light — which is Living In God's Holy Thoughts.  And, what is really cool is that someone from Bulgaria called in the Light – in – wait for it – Bulgarian.  Wow.  And a sweet inner voice came through for me that said, 'Isn't it nice to understand when you don't understand?'   I call it love.
So, with love leading the way (I'm not sure we have a choice, but it's just fine with me) we headed for Quelin Rocks, some of us walking and some riding in the Kubota.  And, the weather decided to be very cool and way foggy.  The kind of fog that slips up from the Pacific Ocean, wrapping momentarily around the towering boulders around Quelin, and then moving on to give another rocky hug.  Makes me want to just stand there and whisper, "Me, me. How about me?"  We called in the Light in English at Quelin while sitting – most of us barefoot to be more sensitive to the subtle vibration of these magical sandstone structures – and we chanted a bit and had a few moments of silence while the fog silently slid by.
And then the tour guide (tall guy, gray hair, tells lame jokes) rudely interrupted the profound "time in space" to say that we were heading back to the barn for food.  I've always found food to be a nice partner whilst on a spiritual path in the mountains.  I think everyone agreed since there was basically nothing left to eat when we finished and began to paint. Paint what? Windermere rocks.  Oh. We painted with the intention of symbolizing peace on stone to be placed at the foot of the peace pole next to Pharaoh Pond .  MJ had gathered up some paint and brushes – and even rocks — for people to use and it was a big hit as in "you could hear a pin drop" and small brushes sliding across small rocks held in hands that were so full of love, those rocks will surely bless all those that come after to visit the Peace Pole.
We eventually climbed back into the truck and trailer and made our way to Pharaoh Pond and after a sweet moment of reflection (have you ever focused on your reflection in a pond?) we clamored up the boulder ridge known as Top Rock and once again called in the Light – this time in Spanish.  So cool.  Someone said that we were creating a forest of columns of Light.  I said, "a whole forest?" and she said, "well, there's always room for one more."   Don't you love the people this stuff attracts?  I do.  Especially when everyone chipped in when we got back to the barn and helped put away all the chairs and tables.  Can you be both loving and helpful?  Yes, you can!
As the cars and vans pulled away in the late afternoon I stood at the barn and wallowed in the essence of peace.  Beautiful people bringing their essence of peace to a land where it seems as though peace was born – in a home.  A home made of love, always anxious to wrap its arms around the next innocent victim.  Maybe even wrap its arms around a piano a friend needs to move.  Well, maybe 🙂
Love you all,
Dave Wright
VIEW THE PHOTOS

WATCH A MOMENT OF PEACE FROM WINDERMERE RANCH