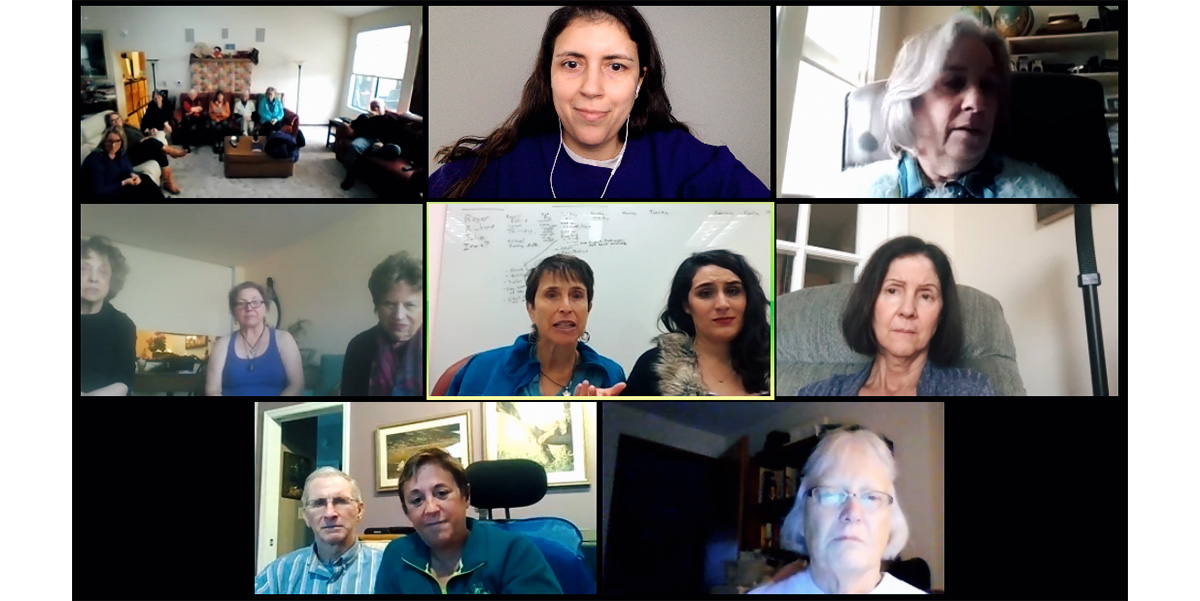 After the November 18th Ministers Meeting in Los Angeles, we hopped on Zoom to join the MidWest MSIAers for a Zoom meeting!
We had a brainstorming session where we introduced ourselves, set intentions for the day and for our communities, and shared about what they have been up to, what's working and not, and brainstormed ways they'd all like to come together more and expand in loving service. This is similar to the community gatherings we did in person in Florida and Austin/Dallas/Santa Fe.
Folks participated from Illinois, Michigan, and Ohio – and folks from Indiana emailed that it's a great idea & they weren't able to attend. We had a wonderful time getting to meet everyone who joined in.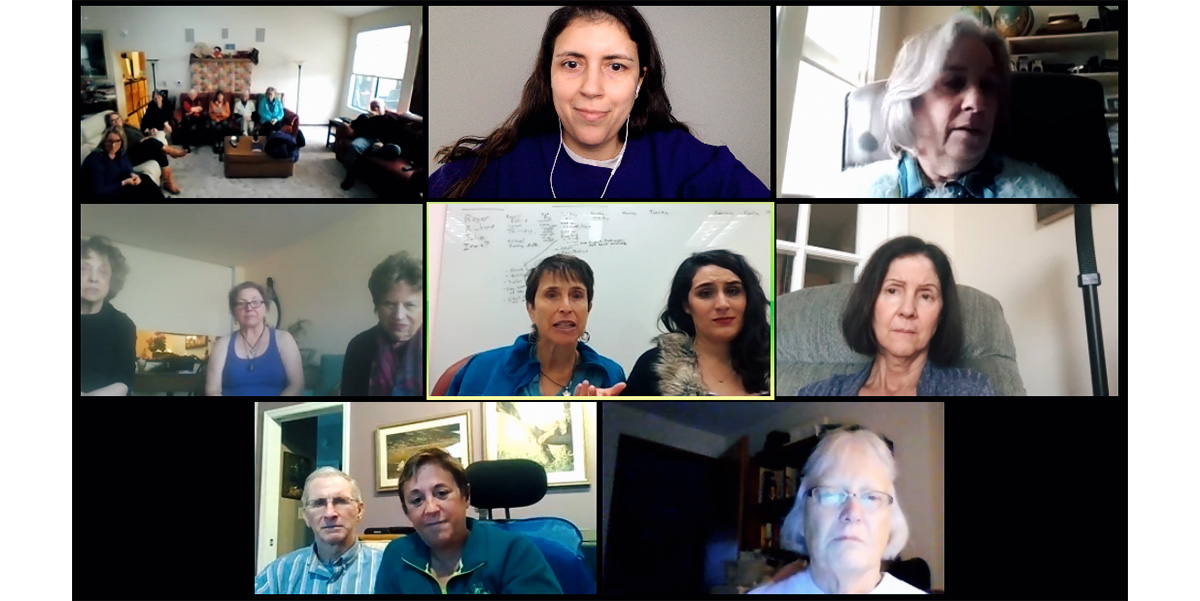 Zoom Screen Shot at Midwest Brainstorming Session, November 2018
We were inspired by the loving connection that the Mid-West folks shared for each other, as well as all the ways they inspired and encouraged each other to share their gifts and ideas to make the Teachings available.
Some great things have already come out of the meeting!
(1) Ines Meneses, a fairly new Discourse subscriber, is now connected with the community. This Zoom gathering was her first MSIA event! She was so grateful to connect in this way — and the other Mid-Westerners were excited to get to know her. In fact, during our gathering, Kay and Larry Stolsenburg from the Kalamazoo area invited Ines to have a traditional Thanksgiving with Kay and Larry Stolsenburg! Here is a pic from that: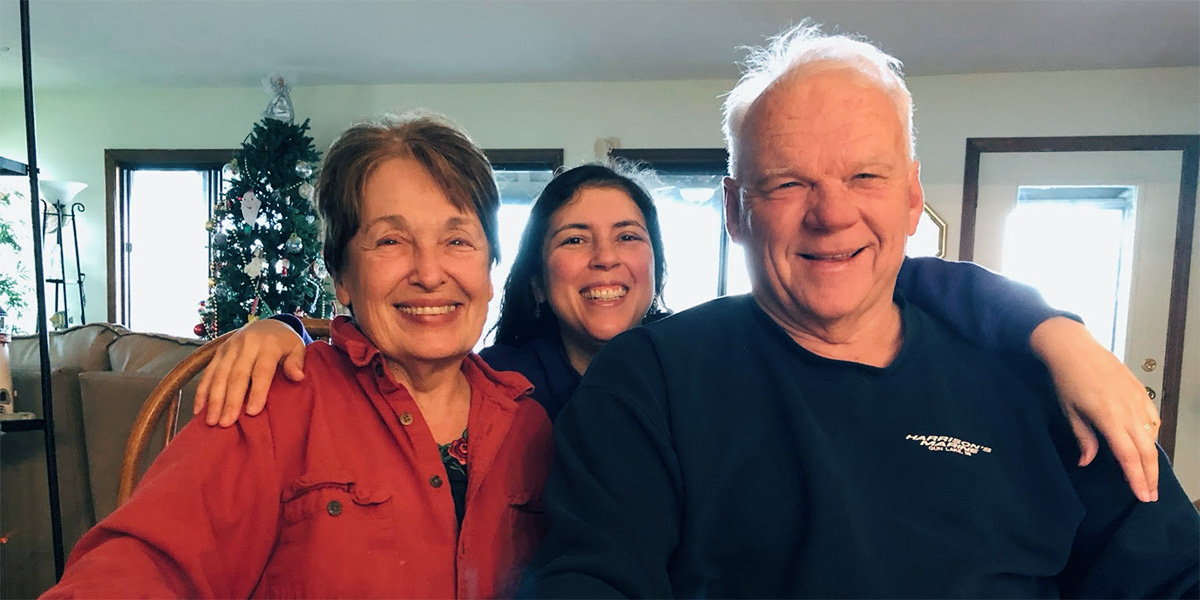 Ines visiting the Stolsenburgs after the Midwest Brainstorming Session, November 2018
Susan Wiltse, the local Seminar Leader Rep, also followed up with Ines and gave her info on local seminars nearby so she could stay connected.
(2) During the meeting, we explored new ways to invite folks to the annual MSIA staff retreat with John Morton in Kalamazoo. As follow up, PTS Rep Lorraine Andrew is preparing to do one-to-one outreach for John's next visit.
(3) Folks expressed how inspired they were by our brainstorming of creative strategies to share MSIA with new people; for example, Susan Wiltse loved the idea of sitting at a coffee shop with a J-R book and seeing who she could serve.
(4) Rebecca Bloomfield and Leslie Sann from the Chicago community plan to offer the PTS class Manifesting the Traveler's Joy in the Spring!
(5) The Kalamazoo folks shared how they planted bulbs as a local service to beautify the community. Mary Shimandle from Chicago was so inspired that she envisioned doing this as a HeartFelt service project in her community! After we met on Zoom, here's what she wrote:
This was a wonderful visit…I am now "Lit Up!"
(6) Janet Graham, the HeartFelt Rep from Kalamazoo, shared at the meeting how much HeartFelt moved her, and she emailed Skyler afterward to update her on what's going on in Kalamazoo for HeartFelt. Here's what Janet posted on the MSIA Facebook group!!:
Update on a Michigan HEARTFELT project: After weeks of solid slogging through snow, ice, impenetrable walls of hostile bureaucracy, seeing living conditions that were way beyond my understanding and imagination, meeting amazing and wonderful people at every step of the way … together we have found shelter for Our Family. Now I know what happens when I'm present at a miracle, experiencing the Light of the Holy Spirit in action here and now. IT IS SO PEACEFUL. I lose language. I float in a wordless stream of blissful gratitude and wonder. Thank you Traveler. Thank you Our Lady of Guadalupe. Deep love to all of us everyday people who are choosing to express our truth through a Heartfelt project. We are so blessed. We are indeed the blessing. And this is just the beginning.
***
And a couple of sharings from folks in the community who participated:
Having come into technology with great trepidation, I was thrilled at how easy Zoom was and how wonderful it was to be in one living room while we weren't. Our concerns for involvement and growth in our communities is similar. Our solutions are varied, creative and, best of all, inspiring. I want to meet again. ~Rebecca Bloomfield, Chicago
It was lovely to join my 1st MSIA meeting ever. Love was in the air. I felt welcomed, safe and warm. After that meeting I went on a joyful road trip to meet in person some of the people I had met in the meeting. They were all very open and kind to me. I am grateful for the opportunity to hang out with such aware beings. ~Ines Meneses
***
We followed up with everyone and offered a bunch of wonderful resources for their community, for example:
A great J-R excerpt, "Sharing About MSIA with Others" in Fulfilling Your Spiritual Promise Vol. 1 on pp 691- 695.
A few web pages on msia.org for new people (explore and be inspired!)
       Click here for the Loving Each Day sign up page
       Click here for MSIA's Key Teachings
       Click here for information on Discourses including an awesome J-R Video.
We are thrilled to be expanding this service of supporting our communities and to see where it takes us all in our journey of connecting with our global MSIA family.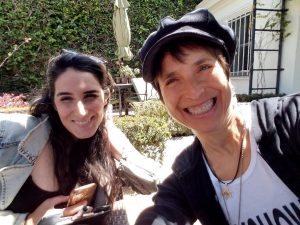 Much love as always,
Debbie and Skyler aka Sky-bie (our team name, coined by the Mid-West community!)