Joseph and Marian Boandl were ordained in 1971 and have been studying in MSIA for over 50 years.  They recently shared with the NDH about a book they've written called "Wings of Words."  Here is their sharing:
We met John-Roger at his second evening of teaching in 1968 in Thousand Oaks, California.  Both of us recognized we definitely wanted to follow his teachings of true faith.
We had been married for two years, together having learned and used a method psychic-type communication with wonderful Individuals on The Other Side.  We had been told, by Them, that we two had been chosen to work with Teachers; there to be introduced to Others.  We had accepted the "challenge", even though it could be a bit jittery.  We could not see them, we could feel their presence.  They would use one of us to speak, while the other wrote down their words.  We were told, and always knew we were safe.  We sat mostly in our living room, sometimes sharing with friends.
We did explain to John-Roger what we were doing, and continued until changes of work and moving to different areas of the country.  We tucked away our four notebooks of typed words and thoughts, they were always with us.
Interestingly when COVID hit in 2020, we had already quietly retired for many years and ALL IN ONE MINUTE we looked at each other and said, "Let's write our book!"
It took months to place and replace paragraphs, from our original notes of Their conversations; even pages, of Other's thoughts.  Originally it seemed several would come and go, leaving behind one thought or many to be replaced.  We did not make any changes at all in the writings of the Others.  And we kept all Writers separate, one from another.  It was fun and nuts at the same time.
We have studied J-R's teaching for over 50 years, always sharing with wonderful MSIA members. The more we worked on the book, the more we felt the marvelous similarities between John-Roger's teachings and the words of Others.  Both of them gave to us timeless knowledge applicable to the past, present and the future.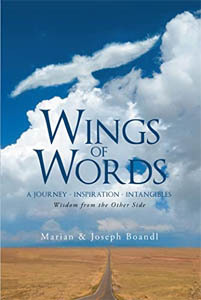 "Wings of Words" chronicles an extraordinarily inspiring quest of finding a life worth living.  "Wings of Words" is a different book, written completely in the words of individuals on the Other Side or higher planes.  Consisting of a variety of intellectual information and knowledge as seen from their perspective and experience.  Each line tells a story.
They start with a tale of far ancient times.  As their homeland is being destroyed by natural causes, they must leave and find a new habitat which turns out to be very different and foreign to them.  This is a chronicle of their experiences.
When Joseph retired we drove from the east coast to New Mexico.  With the Sandia Mountains far ahead of us we shared the sight of the clouds that formed a great White Bird — hence our book cover.
Some of you may ask; since the information was received from 1965 to 1971, why wasn't it published until now?  Our only answer:  "It wasn't the right time.  Now it's the right time."
In love and Light,
Marian and Joseph Boandl
---
If you are interested, you can find the book on Amazon here.