Editor's Note:  Long-time MSIA Minister and Initiate, Steve Chopyak, passed into Spirit on April 29, 2022.  His friend, Glenn Barnett, shares the following in memoriam about Steve.
Steve Chopyak was born and raised along the Hudson River in New York. His father worked, for a time, at the military academy at West Point. While in New York, he attended the very first Star Trek Convention. In college Steve studied engineering which led to a job in Minneapolis, Minnesota. There he built and tested jet engine test cells.  He learned to analyze the data that told him how well the engines performed. In the early 80's he was part of a team that set up a jet engine test cell in China.
While living in Minnesota he met someone who studied with John-Roger and became a founding member of MSIA in Minnesota. When his job came to an end, Steve went back to school to become a chiropractor and set up a small office with his then wife Raphaella.
The pull of MSIA was strong and he closed his practice and moved to Los Angeles to be closer to J-R. He started looking for work in the aerospace industry and was introduced to Horst Wichmann.  Horst worked for a small company that made the engines that maneuver satellites around in space. He had been with the company since the Apollo days and helped to design and build the reaction control thrusters that assisted in putting men on the moon.
Horst saw Steve's potential and hired him. Steve soon found his way to the rocket engine test cells where he was able to read the data accumulated in test firing the rocket engines in a vacuum that simulated space conditions. While at the company, Steve met Karla at an Insight Training and she would be his partner from then on.
Steve stayed with the company until financial considerations put them out of business. He turned again to the chiropractic arts in Westwood. Still adventurous, he and Karla sold the business and moved to Bozeman, Montana for a year before moving back to Southern California, this time to Westlake Village where he began another chiropractic business with Karla in the front office.
It was here that he really showed himself to be a Renaissance man. Steve always loved music, both playing and composing. He played the recorder with the Livingston Consort in gigs around Minneapolis. He also composed music and dozens of his background compositions are included on the Moment of Peace videos and his compositions are used to this day as meditative music in PTS classes.  Steve was also a long-time volunteer for NOW Productions at MSIA Conferences and events.
As a chiropractor, he began sharing a blessing at the end of sessions with his MSIA patients. Those who received the blessings have said they were extremely personal and spot on for their personal situations.
Steve's beloved wife of many years, Karla Chopyak, passed into Spirit only 4 months before Steve's passing.
Farewell friend Steve. We shall not see your like again.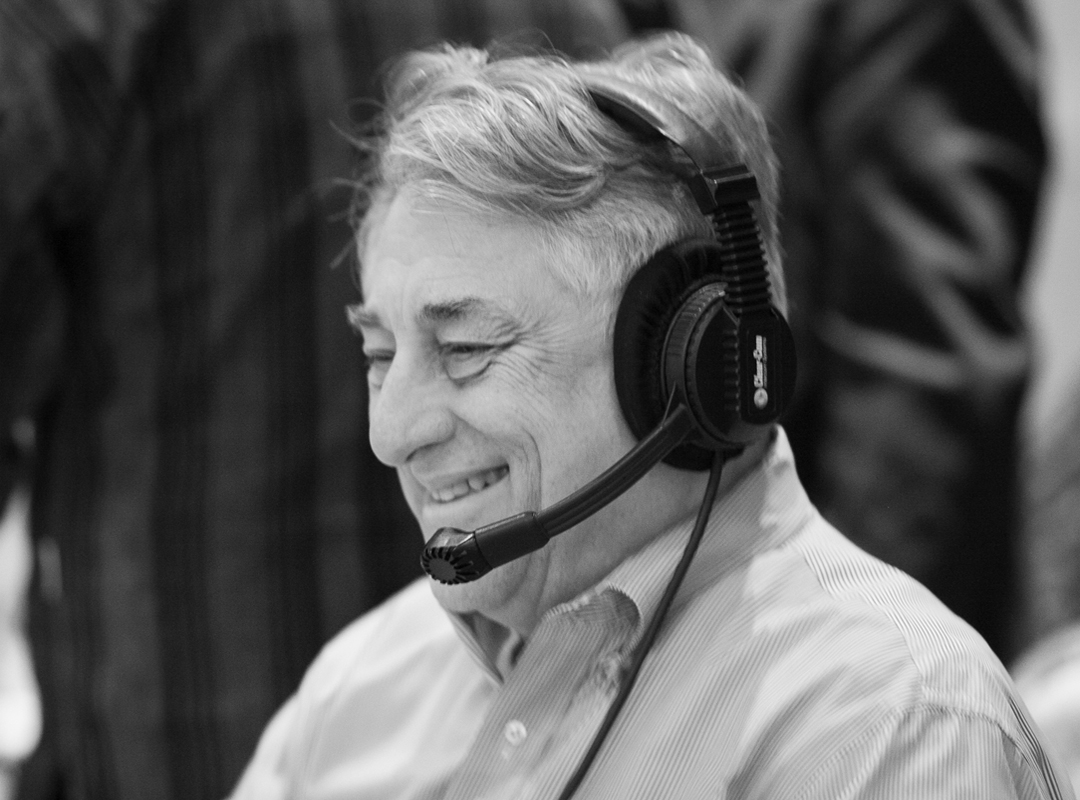 Steve Chopyak serving with NOW Productions at Conference in 2018.