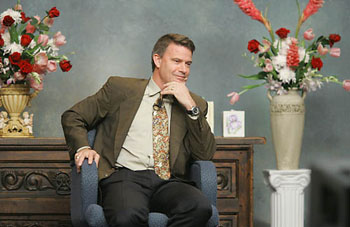 Click here for a slideshow from the webcast class and Q&A with John Morton.
Greetings and glad tidings, perhaps I might say glad tithings. That would be appropriate for our third session of the "Living the Spiritual Principles of Abundance and Prosperity" webcast class with Dr. Paul Kaye, and Leigh Briggin, CPA, and special guest John Morton.
Paul called the class to order and made his introductions for the night, setting the stage for a wonderful evening. Thus far, Paul & Leigh have given us a wide range of options on how to stay on top of our finances while maintaining a spiritual relationship as co-creators with God. What we are here to learn is to integrate the physical and spiritual worlds, and acknowledge God as our source. It is a profound process of letting go and letting God.
Paul reminded us about tithing, and how tithing ten percent of our increase to the source of our spiritual teachings helps to manifest that endless supply out of our gratitude. Even if we want to just "get in the game," as he calls it, we can start with one percent, tithing to our spiritual source.
Paul then spoke briefly on seeding. He reminded us to seed in a positive expression. That it might not serve us to seed at all if we are seeding from a place of lack. It just doesn't work. Seeding is an expansive action. He explained about checking it out, testing it, and seeding from the gratitude. Do not seed from a place of have not. Paul also spoke about how gratitude is really good for our health. Next, Paul talked about building a "money magnet," which is tithing ten percent to ourselves.
Leigh then began his presentation on wealth building. Leigh gave tips on how to go about putting away money for quarterly expenses in a very concise and simple way. Leigh spoke about times that we may find ourselves without income and how to go about saving for that. Leigh suggested saving for at least three to six months of living expenses. We then hear about purposeful saving. This would come under the headings of retirement, and education, or we may want some of the obvious things like a car or home. Leigh described asset allocations, stocks, bonds, mutual funds and IRAs. He suggested three websites for more information: www.fool.com, www.vanguard.com,and www.tiaa-cref.com, all of which provide education on these matters of purposeful savings and investments. The current issue of Consumer Reports was also suggested as good reading material.
Paul Kaye then introduced John Morton for the Q&A portion of the evening. He explained that John is not as an economist, or a financial manager, or a certified public accountant, or even a bookkeeper, but that he is a wealthy man who is living with abundance as part of his life experience.
The first question for John was from an online participant in Culver City, California, and was a request for help in being faithful to tithing, and in getting far enough ahead to be able to tithe. John suggested becoming effective and efficient in utilizing the current resources (including money, talents and blessings), and to observe and claim that experience.
The next question, from a class participant in the ballroom, centered on how to keep up enthusiasm for what he has found to be his heart's desire. John reminded us that everything has a season, there is no urgency in Spirit, and this could be an opportunity to pay attention and be patient.
The next question was, "How can I trust God more in co-creating a new job?" John offered that one could join with others, learn their approaches, and encouraged being true to your creativity.
A participant in the ballroom explained that they love their work, but not so much when doing it for money. John described giving and receiving of loving, and mentioned a Gibran quote about work being our love made manifest
On the Internet a participant in France asked, "How can I create greater wealth?" John was very direct when he explained that wealth is not static, and increases with gratitude.
Again from the Internet, in Woodstock, a participant asked for a blessing for himself and his family regarding new jobs. John then gave one of his famous blessings and the Spirit came very present into the room, along with a whole lot of grace.
Paul Kaye brought the class to conclusion, with thanks to NOW Productions and the PTS staff and to Leigh Briggin for his masterful co-facilitation, and to John Morton and John-Roger for their spiritual support. He asked all of the participants to fill in an evaluation form for the class, which is available online at www.msia.org/class. Paul also announced that the next Internet Broadcast will be an Easter Seminar with John Morton and will take place on Saturday, March 26, 2005, at 7:00 p.m. pacific time online at www.msia.org/live and at 2101 Wilshire Blvd in Santa Monica, CA.
If you missed any of the "Living the Spiritual Principles of Abundance & Prosperity" webcast classes, you can take them online! Go to www.msia.org/class. The archive of each class is there as well as any handouts and homework that you'll need.