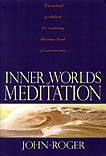 Revised and Expanded–includes information from Master Chohans of the Color Rays (which is out of print).
John-Roger presents meditation as the vital, active, and exciting process it can be. This book will take you through an in-depth discussion of active meditation, called spiritual exercises (S.E.s), give you information about the levels of consciousness you can travel through, some of the experiences you may have, and the purpose of S.E.s, and then take you directly into the experience of traveling the "last frontier"–the inner worlds of Light and Sound.
John-Roger guides you through 12 meditations for:
enhancing general well-being

lifting out of depression

experiencing greater awareness of the Light
Whether you are a novice, or a long-time student of meditation, this book can take you to a new level of awareness with your spiritual practice.

Also Available on CD or Cassette!
12 Meditations from Inner Worlds of Meditation, given by John-Roger and John Morton, are available on CD or Audiotape.

---

12 Meditations on 3 CDs or 6 cassettes

---
John-Roger:
The Sacred Tones
Breathing Meditation
Ra Meditation
Tho Meditation
So-Hawng Meditation
The Spiritual Promise
Inner Realms of Cosciousness Meditation
Ranging
John Morton:
Introduction to Meditation & Spiritual Exercises
Water Meditation
Flame Meditation
Meditation of the Color Rays of Light

Wonderful photos, beautifully packaged.

#3915-3CDs $45
#3915-6 Cassettes $45
These CDs and tapes can be shared.