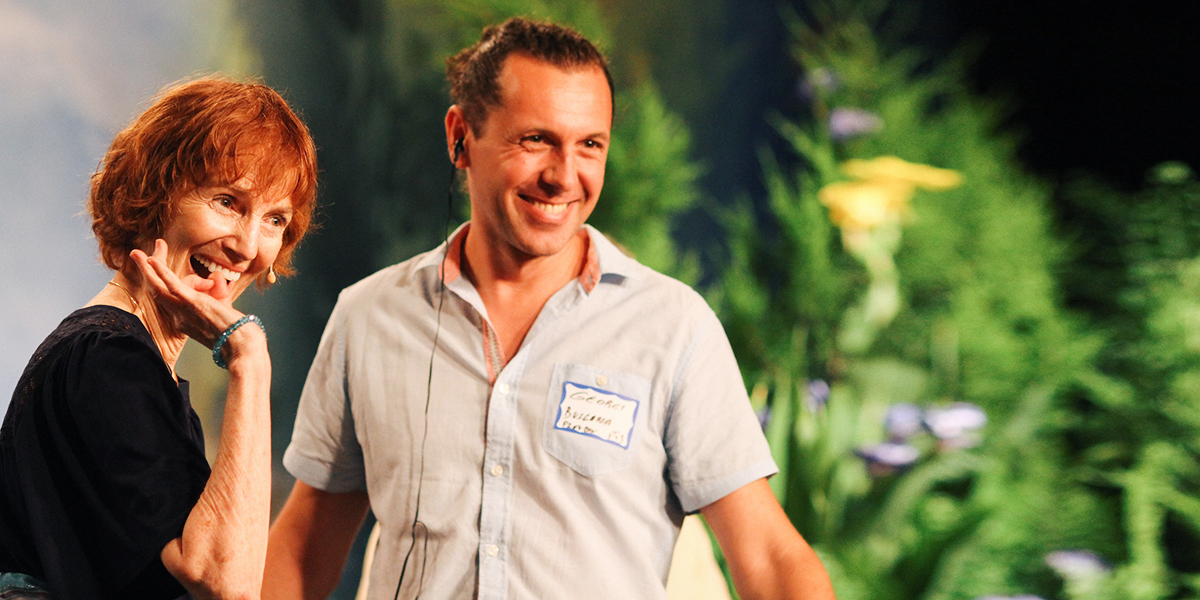 Thursday morning of the Conference of Heaven on Earth began with the meeting of MSIA Reps; Light Ambassadors who hold the Light around the world for MSIA communities large and small.
A message from our Ambassador in Chief (Leigh Taylor-Young) encouraged us to look at the definition of ambassador. Here's what Miriam Webster has to say about that:
Ambassador:
1: an official envoy; especially : a diplomatic agent of the highest rank accredited to a foreign government or sovereign as the resident representative of his or her own government or sovereign or appointed for a special and often temporary diplomatic assignment. Eg. She's the American ambassador to Italy.
2a: an authorized representative or messenger
May we all increase in our representation and messengership of the Light!
–
In the afternoon, I caught up with Angel Harper, who co-facilitated the event (and has been coordinating MSIA Reps for 29 years). I asked her what it means to be an MSIA Rep and she said, "it means that you're the designated [MSIA] contact person for the area, whether that be a city or a state or a whole country."
She shared that her intention as a Rep is to hold the focus for the MSIA community and to hold the focus for the Traveler's teachings. To support the teachings and to support people who are studying the teachings and also those people who are looking for them.
"In addition to that," she said, "if it's a large community, the MSIA Rep will oversee the arrangements for a visit from John Morton and the MSIA Staff."
Angel shared with me that some areas also have a PTS Rep and a Seminar Leader Rep. As you might guess, the PTS REP handles any PTS classes that are offered in the area; 10-week classes, weekend classes, PAT trainings etc; and the Seminar Leader Rep focuses on Soul Awareness Seminars and supporting other Soul Awareness Seminar Leaders.
At the conclusion of our conversation, Angel offered words of encouragement to all MSIA Reps saying, "God is in the details. The Traveler is [the details] and as we move into making it as fun as we can, even if it's the last thing we want to do to look at another service schedule, it's like, 'OK, God you're in this. OK, Traveler, that's what I'm here for; to serve you."
–
Debbie Roth serves as the All-Reps Ombudsman and Skyler Patton has been working with her to support the MSIA Communities around the world. Together, they organized a Reps Meeting Focus Group that took place after the main event. About 35 people participated in the breakout group along with another 20 or so online. Together we shared ways that we can expand in our roles as Light Ambassadors around the world.
Here's what Cheri Jamison shared about her experience in the breakout group:
"It was great to hear what other communities are doing – what works and what doesn't – so we can all learn from each other."
Watch the Full Recording
View the Photos
At the meeting, we also debuted our MSIA Resource Guide, that organizes all of MSIA's amazing resources into one, easy-to-navigate document. Check that out at msia.org/resourceguide
Contact Debbie Roth (debbieroth@msia.org) if there's any support you'd like as an MSIA Rep or Angel Harper (angelh@msia.org) if you'd like to learn more about becoming an MSIA Rep.