On Thursday, August 23 I left my home at about 2:00 pm in the afternoon to drive to Philadelphia International Airport for an early evening flight. Much earlier in the day, Vincent Dupont left Los Angeles. We met in Heathrow London the next morning on Friday, August 24. We flew together to Moscow, Russia. We then took a flight overnight from Moscow to arrive in Barnaul, Russia at about 7:00 am on Saturday, August 25. Barnaul is in the beautiful Altai region of Siberia.
This was an MSIA staff services trip. There are MSIA communities in Barnaul, Omsk, and Novosibirsk, Russia. This year the location for services, initiations, ordinations, and a workshop was Barnaul. (As an aside – my paternal grandfather came to the United States after escaping the train transporting him to Siberia where he was going to serve a prison term after a "disagreement" with his commanding officer in the Czar's army. This was also my first services trip to a non-English speaking country. I was in full immersion.) Lubov, the MSIA rep, and Andrey met us at the Barnaul airport. Andrey and one additional taxi drove us to the Hotel Ulitka.
My lunch (or late breakfast) was very tender chicken kabobs, chicken soup/broth, and salad (yes, beets!). It was about halfway through the meal I realized this meal and its flavors were familiar – my maternal grandmother, from Lithuania, made this sort of meal when I was a young child and we would visit her, the only food item missing was a hardboiled egg!
The weather during our time in Barnaul (Siberia) was in the low-mid 70's in the day and low 60's high 50's at night. We were told Barnaul's peak summer is July. It was not the Dr. Zhivago Siberia weather! Trees and shrubbery were green and lush. The hotel rooms were spacious.
Services started at 3:00 pm that day with Lubov and Tatyana translating and we were off…
On Sunday there were 28 initiations, 4 ordinations, and the workshop, Money, The Great Mirror of Consciousness. The workshop took place on one of the upper floors of the hotel. I had the distinct impression as Vincent was facilitating with outstanding translation by Vitaly that the roof was raised! We continued with services on Monday with Sofya as our additional translator and Tuesday was a partial day of services with Lubov and Tatyana again translating.
For me, one of the MSIA family highlights was coming down to the lobby on Monday for the next service and not having a translator with me and not knowing who the people were. Within moments there are about a half a dozen of us standing around just laughing; I didn't know what they were saying, they didn't know what I was saying; but the language of the heart, the joy of the Soul, the sure sign of Spirit was present and well understood by all… then back to services. People came from Omsk (a nine-hour drive), Novosibirsk (two-day train ride), Kazakhstan, and other areas for these outer aspects of what the Traveler offers in support.
After completing our partial day services on Tuesday, a group of us went to a local park being developed overlooking the Ob river and beyond. We planted Light columns. Although we were not in a building at the park, I had the impression that as Vincent as doing the blessing the roof was again raised! Andrey and Lubov then drove Vincent and me to the airport, joined there by Tatyana and we were on our evening flight to Moscow to continue the next morning to our next stop. If it's clear to do so – I would certainly like to return again to our family in this beautiful area… Heaven on Earth!
—
Here is a photo of Vincent, Bruce, and the group who put a column of Light on the new embankment at the high bank of our river Ob from there we can see the whole city Barnaul: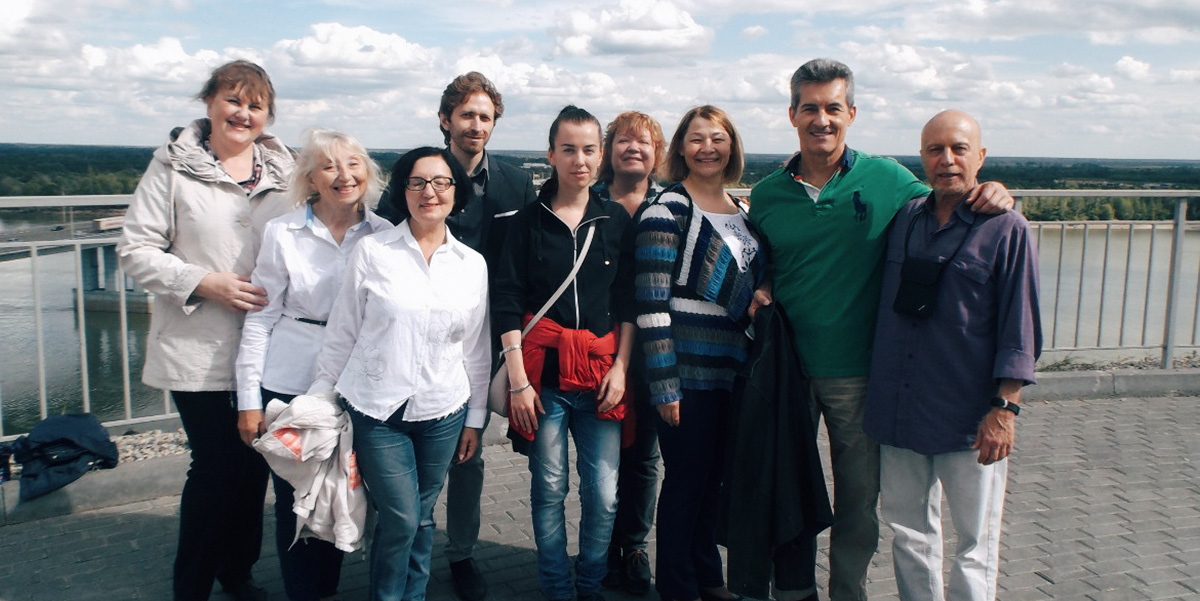 photo credit Lubov Zhikharev