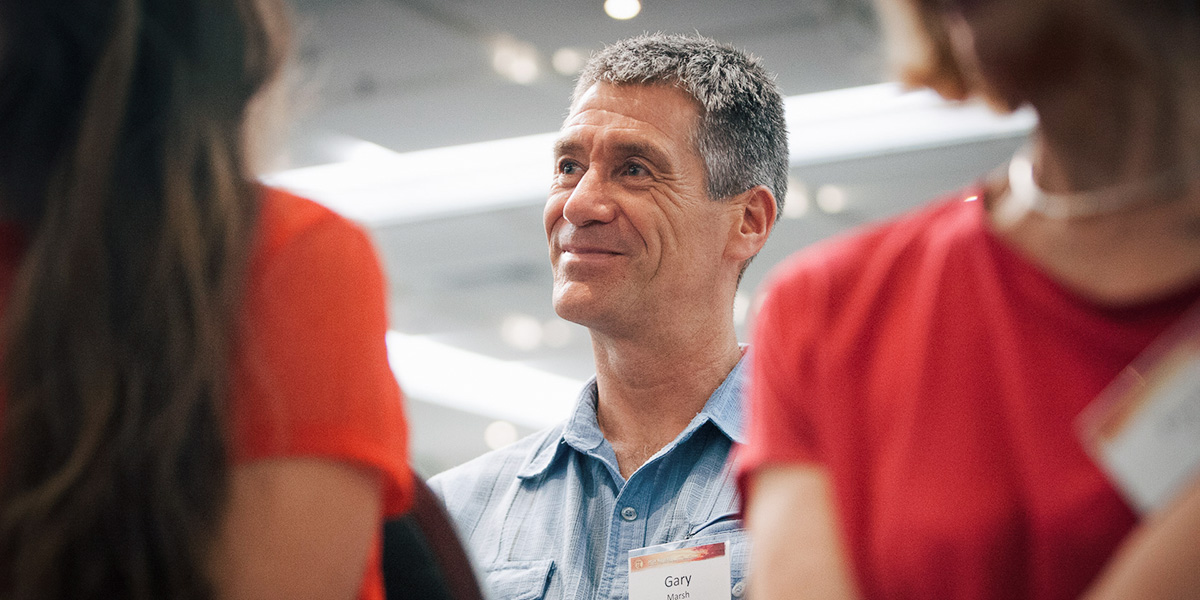 As I sit down to write this, the opening words of a Paul Simon song float into my mind: "These are the days of miracle and wonder." Appropriate sentiment: I have been hanging out with the Traveler for three days.
The annual MSIA Australia family gathering always begins with happy reunions, and this year, on a cloudy autumn afternoon, was no different. One participant put it this way: "The foyer of The Sydney Boulevard Hotel, once graced by Frank Sinatra and Muhammad Ali, was abuzz with Initiates and Ministers greeting long lost friends and having their auras and polarities balanced." Everyone was bubbling with high spirits and anticipation; the Traveler was in the house and it was already overflowing with the Divine Presence.
Once the doors to the conference room were opened, it was time for me to put on my MC's hat, welcome the audience, call in the Light and, after a beautiful heartfelt song from Louise Davidson, to introduce our facilitator, Vincent Dupont. As it was an open workshop, Vincent began by taking us through the basics of MSIA and Soul Transcendence and invited us to share what we saw as indications of the Divine Presence. Each segment that Vincent presented was followed by one or more J-R excerpts and I thought once again about how blessed we are to have so much precious material from our beloved John-Roger.
Then it was time to welcome our dear Traveler, John Morton, who gave us tools to experience more of the Divine Presence wherever we are, and reminded us that it is always our move. I spaced out a little after that—no, I entered the Divine Presence!—and returned to hear John say that there is no formula, no mechanism; it is all about aligning with the essence of the Divine in whatever way we can.
Photos from the Open Seminar with the Theme of Divine Presence
The two-day closed workshop was facilitated by Vincent, and was simultaneously profound, gentle and powerful. There were video and audio excerpts from J-R, there were frequent opportunities for silent contemplation, there were guided meditations in the mellifluous voice of Pauli Sanderson, and there were numerous opportunities for heart-to-heart sharing with the Traveler, on topics ranging from parenting, work, death and dying, drugs and medication, to SEs, meditation and dreams. So many practical gems¬ were packed in John's responses to questions over the two days. For example: paying attention to the difference between vigilance and fear, always acting as if God is with us in what we do, reframing who we are — we are angels in bodies, the loyal forces of salvation. And the bottom line for the whole workshop? For me, it was ultimately about being the Divine, and doing the Divine Presence ourselves to the best of our ability. The workshop was such a gradual effortless lifting into Spirit, and by the end we left flying high, relaxed and blissed out.
Photos from the Choosing into the Divine Presence Two-Day Workshop
The ministers gathered on Sunday morning for an ordination. Once we had welcomed Reverend Garry Marsh from NZ into the fold, it was time for the initiates to join us. We had a musical contribution from Pauline Walsh and poetry from Louise Davidson. We joyfully celebrated the service awards bestowed on Sandy MacGregor and Ian Pomeroy, both quiet achievers well-deserving of their awards. Then Vincent gave us a presidential update—as Sydney is so far away from the happenings in LA, this is a segment we really appreciate—followed by a seeding meditation.
John joined us then. The theme of his seminar was focusing on choosing back, realizing that closeness to Spirit is what matters most in our lives, and a gentle reminder that it is in our loving that we are known as the Traveler's initiates and in the line of the Christ. We did SEs together, received John's final blessing with open hearts, and gave him a standing ovation as he left the room. And Conference officially came to an end.
Photos from the Ministers and Initiates Meetings
Twenty-one of us had the privilege of being at the Blessingsfest that evening. The food and drink were sumptuous, but could not compete with the abundance of love and joy that came with all the blessings that flowed as John tirelessly addressed our requests for more than four hours. The energy in the room was so sweet and sacred and the Divine Presence was palpable. I know, I felt it.
Thank you, John. I love you. God bless you.
Photos from Blessingsfest