The MSIA app is on fire!  We recently looked at the engagement metrics for the MSIA app and discovered that, over the past 12 months, the number of MSIA app users in both the iPhone (iOS) and Android have increased tremendously.  Folks are using the app more than ever to access their Discourses, watch live streams, listen to SAT seminars, time their spiritual exercises, and watch content on That Which Is.  It has become the go-to platform for MSIA teachings.  Stay tuned for more improvements coming soon.  A reminder – whenever MSIA does a live stream event like Blessing This Day or the MSIA ministers meeting, you can easily join the event by tapping on the banner that appears in the MSIA app home page.  Just be sure you are logged in to the app.
If you have been enrolled in the AmazonSmile charity program, you probably received an email from Amazon announcing the program will wind down shortly.  We really appreciate all of you who made MSIA the beneficiary of your Amazon purchases, you helped raised over $6,000 for the Movement.  And thanks to Amazon for creating this vehicle that assisted more than a million organizations globally.  The program will be active through February 20, 2023.  They are not quite the same, but MSIA is also a beneficiary of two other giving platforms.  They are iGive and GoodShop where users can make purchases through vendors that donate varying percentages of the sale to MSIA.
Everybody can be great…because anybody can serve.

You don't have to have a college degree to serve. You don't have to make your subject and verb agree to serve.

You only need a heart full of grace. A soul generated by love.

Martin Luther King Jr.

I look at service and the consciousness of serving as being the highest one on the planet that we can see.  Someone truly serving another human being with loving, is a joy to behold.

John-Roger, DSS
Being the member of the MSIA presidency most closely involved with Heartfelt over the past several decades, Paul Kaye made the decision to transition HeartFelt/HeartReach to be fully volunteer run.  This means Skyler Patton's staff position at Heartfelt will be phased out by April 30th.  Until then Skyler will be performing her usual role, while also working closely with Jeffrey Morgan and Paul to transition the current activities she supports in HeartFelt into a volunteer-led model.
As you all know and have experienced, Skyler has done a tremendous job of building Heartfelt. Among many of her skills she has introduced new and innovative programs that have served the MSIA communities throughout the world and assisted individuals' transition through some very tough times. Her intelligence, calmness, and loving and bubbly manner will be greatly missed by us all. However, she is leaving a very solid foundation on which we can expand, and we are very grateful for her service and dedication.
We have received numerous emails about how sad people are that Skyler is leaving. Please don't write to us about how sad you are. We get it. And it's time to move on. This next phase of Heartfelt is going to require a group cooperative effort requiring MSIA ministers and volunteers to step forward and step up.  We have also received many emails and texts of support and enthusiastic offers to get involved.  Those have been really appreciated.  We would like each ministerial board throughout the world to have an additional member whose sole role will be Heartfelt related. They will be interacting directly with their local MSIA community, checking in on the elderly members to make sure that their basic needs are being met, including ensuring they are able to access their MSIA study materials, fill out their ministerial renewals, and attend ministers meetings and John Morton events, online.
We will be continuing to provide support and host the Heartfelt events you all know and love as well as continue with staples such as Circle of Light and the Heartfelt Bulletin, both on the global and local level. We are currently planning to bring back the popular Service Trainings in 2023, and are exploring ways to both encourage and empower local Heartfelt teams to start service projects in their area. We are reminded that HeartFelt started with simple acts of service. We plan to have monthly Heartfelt Rep meetings and continue to develop ways to stay connected globally. We envision and would like to create an online Resource Bank where people can share experiences, make available different outside resources, and learn best practices in serving those experiencing or who are affected by death, dying, aging, illness, dementia, etc.  We are also already taking meaningful steps toward more fully integrating South America and Nigeria with the global Heartfelt community. In short, we envision a global network of service – connected and supporting one and other. Far from reducing and downsizing, our intention is "The best is yet to come."
Clearly all of this is going to take considerable focus and organization and we are delighted Jeffrey Morgan has agreed to lead the charge, developing and launching a volunteer-driven model for HeartFelt and coordinating all this in its initial phase, and hopefully longer. Jeffrey has considerable experience in organizational design and is truly passionate about serving so we have every confidence he can be successful. But he will need all of your support along with many others.  If you haven't already, please let Jeffrey and Paul know your current role within Heartfelt – representative, volunteer, dormant, I'm outta here, etc.  You can contact us at Jeffrey@msia.org.   We are planning an online Heartfelt meeting in February to discuss next steps and identify priorities over the coming months.
We will leave you with this beautiful shot of the garden area below Buddha Rock at Windermere. The greenhouse was donated to IIWP and is ready to be put to good use with plans for a larger garden underway.    Stay tuned to future Windermere newsletters for more updates.   You can subscribe here.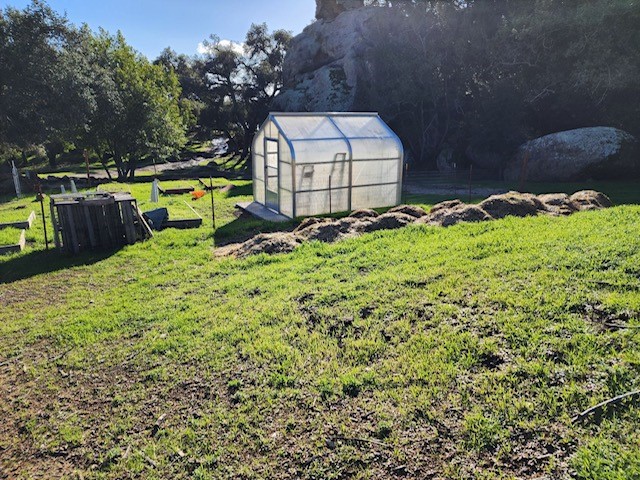 The garden area below Buddha Rock at Windermere.
God Bless you, and thank you for participating in MSIA and for all that you give in so many ways. As J-R would constantly remind us, "It is the loving that makes this work." We love and appreciate you!
The MSIA Presidency – Paul, Vincent, and Mark
MSIA Succession – David, Jeffrey, and Sherie