Gratitude is a powerful antidote to negativity. When you are feeling up against it, the simple approach of counting your blessings can help you. This is a way of focusing on the good things in your life even when you are aware of the challenges you are facing and taking steps to handle them.
– John-Roger, Fulfilling Your Spiritual Promise
On a recent visit to our local zoo with my 7-year-old granddaughter, Valerie, I chose to observe how gratitude could be that "powerful antidote to negativity." It was "Zoo Boo," an annual day of festivities with costume contests, vendors giving away goodies, opportunities to observe animals opening and enjoying their treats, and lots and lots of people gathered in Miami's humid heat. Although I am deeply grateful to get to spend Saturdays with my beloved Valerie while her parents are at work, sometimes the crowds can be a bit overwhelming. I thought it would be a good opportunity to choose an "attitude of gratitude" to fully enjoy the blessings of the day.
"An attitude of gratitude is another key to being in harmony with the formlessness of infinite supply.
– John-Roger, Fulfilling Your Spiritual Promise
We arrived to a quarter-mile-line of families, many in costumes, walking from the parking lot to the entrance. Choosing an "attitude of gratitude," I enjoyed the way the line flowed, even though it was already over 80 degrees at 10 in the morning. I counted my blessings as Valerie and I giggled, spotting different character costumes, including lots of fairies, princesses, superheroes, and a few bobbling T-Rexs in various sizes. Although it was crowded, hot, and that vampire on stilts made us cringe, I was aware that to enjoy the day, focusing on the goodness was already making our adventure easy and fun.
I felt grateful for the smiles and consideration of moms, dads, grandparents, and ZooMiami staff and volunteers, being careful not to bump into one another and eagerly sharing information, directions, and goodies. I enjoyed the abundance of beautiful service the Zoo staff has provided all these years, creating a sanctuary for all sorts of God's creatures to thrive and share. I've been a member of ZooMiami for over 40 years, having seen it nearly destroyed by a few hurricanes only to be resurrected and reborn time and again through our community's generosity and loving service. I had ventured those precious tropical pathways years before I had children and then with my children at their various ages. I felt deep gratitude for the chance to walk through its natural surroundings once again, getting to see and experience it through Valerie's eager eyes and loving heart (she wants to be a veterinarian one day).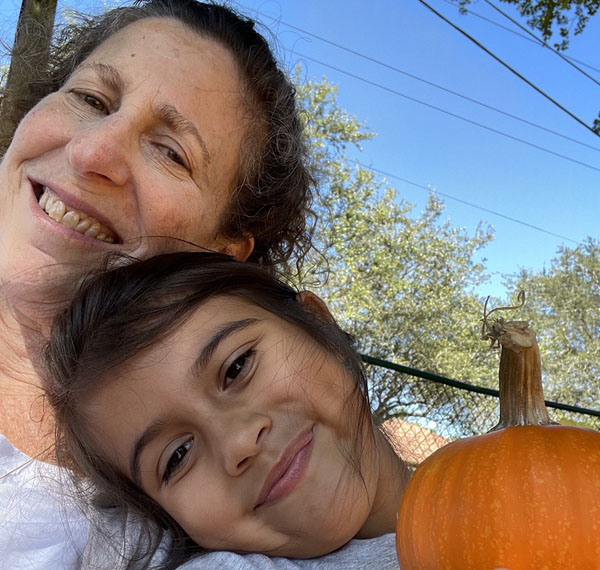 Terilee Wunderman with her granddaughter Valerie
After about two hours of navigating through an abundance of families, strollers, 4-seater bicycles, and mini-motorbikes, Valerie and I decided to head home. In her pink unicorn dress with matching gold-horned headband, Valerie toted a canvas bag filled with all sorts of sweets, pencils, pens, stickers, coloring books, a rubber duck, a fan, and several cards soliciting all things fun and educational like playgrounds, tutoring, dentists, magnet schools, magicians, swimming safety, and bike safety. Valerie felt grateful for the assortment of treats, and I felt grateful for all of the volunteers sharing services and information to help one another (and for the Malted Milk Balls).
As we made our way towards the Zoo gift shop, something we always have to do as it is right there by the exit (a challenge and a blessing), I received some texts with photos of Valerie's new cousin, Ethan, my 4-month-old grandson in New England, enjoying his first Halloween outing as Superman (a traditional costume when your last name is Wunderman). As Valerie perused the stuffed animals in the gift shop, many of which already bless her bedroom, she asked to get a particular creature she did not have, a 15-inch cuddly dolphin complete with a blowhole. She then asked me to buy the same dolphin for Ethan so one day, after he got over chewing his toys and would cuddle them the way she loves to snuggle hers, her cousin would know they shared that blessing. Besides, Valerie explained, by buying two stuffed dolphins, her grandma was helping pay for even more food for the Zoo animals.
Of course, I bought the two dolphins, grateful for God blessing me with the ability to do so, grateful for God blessing me with the opportunity to help bring greater good forward, grateful for how I was blessed to experience in the simplest, sweetest, most heartfelt enduring ways how God loves and blesses all of Its creation.
So come into the awareness that God is always blessing you and all in creation. God is the source of all the blessings. As you allow an attitude of gratitude to come present, you realize that greater good is always available, regardless of what conditions are present, regardless of what has been done or will happen. For God always loves Its creation through the miracles of replenishment, restoration, renewal, and rebirth.
– John Morton, You Are the Blessings