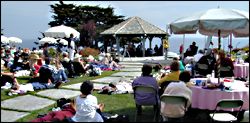 Imagine a typically beautiful day in Santa Barbara, California; the sun shining brightly warming your face, a cool breeze with the sweetness of the ocean and local flowers surrounding you, a view of the Pacific you would pay really serious money for, and…the Travelers!
This can only touch the surface of the day we experienced on May 29th at the John-Roger Q&A. Irwin and Marilyn Carasso once again embraced their spiritual family by opening their lovely home and property to host this IIWP event. Volunteers arrived early in the morning to prepare the beautiful landscape with tables, chairs, decorations and lots of delicious food lovingly prepared by Irwin's very own Lazy Acres. Over 200 people, hungry for food and Spirit, were present to enjoy this special day.
Carolyn Howe acted as the Mistress of Ceremonies, and we all enjoyed the beautiful musical talent of her son, Robin Mcilrath. John-Roger was in his typical, gracious and fun-loving form, patiently responding for several hours to our questions. John Morton provided a little break for J-R by performing a very sweet and joy-filled baby blessing for two-month old Chad Visser, lucky son of Mike Visser and Ursula Lamberti. Chad smiled and cooed at us all as Spirit placed the blessing through John in a most joyful way.
If you haven't quite made the time to come to one of these special J-R Q&A's, I'd highly suggest this is one of those events to put at the top of your list. This event has become a yearly one, with each one being unique and special. I really love them because it's such a beautiful place and I really enjoy visiting with everyone at this great big picnic. And, of course, there is the incredible gift of the wonderful information that John-Roger shares with us in his unique way.
What more could anyone ask for? J-R, John, Spirit, food, and lots of love and laughter with our dear family and friends all together on a beautiful day in May in Santa Barbara. See you next year!
Janet Taylor