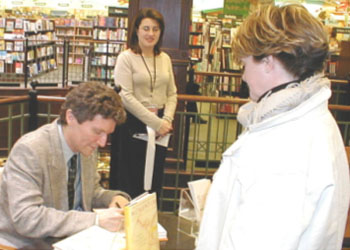 "It's Sunday so it must be Atlanta," said Dr. Paul Kaye as he recounted the many cities in the South that he has visited during his current book signing tour for the book Momentum: Letting Love Lead , which he co-authored with John-Roger. Not a hint of "y'all" as Paul greeted eight of the Atlanta Movement of Spiritual Inner Awareness (MSIA) members who came to hear his talk and get autographed copies of "Momentum."
Carol Borowiec spent many hours in preparation for Paul's visit to Atlanta, locating the best store for the signing, making sure everyone in the local community knew about his visit and encouraging them to come to the event. Having actively created a monthly book club meeting at another local bookstore, Carol is no stranger to the world of books, and the Atlanta bookstore near the Cumberland Mall was a great setting for the "Momentum" event.
A giant poster with Paul's picture greeted each customer at the door. Paul had an upstairs venue complete with podium, mike and a dozen overstuffed chairs for attendees to enjoy.
After briefly introducing himself, Paul described the basis of the book — "Letting Love Lead." With a simple exercise in becoming aware of each breath, Paul brought a new level of awareness to everyone in the audience. He explained that each of us is ultimately in charge of how we feel about life's events, and we can choose to simply say "I love it!". In doing so, we can easily accept things we cannot change and allow love to lead our thoughts and actions.
Paul demonstrated that for movement to occur, he must be just slightly off balance (as he stumbled toward the audience). And, answering a question from the audience about the origin of the title "Momentum", Paul explained that Momentum contains the word "moment" and that the book is about being loving in the moment. Once our life is in motion, momentum keeps it moving. With his usual quick humor, Paul quipped that "um" has yet to be meaningfully defined. Paul closed his remarks which were followed by applause from everyone listening.
What a great blessing to have Paul and our MSIA family together! After a flurry of autographs, everyone greeted Paul and spent some time in the coffee shop catching up on events.
Momentum: Letting Love Lead is available for purchase in bookstores nationwide or you can purchase it online by clicking here.