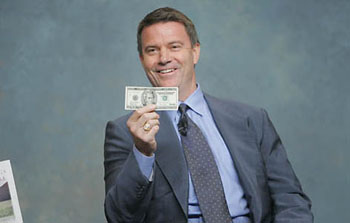 Click here to view the photo slideshow from MSIA's Worldwide Gathering of Joyful Givers.
Lots of folks turned out in person at 2101 Wilshire Blvd in Santa Monica, and in Cyber-Land, for MSIA's Gathering of Joyful Givers on January 25th. The Brentwood Ballroom was full and over 350 people participated in the event online.
MSIA's President, Paul Kaye, presided as Master of Ceremonies and treated us all to his splendid sense of humor. Paul called in the Light, welcomed everyone, and said that the evening would be focusing on Living the Spiritual Principles of Abundance and Prosperity, and that February 1st would be the first webcast class on that very topic (more on that below).
Paul then introduced our entertainment for the evening, Barbara Wieland, who sang her own song, "Silently Open My Heart." Then we watched two Moments of Peace in the new DVD format, one of which was the very first Moment of Peace ever created, and featured John-Roger in Africa.
Paul then introduced John Morton. John acknowledged that we had Internet viewers from all over the world, including Afghanistan. He added that he had accepted an invitation to go to Uganda next week, in an effort to foster the growth of organic coffee farms, and he asked that we all send Light to Uganda and to the coffee project. He then asked John-Roger if he was "online", and indeed J-R was watching from a "remote location."
The first question for John came from an Internet participant in Costa Mesa, California: "We have heard that money is a spiritualized medium of exchange. Could you please elaborate on that?" John's answer included comments on the relative value of money, given what your circumstances are.
The next question, from a participant in the Brentwood Ballroom, was about looking at outer versus inner abundance, and physical needs versus spiritual needs. John's response included the ideas of giving from overflow, reaping what one sows, and calling upon God to manifest abundance.
From a participant in Woodstock, Georgia, the question was: "How can I overcome restrictions and blocks to my abundance?" John talked in general about applying one's talents to increase one's value. Another question was, "How can I be more effective in my seeding and tithing?" John recommended being clear about what one is asking for.
From a participant on the Internet a question came: "How do we